Rogue Amoeba has announced the launch of an all-new Audio Hijack 3 app for OS X that lets you easily record any audio source.

Record any audio, with Audio Hijack! Save audio from applications like iTunes, Skype or Safari, or from hardware devices like microphones and mixers.



New Interface
Audio Hijack 3's intuitive audio grid provides a terrific pipeline-style view of exactly how your audio flows. Use our new Blocks to bring in audio from application and hardware sources, adjust it with audio effects, then record it and send it to your speakers.

A pipeline can be as simple as one Source Block to pull audio from an audio source and one Output Block to send audio to speakers or a recording. Or, you can build a complex pipeline that captures audio from multiple sources, adjusts it with multiple effects, and saves it to multiple audio formats. Experimenting is fun and easy, allowing you to get the exact results you want.



Session Templates
The new Session templates provide a quick way to complete common tasks. Whether it's recording from a web browser or cranking up the volume on a quiet laptop, you'll be able to get started faster than ever. Choose a template and Audio Hijack will open a new Session, pre-configured.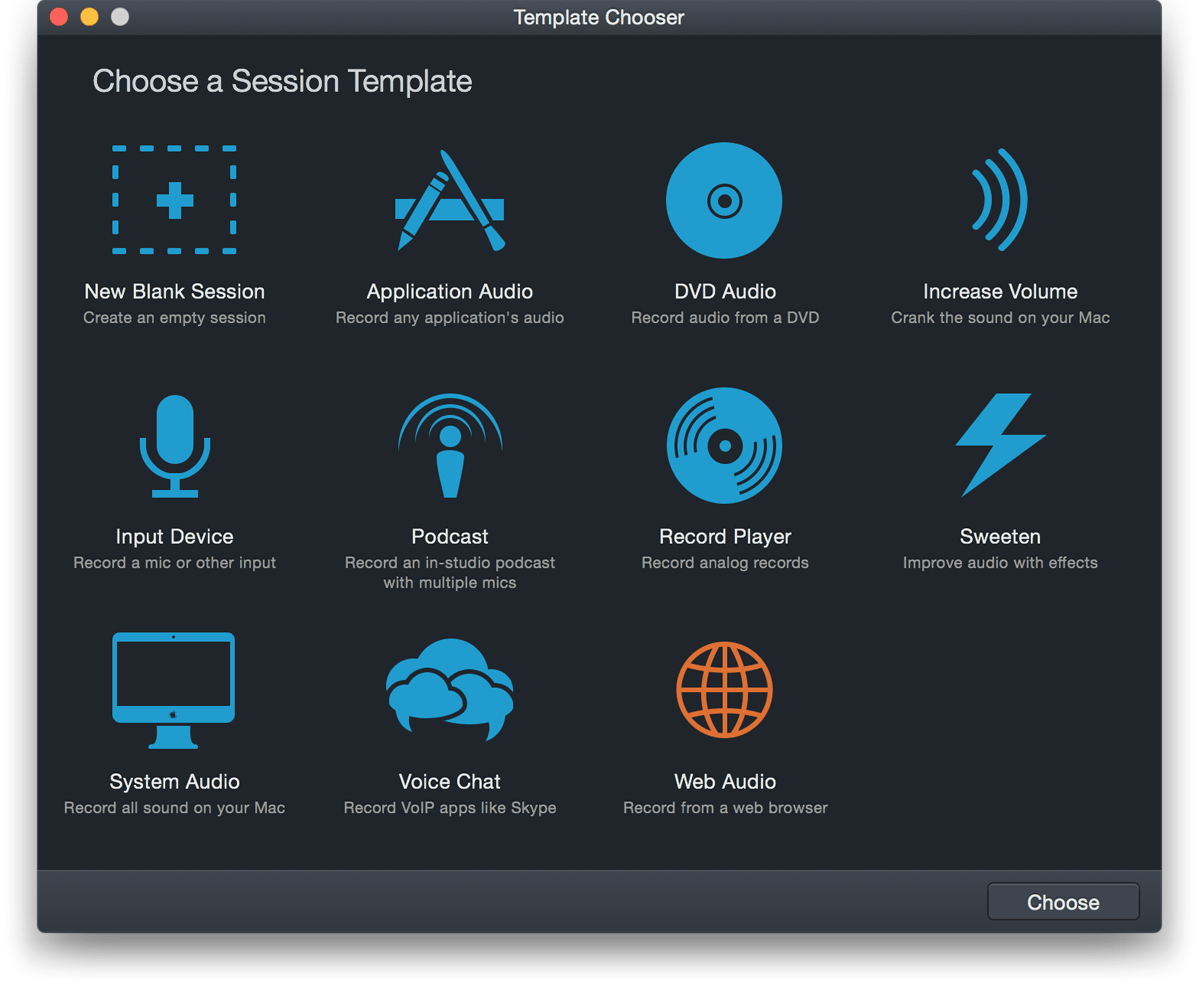 Everything in Its Right Place
Audio Hijack's new Home window provides a central starting point for all your work. In the Sessions tab, you can create a new Session or use one of your previously-configured Sessions to capture audio. After you record, you'll find your saved audio ready to preview right in the Recordings tab, sorted by Session. And if you need to schedule timed recordings or create a musical alarm clock, you can do so right from the Schedule tab.



Additional Features:
● Multiple Recorders in One Session – Want to record to both the MP3 and AIFF formats at once, or record different sources in sync? Just add multiple Recorder Blocks to get multiple files!
● Bulletproof Audio Recording – Every format in Audio Hijack is now bulletproof, so even if your computer crashes, you'll never lose a recording again.
● Denoise, Declick, Dehum – Clean up dirty audio with custom audio effects, powered by audio technology licensed from industry leader iZotope.
● Simplified Audio Effects – Harness the power of audio effects without needing a degree in audio engineering.
● Audio Block Presets – Saving presets for an Equalizer is obvious, but how about other settings? With Audio Hijack 3's new presets, you can save configurations for almost every Block, then instantly use them in other Sessions.
● Improved Instant On – Capture audio from already-running apps, as well as all System Audio. If you haven't looked at Audio Hijack for a while, you'll be thrilled to see that installation and updates to Instant On no longer require a restart.
● Streamlined Recording Options – Audio Hijack offers a half-dozen sensible defaults for recording. Of course, if you're looking for powerful recording options, they're still available too.
● FLAC Recording – Audiophiles will be thrilled to learn that Audio Hijack now supports recording directly in lossless FLAC format.
● HE-AAC Recording Too – Audio Hijack can now record in the high-efficiency AAC (HE-AAC) format as well.
● Full-Screen Mode – Whether configuring a tricky Session or focusing on a recording, going full-screen helps you focus.
● Massively Improved Accessibility – We know many visually impaired users love Audio Hijack, and we've worked hard to make it fully accessible with Apple's VoiceOver.

You can download Audio Hijack 3 from the link below to try it out. If you wish to purchase the application, it will cost you $49. However, any one who purchased Audio Hijack after February 17, 2014 will get the update free. In addition, Rogue Amoeba is offering Audio Hijack 3 for $25 to anyone who has ever a previous version of the app.

More details at the link below...

Read More