Nikon Announces D300s, D3000, New Lenses
Posted July 30, 2009 at 1:57am by iClarified · 6358 views
Today, Nikon announced the D300s and the D3000 digital SLR cameras along with new lens offerings. Nikon's site is basically down right now due to high traffic. 10 minutes plus to load a page. We will add more images to this article once we can access the site.
NIKON D300s REVITALIZES THE STANDARD AND MEASURE OF AGILE, PRO-LEVEL DX-FORMAT D-SLR DESIGN AND PERFORMANCE
Today, Nikon announced the D300s digital SLR, combining professional-level performance with agility and enhanced D-Movie capabilities to deliver a new benchmark for creative versatility. Engineered to leverage proven Nikon technologies, including a 12.3-megapixel CMOS sensor and 51-point autofocus system; the addition of HD video capture; and faster 7 frame-per-second (fps) continuous shooting, the Nikon D300s balances form factor, performance, versatility and reliability for serious photo enthusiasts and professionals.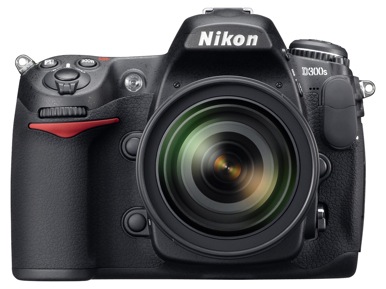 The D300s retains the photographer-friendly features of the critically acclaimed D300, while enhancing speed, versatility, and agility of the DX-format for a wide variety of photographers, including advanced enthusiasts, wedding shooters and photojournalists. The D300s can record HD video clips and high fidelity audio with an external stereo microphone input, offering users a D-SLR with full multimedia capabilities. Dual card slots afford users the ability to seamlessly record stills and video to one CompactFlash™ (CF) and one Secure Digital™ (SD) card separately, while one-button Live View, a new Quiet Shutter Release mode and Active D-Lighting bracketing help users to capture stunning images like never before.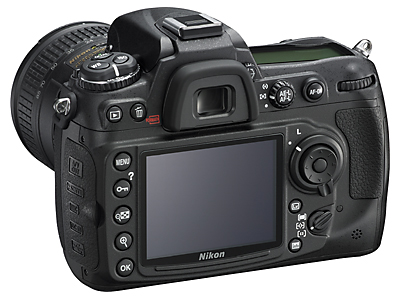 "Today's photographer demands excellence and value from high-performance digital SLRs – and the Nikon D300s delivers," said Edward Fasano, general manager for Marketing, SLR System Products at Nikon, Inc. "It's no secret that more photographers need to gather multimedia content. In addition to proven technologies, such as the 51-point autofocus (AF) system and 12.3-megapixel CMOS sensor, we are more than confident that the D300s' HD movie mode, along with a host of additional performance enhancements, will broaden the appeal of the camera to those seeking exceptional still image quality and video versatility."
The Benchmark of Speed, Performance and Reliability
Whether on the front lines of spot news or behind the scenes at a spring wedding, users of the D300s can record HD video clips at 720p resolution with a smooth cinematic 24 fps rate. In addition, the D300s also records high fidelity audio—either with the convenient built-in microphone or by using the external stereo microphone input. Photographers can trim video length on the fly and apply Picture Controls to video, modifying the tone and color. Additionally, users can autofocus while recording video, using contrast detect AF, and do so while composing on the D300s' bright three-inch 920,000-dot LCD screen.
Nikon's applauded AF system, with 51 high density focus points, performs even faster and more accurately on the new D300s. The Multi-CAM 3500DX AF module uses 15 cross type sensors to provide unparalleled focus performance across the frame. The D300s offers multiple focus modes, including single-point AF mode, and a dynamic-area AF mode, where users can select from nine, 21 or 51 AF points with 3D tracking. Additionally, the added Face Detection System lets users instantly zoom in on a human face in playback mode on the high-resolution LCD monitor to check critical focus.
The Nikon exclusive and newly-accelerated Scene Recognition System (SRS) further refines Nikon's AF performance and light metering. In conjunction with the 3D Color Matrix Metering II system, the SRS uses precise color and brightness information from the 1,005-pixel RGB sensor to propel AF, auto exposure, i-TTL flash control and auto white balance to unprecedented accuracy.
The renowned 12.3-megapixel DX-format CMOS image sensor in the D300s delivers extraordinary image quality and low noise throughout the entire ISO sensitivity range from 200 to 3200 (Lo-1 at 100 and 6400 at Hi-1). The D300s captures image data using 14 bit A/D conversion, processed through a 16-bit pipeline for optimal performance, resulting in images with sharp details and smooth tonal gradations.
The D300s also incorporates Nikon's exclusive EXPEED™ image processing. EXPEED image processing uses an accumulation of sophisticated Nikon intelligence and technologies to ensure impeccable quality for both still images and movies, while also achieving high-speed processing and low power consumption. When using the included EN-EL3e Li-Ion rechargeable battery, photographers can achieve as many as 950 shots under normal shooting conditions. The optional Multi-Power Battery Pack MB-D10 extends shooting comfort and supports three types of batteries: R6/AA-size batteries, along with Nikon's Rechargeable Li-ion Battery EN-EL3e and the EN-EL4a Rechargeable Li-ion Battery. It combines added stability with extended shooting of up to 2,950 shots*1 per charge and enables faster high-speed continuous shooting at up to 8 fps*2.
The reinforced magnesium alloy body is lightweight, ruggedly constructed and comprehensively sealed and gasketed against the elements at key points, and the shutter has been proven to a demanding 150,000 cycles. Additionally, the D300s employs the Integrated Dust Reduction System countermeasures that combat the accumulation of image-degrading particles on the optical low-pass filter.
World Class Versatility
With the D300s, Nikon introduces the ability to bracket Active D-Lighting (ADL). By localizing tone control, ADL restores shadow and highlight detail typically lost in high contrast situations, such as backlit subjects or while outdoors with strong sunlight. ADL bracketing provides users with the ability to bracket up to five frames of ADL strength to help ensure perfect contrast throughout the frame, putting an end to the guesswork behind the shot with a bride's intricate white dress and a groom's tuxedo in the same frame, for example.
Additionally, the D300s features two memory card slots—one CF and one SD, used simultaneously in a variety of configurations to match users' preferences. Among the many options available, stills and video can record to separate cards or slots can be assigned for JPEG and RAW recording. The D300s offers "overflow" or "backup" modes, and when shooting D-Movie clips, it allows you to select the slot containing the card with the most available capacity. Users can also copy and paste files between cards.
Also added to the D300s is a Quiet Shutter Release mode, which substantially reduces the sound of the mirror while shooting. Quickly accessed by selecting "Q" on the release mode dial, this feature is ideal for the photographer who wishes to remain unobtrusive.
To further expand versatility, users have the ability to fine tune their images using Nikon's Picture Controls to adjust sharpening, brightness, contrast and color hue. The D300s offers users four presets including Standard, Neutral, Vivid and Monochrome; while Landscape and Portrait settings can be downloaded from the Nikon website. While the D300s offers a versatile built-in flash with wider coverage for a 16mm lens, the camera is also compatible with Nikon's Creative Lighting System and is capable of controlling up to two groups of remote units as a master / commander for Advanced Wireless Lighting.
System Expandability
In addition to compatibility with more than 60 NIKKOR lenses and a broad array of system accessories, the D300s will also perform well with the recently announced AF-S NIKKOR 70-200 f/2.8G ED VR II and the AF-S DX NIKKOR 18-200 f/3.5-5.6 ED VR II lenses.
Price and Availability
The Nikon D300s camera body will be available at Nikon Authorized dealers beginning in late August 2009 at an estimated selling price of $1799.95. For more information, please visit
www.nikonusa.com
.
THE NEW NIKON D3000 PROVIDES AN EASY PATH TO FANTASTIC PHOTOS
Today, Nikon Inc. announced the D3000 digital SLR camera, an affordable answer for users looking to experience the superiority of digital SLR photography or enthusiasts seeking a capable, compact D-SLR. The 10.2-megapixel D3000 has features that make it easier than ever to take great pictures, including the new Guide Mode, which lends a smart helping hand to new D-SLR users, and an extensive Retouch Menu, enabling consumers to edit photos, even without a computer. The D3000, which offers an 11-point autofocus system, also leverages proven Nikon D-SLR technologies, including the exclusive EXPEED™ image processing, Active D-Lighting system and 3D Color Matrix Metering II, enabling entry-level D-SLR shooters to take stunning pictures.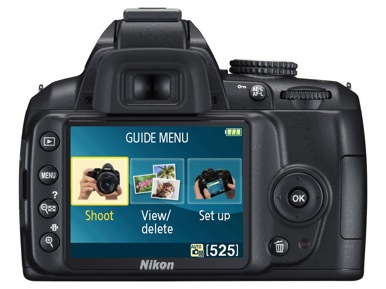 "The D3000 combines the best of both worlds, providing picture takers with the ease-of-use currently offered in point-and-shoot cameras alongside the speed, precision and exceptional results that have made Nikon D-SLRs so popular," said Edward Fasano, general manager for Marketing, SLR Systems Products at Nikon Inc. "The D3000 offers everyone the ability to discover the superiority of D-SLR photography at an affordable price point. We look forward to enabling more consumers to explore the possibilities of D-SLR picture taking and, more importantly, capture life's memories faithfully."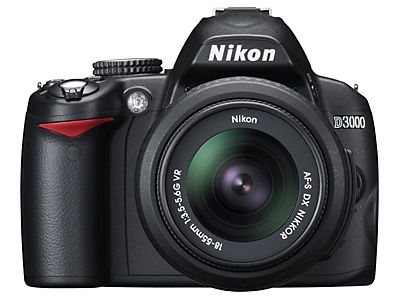 Intuitive Assistance On-the-Fly
The D3000 includes the all-new Guide Mode with an easy-to-use interface to help new photographers build confidence in using a D-SLR with step-by-step instruction and inspiration. The Guide Mode, easily accessed by the Mode dial on the top of the camera, displays a variety of shooting situations via the LCD screen, indicating the most appropriate settings for a particular scenario. Users can also see sample photos on the LCD screen, which illustrate the effects of different photo-taking techniques. The Guide Mode also helps users easily review, organize and delete images.
Whether new to D-SLR photography or simply mastering new shooting techniques, the D3000's Guide Mode assists users in exploring effective picture taking solutions at their own pace to make capturing great pictures even easier.
Small in Size, Big on Features
With elegant ergonomics, softly rounded corners, and a comfortable grip, the D3000 packs powerful technology into a compact form factor. Though the D3000 is tiny when compared to professional D-SLR cameras, it boasts a large, bright three-inch 230,000-dot LCD screen, and now features an easier-to-read font size, 20 percent larger than in previous Nikon D-SLRs.
Quick performance and response are at the core of the D3000's design and its 11-point Multi-CAM 1000 autofocus system makes it easy to find and focus on a subject. Also, the D3000 offers split-second shutter response, eliminating the frustration of shutter lag, as well as the ability to capture images up to three frames per second, allowing users capture every moment. Users can enjoy the benefits of Nikon's advanced 3D Subject Tracking, which continuously focuses on a fast moving subject throughout the frame.
The D3000 provides multiple ways for users to engage with their pictures, post capture. It uses Nikon's extensive in-camera Retouch Menu, which allows users to easily apply a variety of fun and dramatic effects to their images even when away from a computer. The D3000 introduces a new Miniature effect, which changes the appearance of distant subjects to look like close-ups of miniature models. The D3000 also inherits the Soft Filter and Color Outline Retouch options from the D5000, allowing users to express their photography in a new and artistic way. As with all Nikon D-SLRs, the camera creates the new retouched image, while preserving the original.
For users who want to take their creativity to the next level, the D3000 also includes the ability to capture images in the NEF (RAW) format, in addition to traditional JPEG. Images captured with D3000 in the NEF (RAW) format include a greater amount of image data, which in turn, affords finer image control and higher uncompressed lossless image quality. With NEF (RAW) images, users can fine-tune the appearance of an image with simple adjustments to things like exposure, color saturation, brightness, and overall tone – especially in the post-production process. Users can use Capture NX 2, Nikon's powerful image editing software, to achieve these desired effects.
Nikon extends the creativity with Stop-Motion Movie Mode. With this mode, users can choose a collection of images within the D3000's Retouch Menu, and the camera then compiles and stitches them into a fun and creative video file.
Renowned Nikon Technology
The D3000 leverages proven Nikon technologies to create the most positive picture taking experience for consumers. The D3000 delivers highly detailed images with vibrant color reproduction and low noise across a broad ISO range, due to its 10.2-megapixel CCD image sensor coupled with Nikon's exclusive EXPEED image processing system. The D3000's normal ISO range extends from ISO 100 to 1600, allowing for low light versatility. Additionally, the D3000's ISO range can expand to a Hi-1 setting of ISO 3200, furthering the opportunities for shots that other cameras miss.
The D3000 also makes use of Nikon's Active D-Lighting system, which automatically compensates to reveal veiled details in shadows and highlights in high-contrast situations. For instance, when selected, Nikon's Active D-Lighting can improve the appearance of fine detail in a person's face that was previously hidden in dark shadows or bring out the highlights in a beautifully backlit landscape.
Nikon's exclusive 3D Color Matrix Metering II, in conjunction with the EXPEED image processing system, contributes to the D3000's ability to capture breathtaking images by instantly evaluating the exposure elements of each scene and comparing it to an onboard database of information from more than 30,000 images. These split-second calculations allow the D3000 to ensure beautiful exposures—even when conditions are extreme.
The D3000 also incorporates Nikon's Integrated Dust Reduction System, which offers a comprehensive solution that combats the accumulation of image-degrading dust from the camera's image sensor. The system not only utilizes an active sensor cleaning function that activates whenever the camera is turned on or off, but also the Airflow Control System to redirect dust particles, limiting their ability to reach the sensor.
System Expandability
Photographers and enthusiasts alike can also appreciate the D3000's system expandability, as the camera can work in conjunction with a variety of Nikon accessories, including a broad assortment of legendary NIKKOR AF-S interchangeable lenses. While the D3000 offers a versatile built-in flash, the camera is also compatible with Nikon's Creative Lighting System and capable of Advanced Wireless Lighting when using the SB-900 Speedlight or the SU-800 Wireless Commander.
The D3000's design also supports Eye-Fi memory card functionality, enabling the convenient wireless transfer of images from the D3000 to a computer, when using Eye-Fi memory cards.* Additionally, photos can be securely written to readily available SD cards, high-capacity SDHC cards and Eye-Fi memory cards, offering users a range of data storage options.
Price and Availability
The D3000 outfit, including the versatile AF-S NIKKOR 18-55mm f/3.5-5.6G VR image stabilization lens, is scheduled to be available at Nikon Authorized dealers beginning in late August 2009 at an estimated selling price of $599.95.** For more information, please visit www.nikonusa.com.
NIKON FURTHER REFINES DX AND FX LENS FAVORITES
Nikon today announced the AF-S DX NIKKOR 18-200mm f/3.5-5.6 ED VR II and the AF-S NIKKOR 70-200mm f/2.8G ED VR II, two telephoto zoom lenses further refined to provide photographers with exceptional optics for outstanding image clarity and sharpness, both featuring Vibration Reduction (VR II) image stabilization. The 18-200mm, Nikon's best-selling premium high-ratio zoom ever, offers enthusiasts excellent versatility. The 70-200mm f/2.8, now benefiting from Nikon's exclusive Nano Crystal Coat, retains its status as a preeminent choice for discerning professionals in a multitude of shooting disciplines.
Both of these lenses use Nikon's VR II image stabilization technology, which is engineered specifically for, and optimized to, function most effectively for each lens design to substantially reduce camera shake-related image blur. VR II allows photographers to shoot handheld at as many as four shutter speeds slower than would otherwise be possible, better assuring dramatically sharper images—even in challenging lighting conditions. Two VR modes are available: "Normal" mode, ideal for everyday use and panning a subject; and "Active" mode, for use in instances where more constant vibration (i.e. camera shake) is present, such as when shooting from a moving vehicle.
"Nikon's strong commitment to leadership in lenses drives us to constantly refine NIKKOR lenses to take advantage of newly developed technologies and introduce design innovations," said Edward Fasano, general manager for Marketing, SLR System Products at Nikon, Inc. "Fifty years after the introduction of the Nikon F-bayonet lens mount, NIKKOR lenses remain an industry standard. We achieve this by investing in research and being attuned to the needs of both FX and DX-format photographers to provide the best lenses possible."
The 70-200mm f/2.8 VR: Essential Optics Refined
The "go-to" lens of demanding professionals and serious enthusiasts, the 70-200mm f/2.8 is one of the most useful and sought after high-performance lenses for sports, wildlife, portrait, travel and news photographers. Nikon has further refined the lens, with an enhanced optical formula featuring seven extra low dispersion (ED) glass elements. These elements provide the ultimate in rendering characteristics to capture vibrant, high resolution images with optimal contrast. Image quality is further enhanced by Nikon's Nano Crystal Coat, which reduces instances of lens flare and ghosting, elevating optical performance, even in tricky conditions such as those found in professional sports settings and stage events.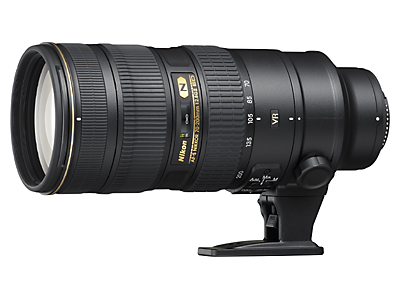 Designed to deliver the pinnacle of image quality in a wide variety of conditions, the new 70-200mm VR II lens also includes a Silent Wave Motor (SWM) for fast, quiet autofocusing. The SWM takes full advantage of 3D tracking autofocus (AF) systems, such as those found on the FX-format D3X, D3 and D700 D-SLR cameras. Three focus modes are available - M, A/M and M/A - for automatically focusing, manually focusing or fine tuning AF performance to best suit the photographers' needs. Nine rounded diaphragm blades contribute to a more attractive bokeh, allowing photographers create soft and more naturally separated backgrounds that better highlight the subject.
The DX 18-200mm f/3.5-5.6 ED VR: Class-Leading Versatility
The AF-S DX NIKKOR 18-200mm, the next generation of Nikon's all-time best-selling premium high-ratio zoom, combines an 11X zoom range with VR II to provide DX-format enthusiasts with an extremely versatile zoom range in a compact form-factor. Nikon enhanced construction to include a zoom lock switch, to allow photographers to secure the lens barrel at its minimum length, eliminating the natural gravitational effect that can draw the barrel downward during transport. The inclusion of Nikon's exclusive Super Integrated Coating (SIC) reduces instances of ghosting or flaring. Whether shooting artistic landscapes or vacation snapshots, this lens provides fast and quiet AF operation with the help of Nikon's SWM technology.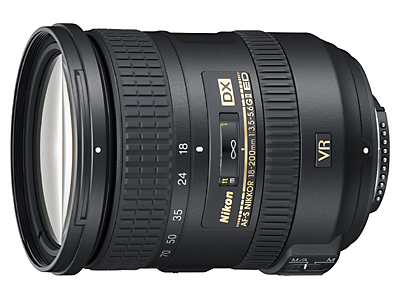 Designed to be a one-lens solution and weighing in at a scant 19.9 ounces and measuring only 3.8 inches in length, this lens provides an extraordinary (35mm equivalent) picture angle of 27-300mm when mounted on any Nikon DX-format camera such as the new D300s or D3000 D-SLR cameras. Additionally, the optical formula contains two ED glass elements and three aspherical lenses to minimize chromatic aberration and distortion. The resulting images exhibit extreme sharpness, extraordinarily vibrant color and crisp contrast.
Price and Availability
The AF-S DX NIKKOR 18-200mm f/3.5-5.6 ED VR II lens is scheduled to be available at Nikon authorized dealers beginning September 2009 at an estimated selling price of $849.95**. The AF-S NIKKOR 70-200mm f/2.8G ED VR II lens is scheduled to be available at Nikon authorized dealers beginning November 2009 at an estimated selling price of $2399.95** For more information, please visit www.nikonusa.com.