Todoist has launched its popular to-do list app for the Apple Watch and made updates to its Today and Share extensions.

Join the 4 million+ people around the world who are accomplishing amazing things with Todoist – the beautifully simple to-do list built for the pace of modern life. Whether you need to collaborate with your team, keep track of your most important projects, or just remember to pay the rent, Todoist is there to help you achieve more every day.



What's New In This Version:
In this update, we're bringing all of Todoist's most powerful features to your wrist! (plus Today and Share extension improvements to make your life a little easier on iPhone and iPad)

TODOIST FOR APPLE WATCH
We've been testing and iterating almost 24/7 since we got our hands on the Apple Watch a month ago, and we think the results that came from real user testing are well worth the wait!

For those of you didn't hit the update button as soon as you read the first line, let's take a look at how Todoist for Apple Watch is designed to help you boost your productivity beyond the iOS app:

▸ Dictate tasks, deadlines, and recurring due dates with Voice Command - The time it takes to get your ideas out of your head and onto your to-do list is virtually eliminated.

▸ Receive reminders based on your tasks' due date and time or at a specific location - There's nothing more distracting than the nagging worry you'll forget something important. Now, you can rest easy knowing your Apple Watch will give you reminders when and where you need them right on your wrist. There's no chance you'll forget them.

(Pro-Tip: Try using the Todoist for Apple Watch app to help trigger healthy habits. For example, add "Meditate for 15 minutes every day at 8am" to your to-do list and get a gentle buzz from your watch to remind you to do it.)

▸ View your next upcoming task in Glance View - Do away with distractions and focus on the one thing you really need to get done.

▸ Get notified of new comments - Stay in the loop on what's happening with your shared tasks and keep your collaborative projects running along smoothly.

▸ Get access to all of your projects, task lists, labels, and filters - Use these lists to turn unproductive moments (like standing in line and riding the bus) into valuable opportunities to review your upcoming to-dos.

The Apple Watch is an entirely new frontier in terms of productivity. We can't wait to see how you'll incorporate it into your daily workflow!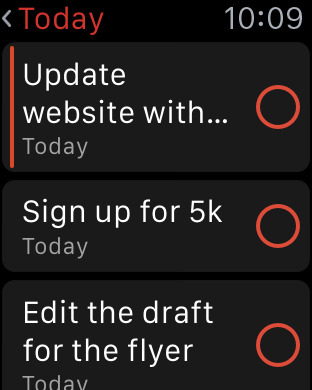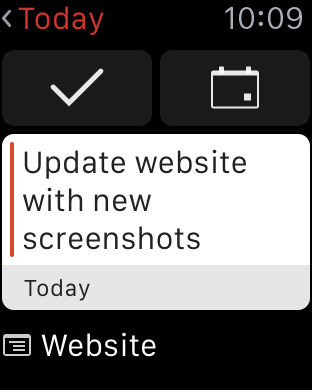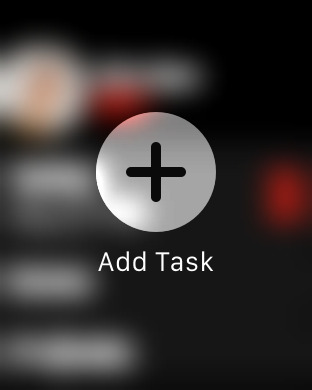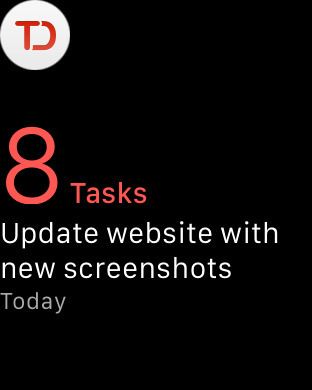 TODAY & SHARE EXTENSION UPDATES
We've also been working on a couple of new updates for iOS that will help streamline your productivity on iPhone and iPad too:

▸ Today Widget: While not much has changed on the surface, we did a ton of behind-the-scenes work to make the Today Widget faster, smoother, and more reliable. We think it's going to make a huge difference when you want to manage your tasks quickly without having to launch the app.

▸ Share Extension: Our Share extension allows you to save pretty much any item from any of your iOS apps in Todoist. For this update, we completely rebuilt the UI to make it faster and much more pleasant to capture tasks from anywhere on your iPhone or iPad. We also added in our intelligent new date parser so you can add even your most complex recurring due dates right from the Share extension screen.

You can download Todoist from the App Store for free.

Read More