Lumu Labs has unveiled the new Lumu Power which lets you measure Color Temperature, White Balance, Flash and Ambient Exposure or Illuminance using the iPhone.

Back in 2013, the company launched a kickstarter campaign for Lumu, a beautiful light meter for the iPhone. Now they are back with Lumu Power a greatly improved version of the device which connects to the Lightning port on your iOS device.



Here's a look at the various measurements you can take with the Lumu Power...

Color Temperature:
The light that comes from the overhead fluorescent lights in your office is nothing like the light that pours from your favourite chandelier at home or of that of the bedside lamp that lets you read your favourite novel to help you fall asleep. Know the difference. Explore it. Make it work for you.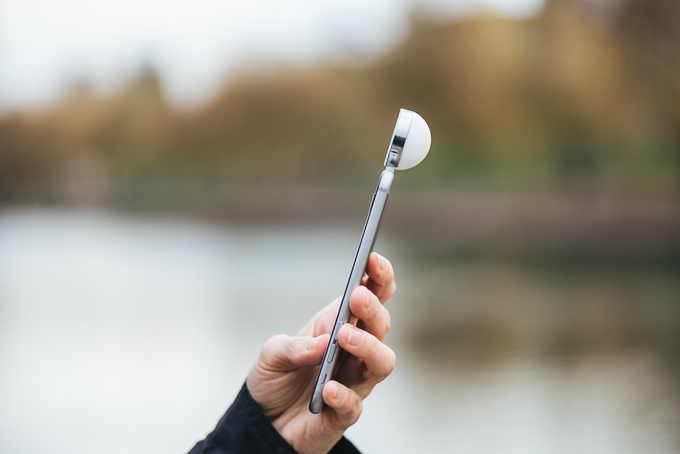 White Balance:
Like music in an elevator or a doctor's waiting room, color has the power to influence how we feel without us even noticing it. Film directors have been exploiting the way we see color for decades.

White Balance mode in the new Lumu app is designed to show you
● measured Color Temperature value and
● value of required Tint compensation (Green vs. Magenta cast) for the perfect white.

If you work as a lighting designer or Director of Photography, "Filters" mode will help you to measure the color difference between multiple light sources and help you to choose the right filter to match them.

Exposure and Flash:
In addition to measuring ambient incident light, new Lumu Power is capable of measuring flash light.

The main "flash" features:
● measuring flash exposure and Flash vs. Ambient light ratio
● adjusting Flash vs. Ambient light ratio and auto compensating with shutter time (and vice versa).

Flash functionality currently works in a non-cord mode, where the meter waits for the flash and then takes the measurement. Our next goal is to make it compatible with WiFi enabled flash units, such as Broncolor Siros or Elinchrom Skyport system. This is the future. And the future is bright with Lumu Power.




Illuminance:
Measure illuminance as simple as possible. We're adding presets to set and check if the right illuminance levels are reached and save your measurements.

Technical Specifications:
Exposure
- Measuring range: EV -4 to 20 at ISO 100
- Accuracy: +/- 0.1 EV
- Light receptor: fast-response Silicon photo diode, CIE spectral luminous efficiency
- Hemispherical Diffuser, Cardioid-type responses

Color (Temperature)
- Light receptor: True Color Sensor, CIE 1931 Color standard Human eye perception
- Sensitivity: Visible light
- Dynamic range: 1:1,000,000
- Accuracy: - Flat Diffuser, Cosine-type response

Illuminance
- Measuring range: 0.15 - 250,000 lux
- Accuracy: +/- 3%
- Flat Diffuser, Cosine-type response

Other
- Power source: iOS device
- Materials: Housing: Stainless Steel, Diffusers: Polycarbonate Lexan
- Compatibility: iOS devices using Lightning connector, running iOS 8+


The Lumu Power campaign has already far exceeded its funding goal of $30,000 on Kickstarter with over $125,000 pledged. You can pledge $199 to get one of the first units when they ship in June 2016. The campaign has 27 days left.

Read More