Tweetie 2 Gets Many New Features
Posted September 28, 2009 at 10:34pm by iClarified · 5971 views
Developer Loren Brichter has announced a completely rebuilt version of Tweetie which adds many new features.
We've posted his description of the new app below. You can hit the link at the bottom to read more about the creation of the app.
-----
First, Tweetie 2 is OS 3.0+ only. If you haven't updated, now's the time. It leverages everything, from the fun things like video recording (of course you can video tweet), to the downright awesome things like UISearchDisplayController so you live-filter your tweet stream, just like Mail.
It contains a metric ton of new stuff. There is full persistence - not just caching tweets for offline reading, but remembering where you are in the app. You could be viewing a conversation of a tweet of a recent mention of one of your followers, quit the app (or get a phone call), and when you come back, the entire UI stack is restored. Speaking of offline reading, there is also a fantastic offline mode. You can favorite, follow, block, add to Instapaper and more all while offline. Next time you connect, all of those actions will be synced back up.
There's a drafts manager, you can even use it to compose tweets and DMs while you're on the subway, and blast them out simultaneously as soon as you get out. (And if you're a fan of Birdhouse, you can now send drafts to it from Tweetie).
You can link up Twitter users to contacts in your iPhone Address Book. Forget just adding notes, you can link up with email addresses, phone numbers, and more - and even better, all of that linkage information is backed up when you sync your phone.
Threaded conversations are there, just like the Mac version, as are nice tab bar notifications so you can see at a glance if you have new items. "Nearby" has been revamped to take advantage of MapKit (it's even cooler than you can imagine), and Tweetie 2 already supports the new geotagging metadata coming soon from Twitter.
Saved searches now sync with Twitter.com and the upcoming Tweetie 2 for Mac. There is deep, native integration with other services, including Favstar.fm, Tweet Blocker, and Follow cost.
The compose screen design has been completely overhauled, with a @people picker, recent hashtags, multiple attachments manager, and a "peek" gesture when replying to a tweet.
Plus: full landscape support (configurable, of course), edit your Twitter profile, custom API roots on a per-account basis, vastly improved gesture shortcuts, in-app rich-text email, new-style retweet support, refresh-all on launch, TextExpander, Read it Later integration (in addition to Instapaper), autocomplete recent searches, autocomplete go-to-user, improved avatar caching, inline Twitlonger, reply chain list view, preview short urls, tweet translation, block+follow from multiple accounts at once, and that's just the stuff I can think of off the top of my head.
And here's the beauty of this: just as Tweetie 1 proved that you didn't have to sacrifice usability for functionality, Tweetie 2 proves it again. Every single one of these features fits naturally into the user interface, none adds unnecessary complexity. It's arguably even simpler than Tweetie 1, all while being vastly more powerful.
-----
Tweetie 2 for Mac will be a completely free upgrade. Tweetie 2 for iPhone will be a whole new app and though its much more powerful will be priced the same as the original app: $2.99.
Read More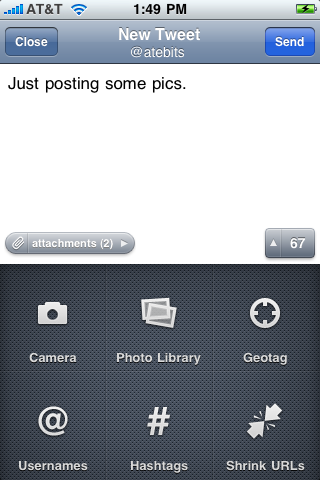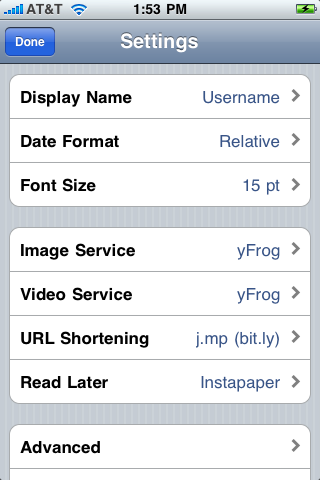 [Pics:
Mashable
]