Samsung's Smartphone Shipments Grew 14% in 4Q15 While Apple's Stayed Flat [Chart]
Posted January 28, 2016 at 11:05pm by iClarified · 12496 views
Samsung's smartphone shipments grew 14% year over year during 4Q15 while Apple's stayed nearly flat, according to the latest IDC report.
Worldwide smartphone shipments reached record levels during the 2015 holiday quarter with a total of 399.5 million units shipped. That's 5.7% more than shipped in 4Q14. For the full year, 1432.9 million units were shipped, up to 10.1% from 2014.
Apple continued to dominate headlines in the quarter as 4Q15 represented its most successful quarter yet with 74.8 million units shipped, up 1% from the 74.5 million shipped last year. Although the Cupertino-based vendor witnessed minimal growth year over year, its 2015 total market share climbed to 16.2%, up from 14.8% in 2014. Growth in key markets such as China were up 18%, in which 50% were first-time iPhone owners. Sales in many emerging markets were also up as India saw the biggest increase among the BRIC countries with 76% growth. Apple accomplished all this despite the increase in average selling price (ASP) for an iPhone. ASPs climbed to $691, up from $687 one year ago, potentially pointing to increased demand for a larger screen and higher capacity models.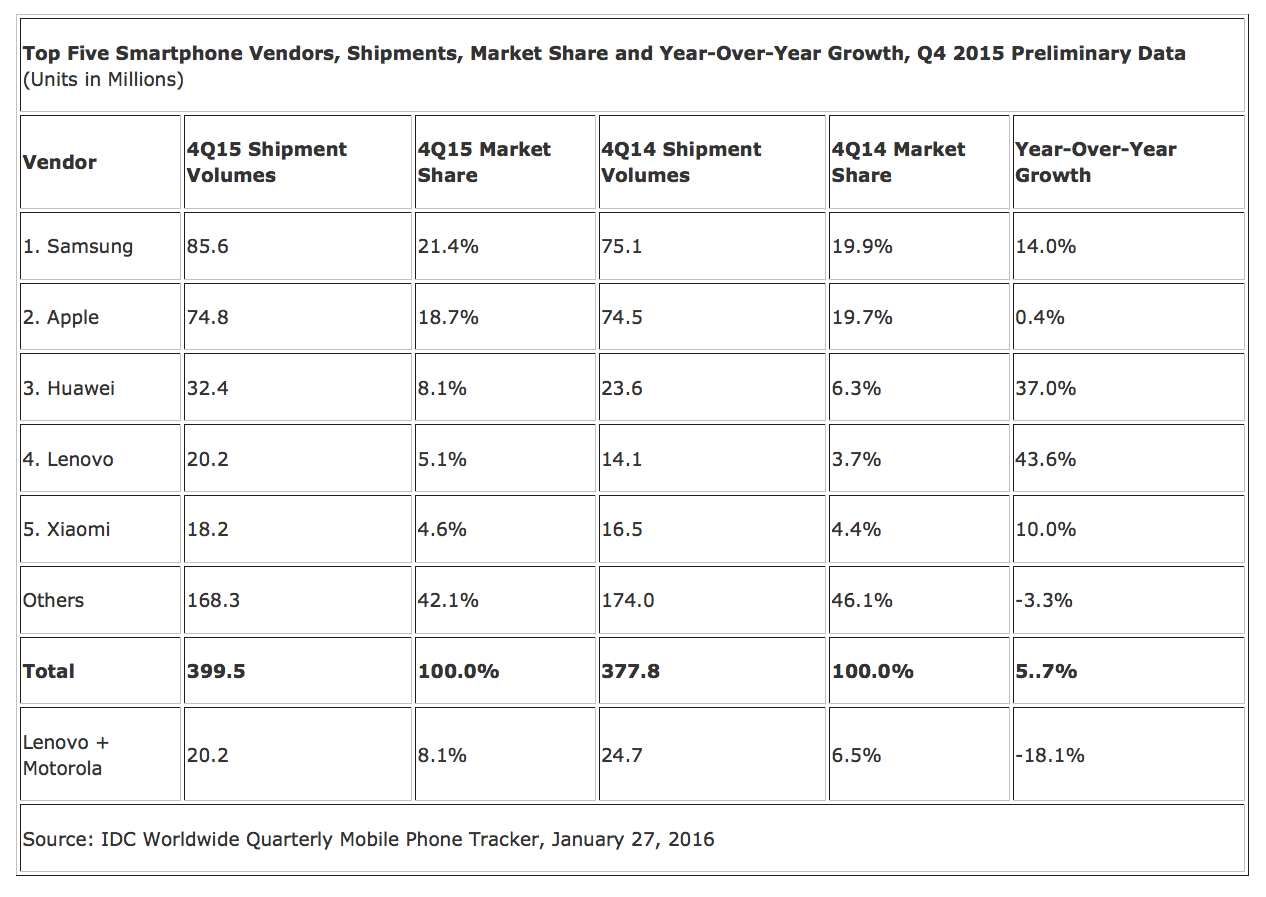 Smartphone Vendor Highlights:
● Samsung remained the leader in the worldwide smartphone market for the quarter and the year with 85.6 million units shipped in 4Q15, up 14% from last year. The Korean giant finished the year with 324.8 million shipments, which is up only 2.1% from the 318.2 million shipments in 2014. With continuously increasing pressure in the high end from Apple, and at the low end to midrange from Chinese manufacturers Xiaomi, Huawei, ZTE, and others, Samsung faces a multi-front battle.
● Apple hit a new high with 74.8 million units shipped, albeit just 0.3 million more than the same quarter one year ago. Continued demand for Apple's iPhone 6S and 6S Plus, particularly in China and the U.S., elevated Apple in 2015 to 231.5 million units shipped in the year. This represents 20.2% growth from the 192.7 million units shipped in 2014. The combination of new innovative features such as Apple Pay and Force Touch, combined with a new Rose Gold color, better performance, and increased speed, helped drive upgrades and attracted Android switchers in record numbers.
● Huawei was the biggest winner in the quarter, with the strongest year-over-year growth among the top five vendors at 37%. Huawei also became the fourth mobile phone vendor in history to ship over 100 million smartphones in a year (preceded only by Nokia, Samsung and Apple). Of the key brands originating from China, Huawei has consistently expanded its presence and share on the back of affordable handsets in emerging markets, combined with increasingly competitive flagship models.
● Lenovo, just over one year after its acquisition of Motorola, was still trying to find its feet amidst organizational changes while facing greater competition in its domestic market from smaller, local competitors at the low end. The Motorola brand, strong in 2014 in the Americas with the Moto G and Moto X, saw fewer groundbreaking new models in 2015. The Motorola name will be shortened to just "Moto" and be used for high-end devices while the "Vibe" brand from Lenovo will represent the low-end. Lenovo will also put its faith entirely in Motorola as they have elected Moto to design, develop, and manufacture smartphone products going forward.
● Xiaomi leaned heavily on the China market for growth, where volumes were still 90% domestic on average compared to international, despite ramping up in India and launching in Brazil. Xiaomi spent 2015 trying to encourage a transition away from the low-end range of models into more midrange models, although the bulk of shipments still rest on low-end volumes from the Redmi line. On the basis of this growth, it was able to widen the gap from number 6, LG.
Check out the charts below for more details...
Read More