Apple has officially unveiled iOS 12 with Group FaceTime calling, Memoji, Siri Shortcuts, and more.

iOS 12 changes the way iOS users see the world using AR, makes communications fun and expressive with Memoji and Group FaceTime, and with Screen Time, helps customers understand and take control of the time they spend interacting with their iOS devices. iOS 12 introduces Siri Shortcuts, enabling Siri to work with any app, delivering a much faster way to get things done.

"We're very excited about the new communications features we're bringing to iPhone and iPad with Memoji, a more personal form of Animoji, fun camera effects and Group FaceTime," said Craig Federighi, Apple's senior vice president of Software Engineering. "With iOS 12, we're enabling new experiences that weren't possible before. We're using advanced algorithms to make AR even more engaging and on-device intelligence to deliver faster ways to get things done using Siri."




Faster and More Responsive
iOS 12 is designed to make everyday tasks on iPhone and iPad faster and more responsive with performance improvements across the system. Camera launches up to 70 percent faster, the keyboard appears up to 50 percent faster and typing is more responsive. Even when there is a lot going on across the system, apps can launch up to twice as fast. From iPhone 5s, introduced in 2013, to the most advanced iPhone ever, iPhone X, iOS 12 brings performance improvements to more devices than any previous version.

Shared AR Experiences
ARKit 2 enables developers to create the most innovative AR apps for the world's largest AR platform, with new tools to integrate shared experiences, persistent AR experiences tied to a specific location, object detection and image tracking, making AR apps even more dynamic. Designed in collaboration with Pixar, a new open file format, usdz, makes it easy to experience AR nearly anywhere in iOS, including apps like Messages, Safari, Mail, Files and News, delivering powerful graphics and animation features.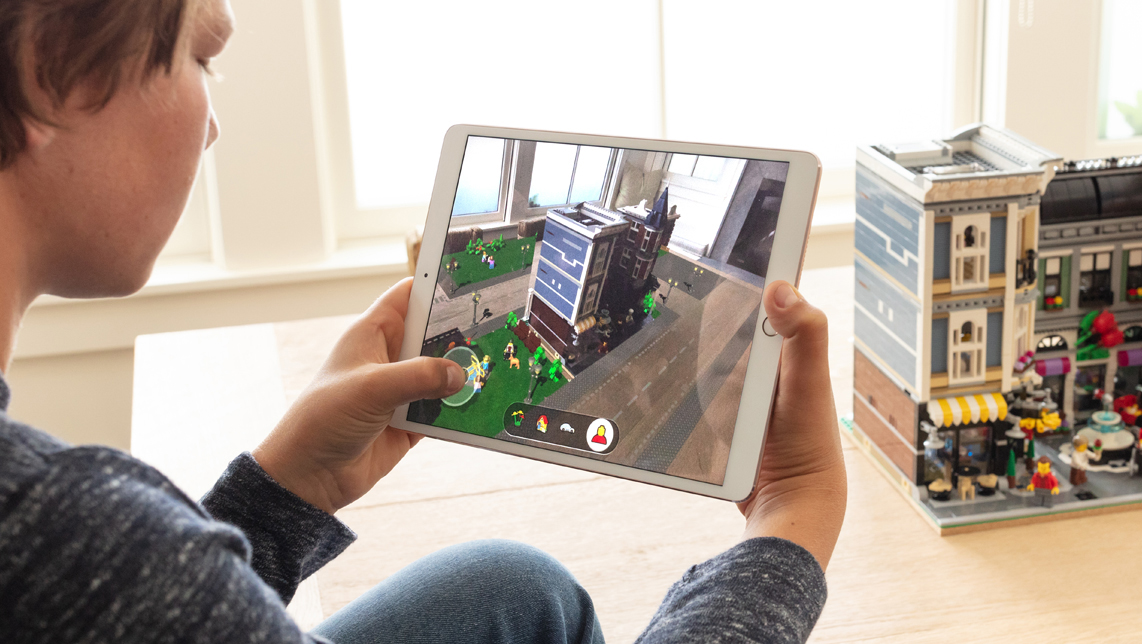 Memoji and Fun Camera Effects
New features make communicating with friends and family from iPhone X more expressive with new Animoji and personalized Memoji characters that are customizable and fun. Create beautifully designed Memoji right within Messages by choosing from a set of inclusive and diverse characteristics to form a unique personality. The existing set of Animoji also expands with ghost, koala, tiger and T. rex. All Animoji and Memoji now feature winks and tongue detection to capture even more expressions.

New camera effects bring Animoji, Filters, Text and Stickers to Messages and FaceTime. Filters like comic book and watercolor add personality to photos and videos, new labels and shapes let users add captions and titles to highlight parts of an image, and stickers can be placed using iMessage sticker packs.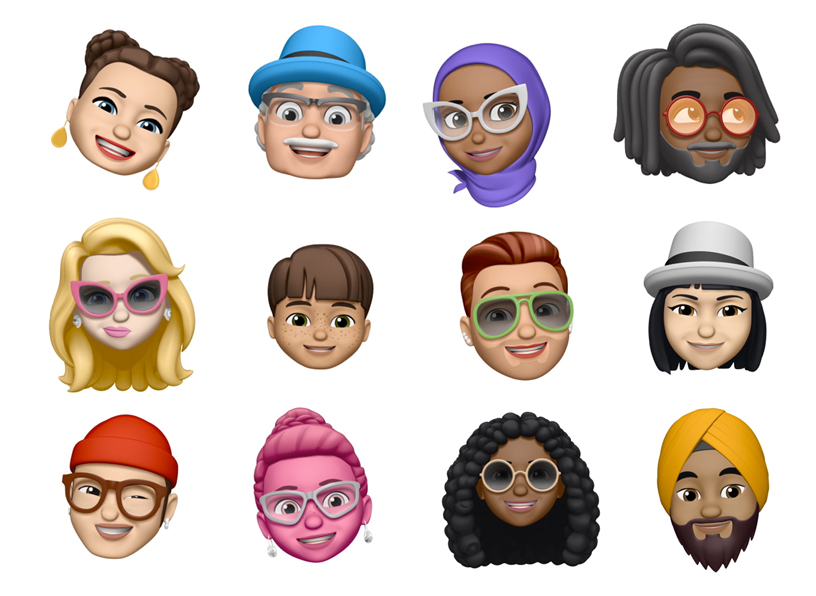 Group FaceTime
FaceTime changed the way we communicate and share important moments, and now with Group FaceTime, it's easy to chat with multiple people at the same time. Participants can be added at any time, join later if the conversation is still active and choose to join using video or audio from an iPhone, iPad or Mac — or even participate using FaceTime audio from Apple Watch.



Siri Shortcuts
Siri Shortcuts deliver a new, much faster way to get things done with the ability for any app to work with Siri. Siri intelligence can suggest an action at just the right time — whether it's to order a coffee in the morning or start an afternoon workout. Users can customize Shortcuts by creating a simple voice command to kick off the task or download the new Shortcuts app to create a series of actions from different apps that can be carried out with a simple tap or customized voice command. It's easy for developers to take advantage of this new capability using Shortcut APIs.



Photos
An all-new For You tab surfaces favorite moments in one place, combining Memories and iCloud Shared Albums. A new sharing suggestions feature makes it easier to share photos with friends, and friends who receive photos are prompted to share back any photos and videos they have from the same trip or event. Search suggestions surface the most relevant Events, People, Places, Groups, Categories and recent searches, and new search functionality lets users combine multiple search terms to find just the right photos.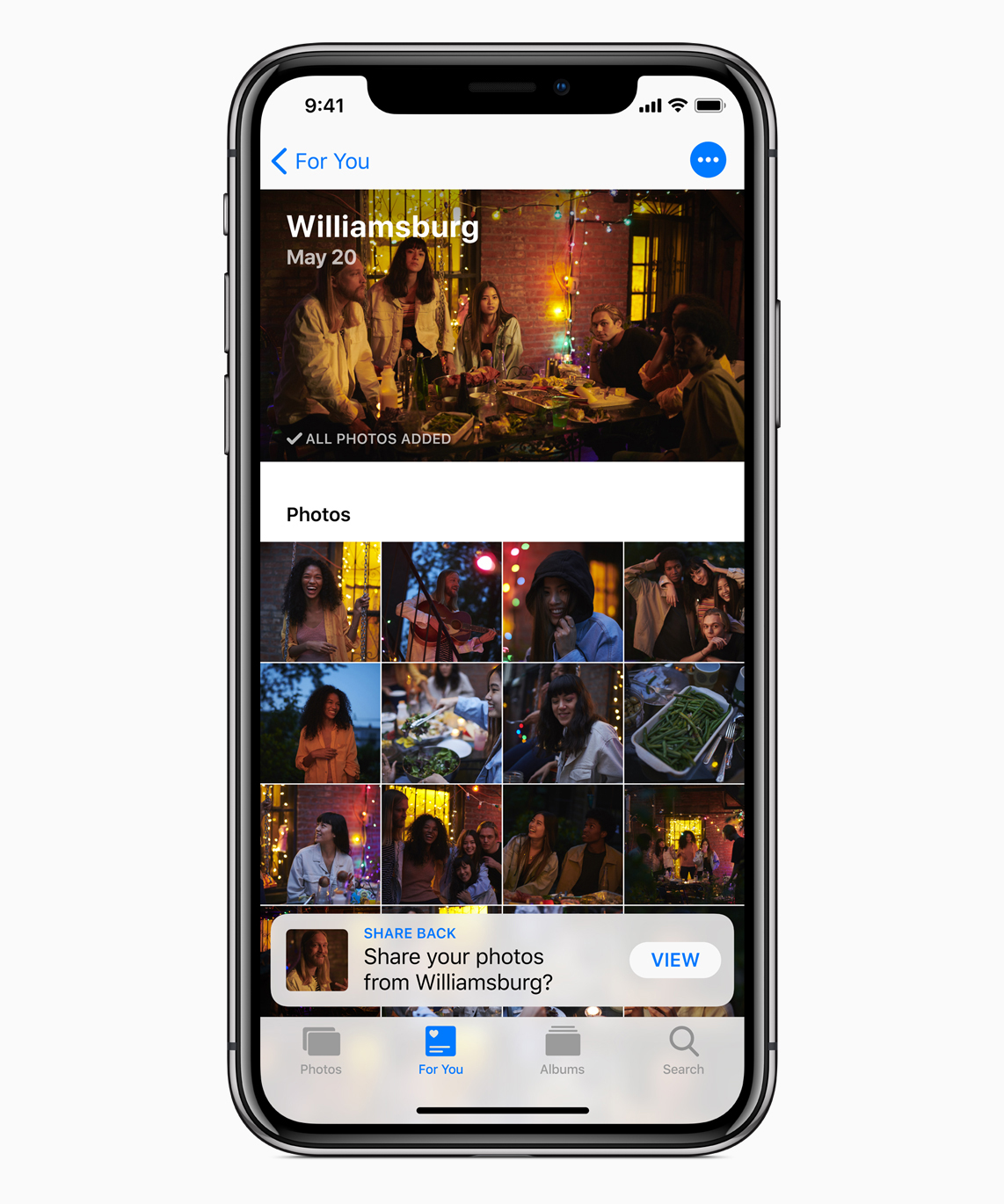 Do Not Disturb, Notifications and Screen Time
New tools built into iOS 12 help customers understand and take control of the time they spend interacting with their iOS devices. New modes in Do Not Disturb automatically end based on a specified time, location or action, and Do Not Disturb during Bedtime helps people get a better night's sleep by dimming the display and hiding all notifications on the lock screen until prompted in the morning.



To help reduce interruptions, iOS 12 gives users more options for controlling how notifications are delivered. They can instantly manage notifications to be delivered quietly or turned off completely. Grouped notifications make it easier to view and manage multiple notifications at once.
Screen Time provides users with detailed information and tools to help them better understand and control the time they spend with apps and websites. Daily and weekly Activity Reports show the total time spent in individual apps, usage across categories of apps, how many notifications are received and how often iPhone or iPad are picked up. Screen Time also gives parents access to their child's Activity Report right from their own iOS devices using Family Sharing in iCloud, and allows them to schedule times to limit when a child's iOS device can be used, such as during bedtime.



Privacy and Security
As with all Apple software updates, enhanced privacy and security remain a top priority in iOS 12. In Safari, enhanced Intelligent Tracking Prevention helps block social media "Like" or "Share" buttons and comment widgets from tracking users without permission. Safari now also presents simplified system information when users browse the web, preventing them from being tracked based on their system configuration. Safari now also automatically creates, autofills and stores strong passwords when users create new online accounts and flags reused passwords so users can change them.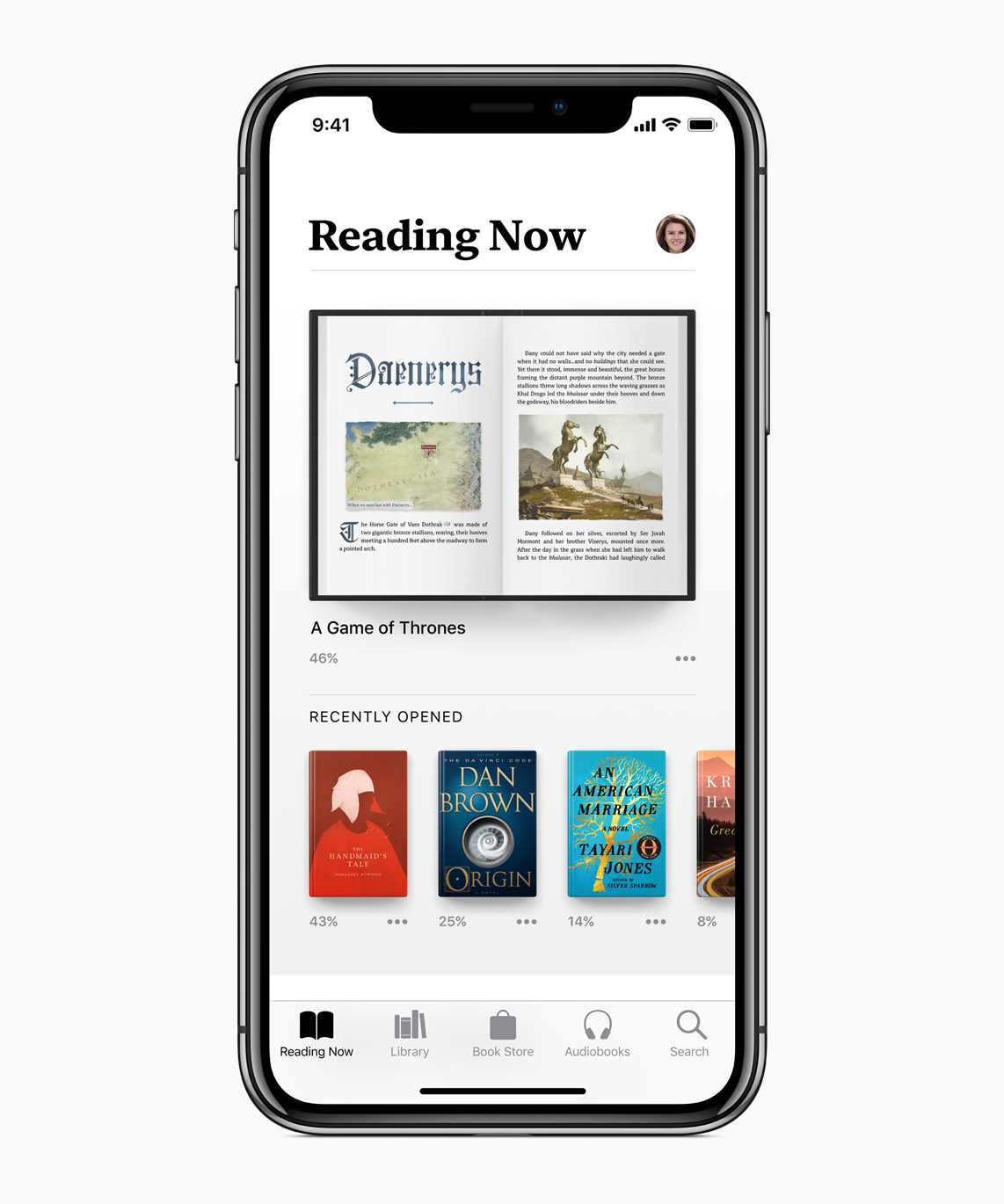 Additional App Features
● Apple Books is redesigned to make it easier to discover and enjoy books and audiobooks, and the Book Store tab makes it easy to explore new titles and browse the top charts, curated collections and special offers.

● Apple News is redesigned to make it easier to discover new channels and topics or jump straight to favorites, and on iPad, a new sidebar makes navigation even simpler.

● Stocks comes to iPad and illustrates how the market is moving with easy-to-understand quotes and high-quality news.

● CarPlay adds support for third-party navigation apps displayed right on the car's dash — joining music, messaging, calling and automaker apps.

● Voice Memos is now available on iPad and adds iCloud support to sync recordings and edits across devices. A new design makes it easier to capture, share and edit recordings.

● Siri translation expands to more than 40 language pairs and brings more knowledge of sports, celebrities, food and nutrition. Siri can also surface favorite photos by person, place, event, time and topic.

● Wallet on iPhone and Apple Watch adds support for student ID cards, making it more convenient to access everything on campus.

Availability
The developer preview of iOS 12 is available to Apple Developer Program members at developer.apple.com starting today, and a public beta program will be available to iOS users later this month at beta.apple.com. iOS 12 will be available this fall as a free software update for iPhone 5s and later, all iPad Air and iPad Pro models, iPad 5th generation, iPad 6th generation, iPad mini 2 and later and iPod touch 6th generation.

Read More