Adobe has announced the release of Premiere Rush CC, an all-in-one, cross device video editing app.

Premiere Rush is the first all-in-one, cross-device video editing app that makes creating and sharing online content easier than ever. This integrated desktop and mobile solution automatically syncs all of your projects and edits to the cloud — allowing you to work anywhere, on any device.




Highlights:
● An intuitive, all-in-one experience: Premiere Rush integrates capture, intuitive editing, simplified color, audio, motion graphics, and seamless publishing to the leading social platforms, all together in one easy-to-use solution.
● Creative flexibility: Make videos that look great, sound great, and are uniquely yours with simplified editing, customizable Motion Graphics templates, color, and Adobe Sensei-powered Auto-Ducking, all powered by Premiere Pro, After Effects, and Audition.
● Social Media Optimization: With sharing presets and one-click publishing, Premiere Rush automatically optimizes all your content for the different social media platforms that you publish to today — including YouTube, Facebook, Instagram, and Behance.
● Access anytime, anywhere: Create a project on one device and publish from another with a consistent user experience across phone, tablet, and desktop.




Upcoming Features:
● Android support: We've been hard at work on Rush for Android, and can't wait to share it with you next year.
● Speed controls: The number one feature request coming out of this summer's private beta was the ability to speed up and slow down videos, and we completely agree on the importance. Speed controls are at the top of our feature list.
● Performance: Removing any and all friction from your editing experience is a high priority for the team — we're continued to focus on performance.
● Publishing videos to multiple platforms: We've heard how time-consuming it is to create versions of your videos that meet the requirements of the different social media platforms that you publish to, which is why we made sure that this functionality was included in the initial release of Premiere Rush. We're continuing to work on ways to make this easier.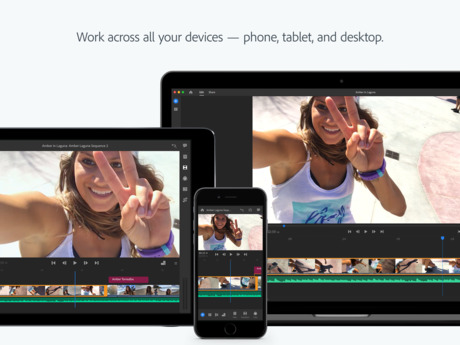 Pricing and availability
Premiere Rush CC is available now on Adobe.com and the iOS App Store. Usage requires one of the following:
● Premiere Rush CC Starter Plan: Available for free, the Starter plan gives customers access to all Premiere Rush CC features, use of desktop and mobile apps, and the ability to create an unlimited number of projects and export up to three projects.
● Premiere Rush CC is available for $9.99/month to individuals, $19.99/month to teams, and $29.99/month to enterprise customers. Premiere Rush CC is also included as part of Creative Cloud All Apps, Premiere Pro CC single app, the Student plan, and comes with 100 GB of CC storage. Additional storage options, up to 10 TB, are also available for purchase.

Take a look at the video below for more details...

Read More