Signify has announced a huge update to its Philips Hue smart lighting lineup that includes a new Hue Filament Collection, Hue GO portable lamp, Smart plug, Smart button, and much more.

Here's a look at all the new products the company unveiled at its special event during IFA.

The Filament bulb
With a design that is reminiscent of traditional, incandescent Edison-style bulbs, the smart LED lights allow you to easily create the perfect ambiance. Effortlessly set the mood in a room with the collection's warm white light (2100K, 550 lumens) and installation-free wireless dimming. The bulbs' beautiful shapes with their amber coating add elegance and style to any room — whether they are on or off.

The Philips Hue Filament collection includes three form factors: the traditional A19/A60 light bulb shape ($24.99/€19.95), ST19/ST64 tube ($27.99/€24.95) and G25/G93 globe ($32.99/€29.95). The portfolio is available in Europe as of today and in North America in October 2019.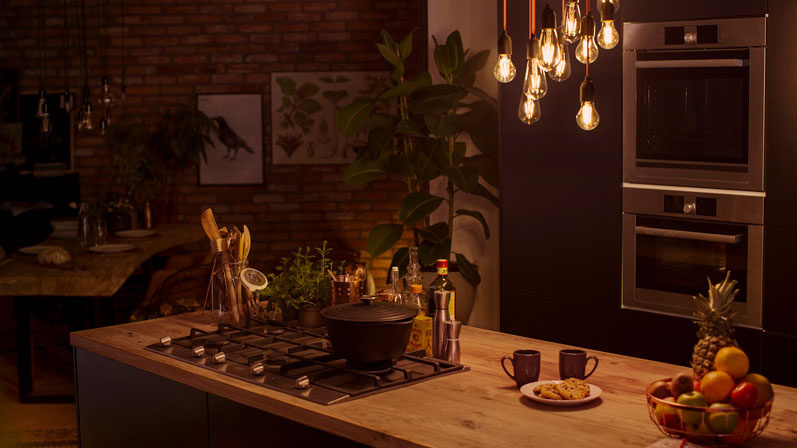 The Hue Go portable smart lamp
The Philips Hue Go is a portable smart lamp offering colored smart light, including preset light recipes and scenes — and it now features Bluetooth capability, meaning you can control it with the free Hue Bluetooth app or your voice via selected smart home assistants. Retaining its signature design, the upgraded Hue Go also features an improved battery life, meaning you can now bring it with you anywhere you like for an even longer period of time.

The Philips Hue Go is available from October in Europe, US and Canada for 79.95EUR / 69.99 GBP / 79.99 USD




Smart plug and Smart button
The Smart plug turns any table or floor lamp — even those in which you can't place a Hue bulb — into a Hue smart light. Simply connect any lamp to the Smart plug and add it to your Philips Hue setup, switching it on or off as you would control any other light using the Philips Hue Bluetooth app, a smart accessory, or your voice. The Philips Smart plug is available in most of EU countries (except Italy and Switzerland) for 29.95 EUR, in United Kingdom for 29,95GBP, North-America 39.95 USD and 60 AUD in Australia/New Zealand.




The Smart button, though subtle in size, packs a big punch — in a single press, you can control your Hue lights however you like, or press and hold the button to brighten and dim. When connected to the Philips Hue bridge, you can configure it so it turns your lights to a preset white shade and brightness adapted to the time of day: in the morning, one touch will turn your lights to cool tones and in the evening on touch will trigger warmer light settings. With a magnetic back side and its adhesive mini mount, you can place it wherever you need it. It also includes a larger backplate with the same dimension as your standard single gang wall switch, making it a smart replacement for your existing wall switch! The Philips Hue Smart button is available in Europe for 19.95 EUR, in United Kingdom for 17.95GBP and North-America for 19.95 USD.




New build-on and recessed spot lights
Add a touch of contemporary elegance to any room with the Philips Hue White and color ambiance Fugato and Argenta build-on spot lights, available in single, double, triple, or quadruple-light fixtures. For a subtler look, use the new Philips Hue White and color ambiance Centura recessed spot light in either the round or square version. Both series of spot lights are Bluetooth enabled which makes setting the perfect scene just a simple click away.

The Built-on spot lights are available in Europe from 89.99 EUR. The Recessed spot lights are available in Europe from 69.99 EUR.




GU10 spot lights
New Bluetooth-enabled White and color ambiance GU10 spots give your built-in and recessed spot lights a burst of color and add style to any room of your home. This new bulb features exciting upgrades: higher lumen, richer color and a new design that now perfectly fits in your spots ! Rather than relying on a single switch to turn on or off all your spot lights at once, you can control these bulbs individually in the Hue app.

The Philips Hue White and color ambiance GU10 bulbs are available in Europe from 59.95 EUR.




E14 candle bulbs
The new White E14 candle bulb give you more choice when selecting your home lighting. Ready to use after a simple setup with Bluetooth or a Hue Bridge, these bulbs are the perfect addition to the Philips Hue range. The Philips White E14 bulbs are available in Europe from 19.95 EUR (single pack) or 29.95 EUR (double pack).

The Adore bathroom range
Philips Hue has expanded the Adore range to include more lights for the bathroom, including a recessed spot and a large and small version of a slender, horizontal mirror light. The recessed spots pack, which features three spots, and each of the two mirror lights include a Hue Dimmer switch for easy control. Featuring four default light recipes, the Adore range provides the best light — cool to warm white — to make your daily routines, such as applying makeup in the morning or soaking in a relaxing bath at the end of the day, that much easier.