WARNING: Your iPhone 5 Will Stop Working Properly on November 3, 2019 Unless You Upgrade to iOS 10.3.4
Posted October 27, 2019 at 2:11am by iClarified · 16406 views
Apple has posted a new support document warning users that the iPhone 5 will stop functioning properly unless it's upgraded to iOS 10.3.4 by November 3rd.
Starting just before 12:00 a.m. UTC on November 3, 2019,* iPhone 5 will require an iOS update to maintain accurate GPS location and to continue to use functions that rely on correct date and time including App Store, iCloud, email, and web browsing. This is due to the GPS time rollover issue that began affecting GPS-enabled products from other manufacturers on April 6, 2019. Affected Apple devices are not impacted until just before 12:00 a.m. UTC on November 3, 2019.
If you don't update your iPhone 5 by November 3, 2019, you will be required to backup and restore to iOS 10.3.4 using a Mac or PC because OTA software updates and iCloud backup will no longer function.
To make sure you're on the latest firmware version simply go to Settings > General > Software Update.
Please follow iClarified on
Twitter
,
Facebook
,
Google+
, or
RSS
for updates.
Read More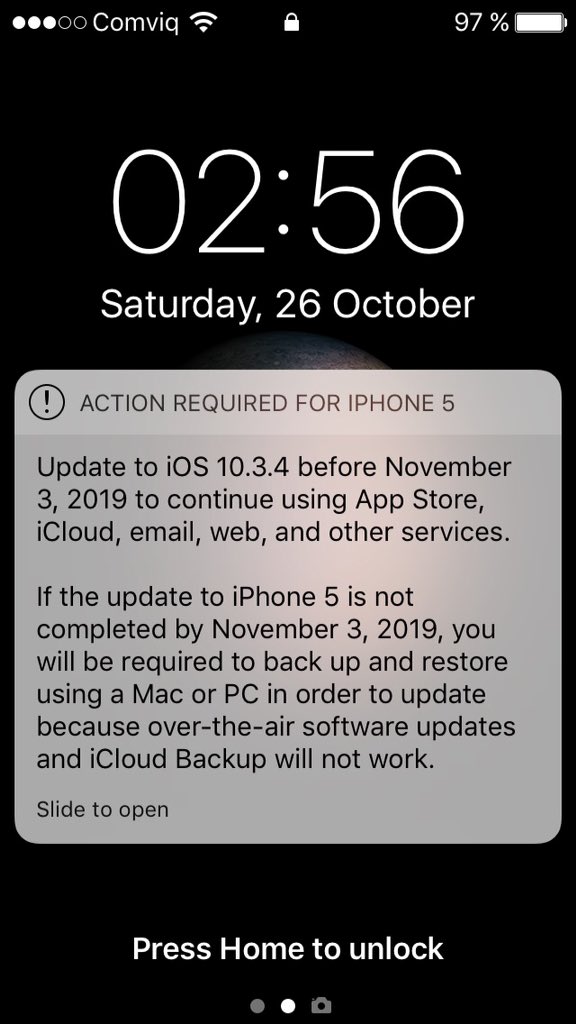 [
via @24XERO
]