Netgear Orbi Voice Mesh WiFi System With Alexa Built-in On Sale for 50% Off [Deal]
Posted March 6, 2020 at 9:19pm by iClarified · 5456 views
The Netgear Orbi Voice Whole Home Mesh WiFi System with Amazon Alexa and a Harman Kardon speaker built-in is on sale for 50% off today. That drops the system's price from $429.99 to
$215.11
, its lowest price ever.
Orbi mesh Wi-Fi System with Orbi Voice delivers whole home Wi-Fi with a superior smart speaker experience. Tri-band mesh Wi-Fi brings high-performance Wi-Fi throughout your home and extends your existing Wi-Fi for less buffering and dead zones. Ask Alexa on your Orbi Voice Satellite to play music, set alarms, control smart home devices, check traffic, weather, and more. Audio by Harman Kardon creates an exceptionally rich, room-filling sound. Enjoy the convenience of one Wi-Fi name, Circle with Disney Smart parental controls, guest Wi-Fi and other advanced router features. Orbi is ready right out of the box and works with your internet service provider. Easily set up and manage your whole home Wi-Fi and Smart speaker with the Orbi app. Coverage for homes up to 4, 500 sq. Ft. With combined speeds up to 3Gbps.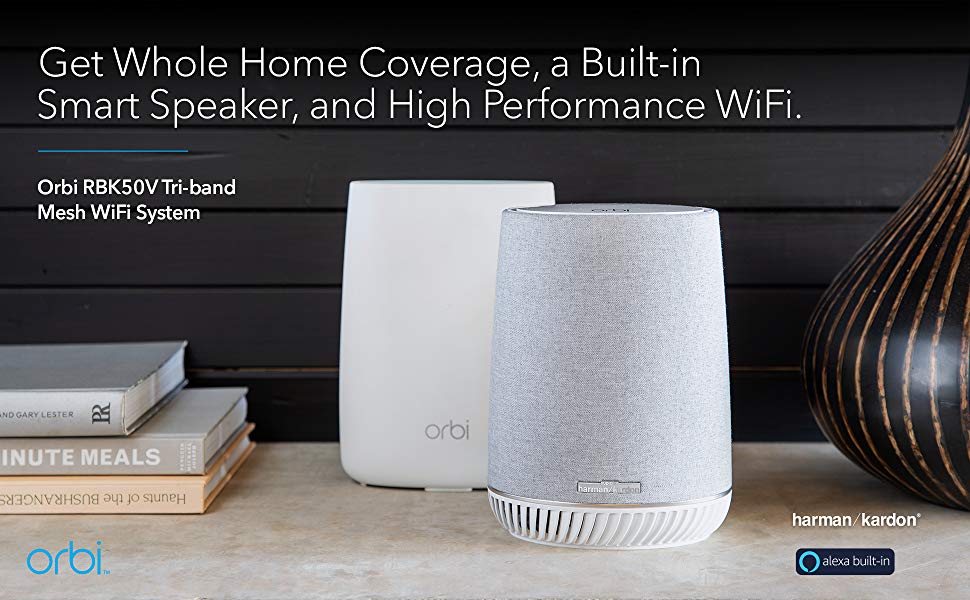 Features:
● Tri-band WiFi Maximizes Speed: An additional third band dedicated to your Orbi router and satellite frees up the other two bands for maximum speed to your devices
● Seamless Roaming Everywhere: Stay connected as you roam around home using a single network name.
● High Performance WiFi: Performance WiFi lets you stream HD movies to multiple devices and enjoy lag-free online gaming while still using all of your connected devices at the same time.
● Advanced Threat Protection & Smart Parental Controls: Built-in NETGEAR Armor multi-layer security software protects all your connected devices with best-in-class anti-virus, anti-malware, and data theft protection. Plus, parental controls let you easily pause the Internet, set time schedules and filter websites on your kids' connected devices.
● Works with any Internet Service Provider Plan up to 500Mbps: Gigabit port on router gives you a fast wired connection to your computer, game box, TV or other high-speed device.
● Easy to Setup and Manage: With the Orbi app, you can set up your WiFi in minutes, customize your settings, test/monitor your WiFi speed and control your WiFi anytime, anywhere.
Grab the deal while you can at the link below!
Get Deal