Feral Interactive has released Company of Heroes for iPhone.

Company of Heroes is the critically acclaimed and enduringly popular World War II game that redefined real-time strategy with a compelling combination of fast-moving campaigns, dynamic combat environments, and advanced squad-based tactics. Command two crack companies of American soldiers and direct an intense campaign in the European Theater of Operations starting with the D-Day Invasion of Normandy.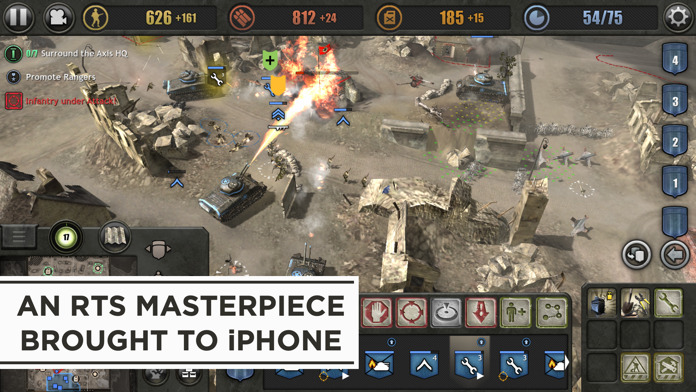 ● A MASTERPIECE BROUGHT TO MOBILE
One of real-time strategy's most celebrated games optimised for iOS. From the new Command Wheel to flexible barbed wire placement, play using features designed specifically for mobile gaming.

● FROM D-DAY TO THE FALAISE POCKET
Direct squads of US troops against the mighty German Wehrmacht through 15 gritty missions based on some of the most challenging fighting of World War II.

● SHAPE THE BATTLEFIELD, WIN THE BATTLE
Destructible environments let you exploit the battlefield to your best advantage.

● IMMERSIVE VISUALS
High-resolution graphics optimised for a range of iOS devices.

● BUY ONCE, COMMAND FOREVER
The classic desktop game, available as a premium app. Download missions and skirmish maps at no extra cost.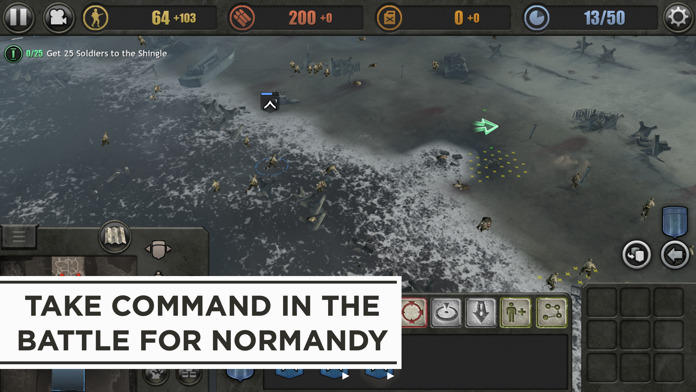 Supported iPhones include:
• iPhone 6S / 6S Plus
• iPhone 7 / 7 Plus
• iPhone 8 / 8 Plus
• iPhone X
• iPhone XS / XS Max
• iPhone XR
• iPhone 11
• iPhone 11 Pro / 11 Pro Max
• iPhone SE (1st generation, 2016)
• iPhone SE (2nd generation, 2020)
• iPod Touch (7th generation, 2019)




What's New In This Version:
• Adds iPhone support
• Improves performance when multiple units are on screen
• Improves memory usage, resulting in fewer out-of-memory crashes
• Adds a Semi-Transparent UI toggle; when enabled, the UI becomes semi-transparent while moving the camera
• Adds the Button Select Overlay options, allowing for more precise selection of buttons
• Updates the Strategic Point capture system; units now automatically capture a point if they are in proximity and no enemy units are nearby
• Adds a cheat to unlock all missions
• Adds the Auto-disable Queue Orders option; when enabled, Queue Orders is automatically disabled after deselecting a unit
• Adds the Deselect After Construction Order option; when enabled, units are automatically deselected once given a construction order
• Increases the camera zoom-out distance
• Fixes a number of minor issues

You can purchase Company of Heroes from the App Store for $13.99.

Read More