These are instructions on how to hide and filter SMS conversations using Pysl. This application was created by Rikk so iPhone users could Protect Your Secret Life. It allows you to setup blacklist and whitelists for SMS conversation filtering. You can then view the filtered messages in an area which is password protected.

NOTE***: This is only version .31 of the software. It is not 100% functional; however, it does perform everything we show in this tutorial!

Step One
Make sure you have added iClarified as an installer source. You can find instructions on how to do this here.

Step Two
Press to launch Installer from your SpringBoard.



Step Three
Press to select the Install tab at the bottom of the screen.



Step Four
Press to select iClarified from the list of Categories.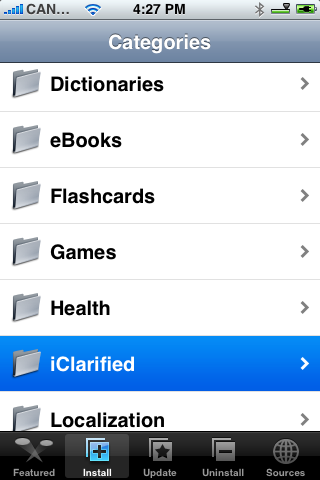 Step Five
Press to select Pysl from the list of Packages.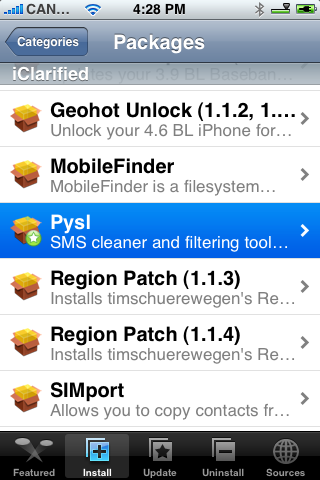 Step Six
Press the Install button at the top right hand corner.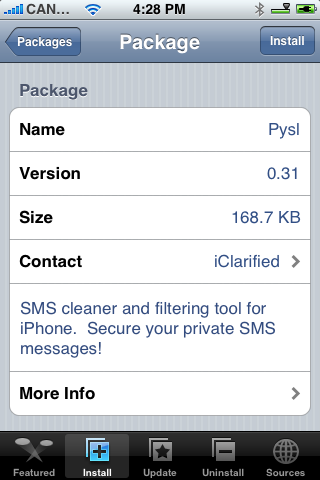 Step Seven
Press the large red Install button that appears.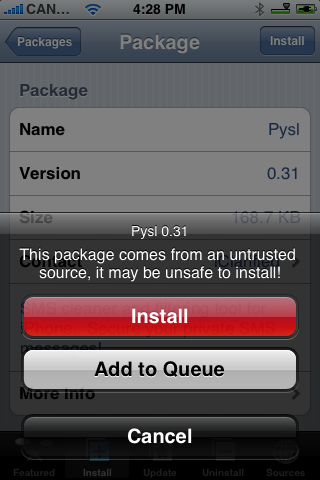 Step Eight
A notice will appear asking you to Confirm installation. Press the large OK button.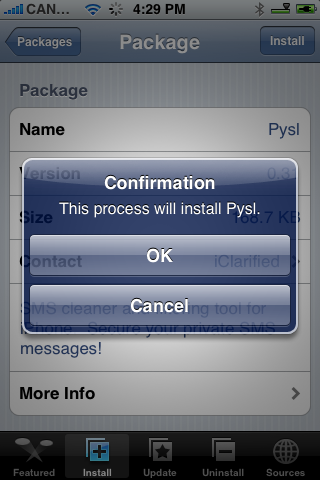 Step Nine
Another notice will appear asking you to reboot your iPhone once installation is complete.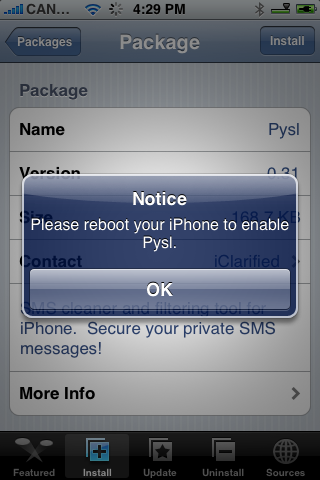 Step Ten
Once installation is complete you will be returned to the Categories menu. Press the Home button to return to your SpringBoard. Notice the new Pysl icon.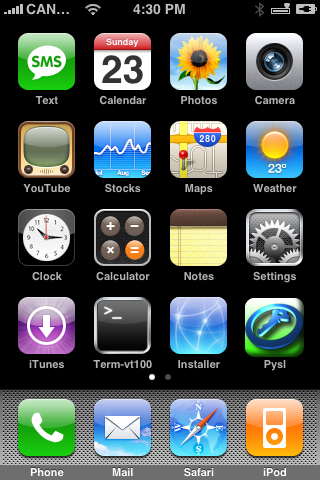 Step Eleven
Now hold the Sleep/Wake button for three seconds until you see the Power slider. Slide this to right to turn off your iPhone. Then push the Sleep/Wake button again to turn your phone back on.




Step Twelve
Press the Pysl icon to launch the application.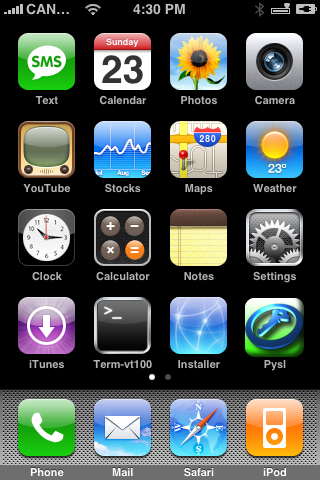 Step Thirteen
Press Settings to open the Settings Menu.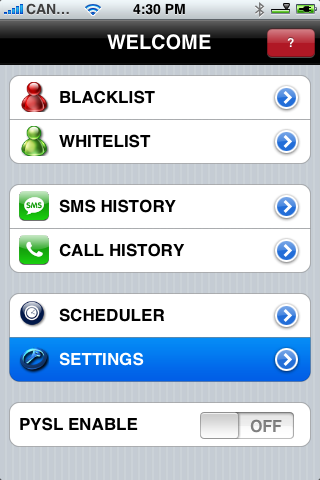 Step Fourteen
Enter a new password to restrict access to this area then press the Save New Password button.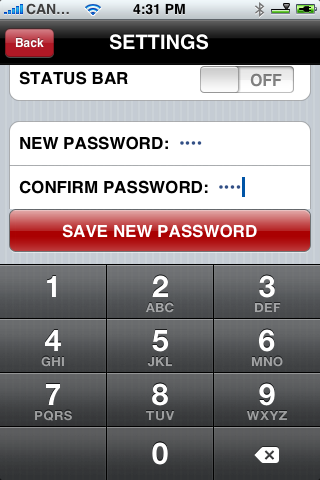 Step Fifteen
Press the Password Changed button that appears.



Step Sixteen
Press the Back button at the top left of the screen.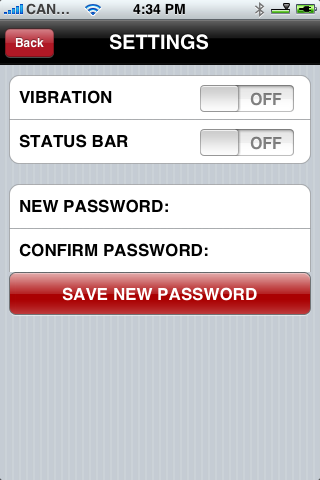 Step Seventeen
Press Blacklist from the Welcome screen.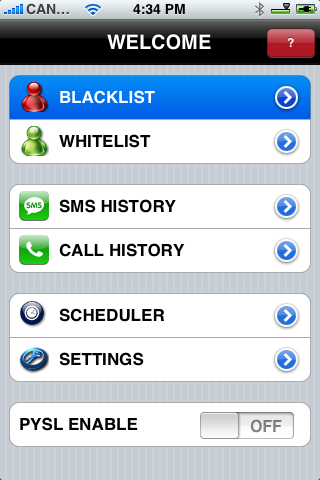 Step Eighteen
Press the Add button at the top right hand corner.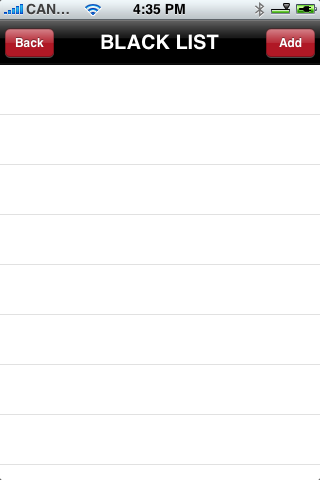 Step Nineteen
Press to Add number from contact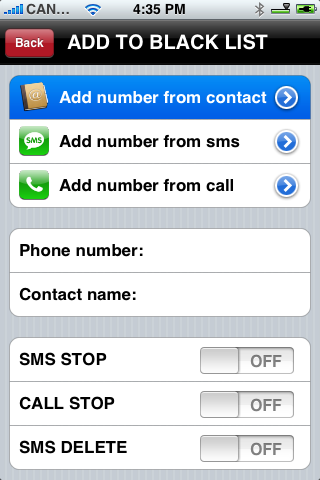 Step Twenty
Select an address book entry from your Contact List.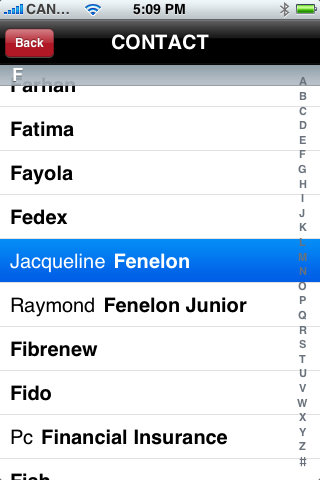 Step Twenty One
Press to select a Contact's Phone Number to use as a filter.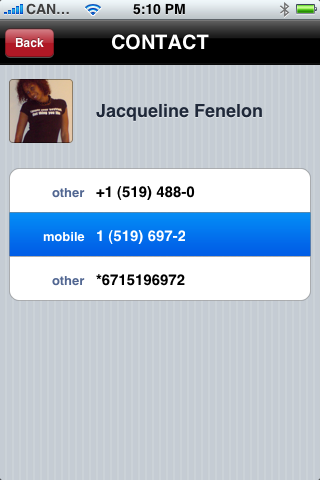 Step Twenty Two
You will be returned to the Add To Black List screen. Here we have the options to enable three switches.

SMS STOP: hide SMS and store in SMS History
SMS DELETE: hide SMS and delete it "on the fly" (without saving in SMS History..no trace)
CALL STOP: hide CALL and register call in CALL History (not available yet)

I have enabled SMS STOP to hide SMS for this person. Then press the Add contact to list.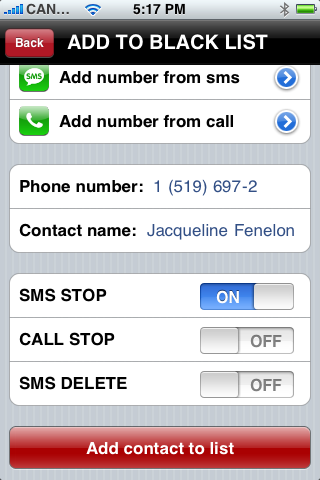 Step Twenty Three
You will then be returned to the Blacklist. Press the Back button at the top left.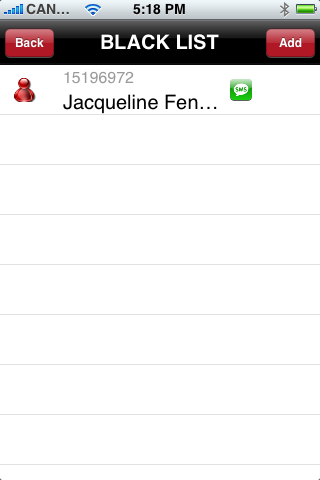 Step Twenty Four
Switch the Pysl Enable to the ON Position.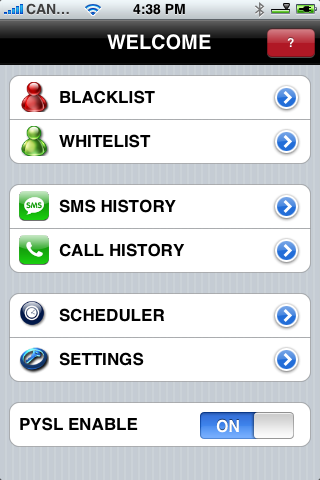 Step Twenty Five
Now to test Pysl, send an SMS to the person you just added to your Blacklist. Then reopen Pysl. Notice you are asked for your password!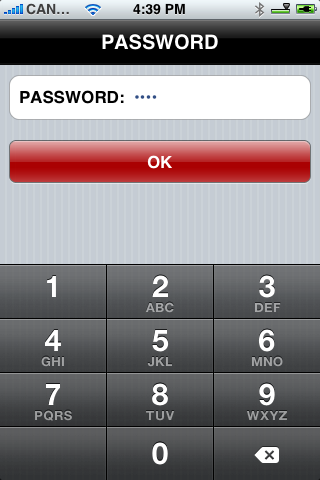 Step Twenty Six
Select SMS History from the Welcome Screen.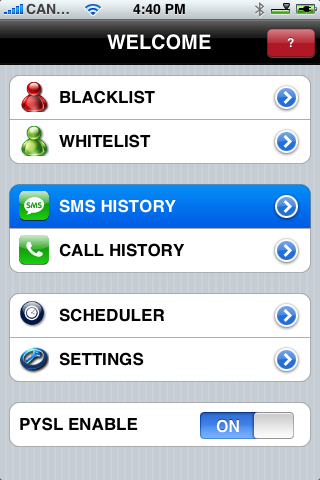 You will now find that your SMS is displayed here but it is not displayed in the iPhones MobileSMS.app!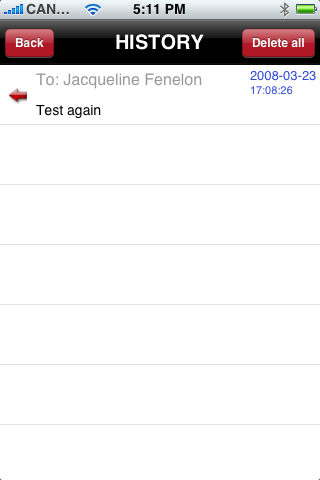 THANKS***: Big thanks to Rikk for developing Pysl. You can visit his wiki here