Blackmagic Video Recorder Announced
Posted April 14, 2008 at 2:08pm by iClarified · 23764 views
Blackmagic Design Inc. today announced the new Blackmagic Video Recorder, a compact USB video capture product that captures files direct to H.264 files for iPod, iPhone, Apple TV, YouTube, IPTV, Web or full resolution archiving.
The H.264 file format used with Video Recorder will allow direct capture to files compatible with mobile devices such as iPods, so users don't need to do time consuming rendering. Long tapes can be captured, and then dropped into iTunes for syncing with iPod, iPhone, or Apple TV devices.
There are two models of Blackmagic Video Recorder, an analog one for consumers, and an SDI one for professionals.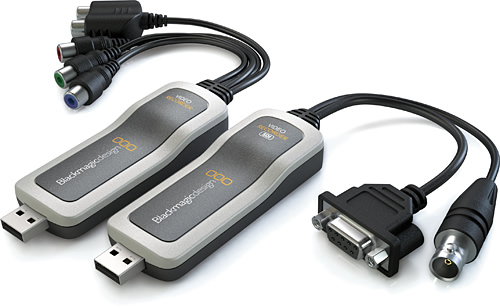 Blackmagic Video Recorder has high quality analog component, NTSC, PAL and S-Video input, and allows capture from any analog source, such as VHS, Video-8, DVD, Set top boxes etc. Blackmagic Video Recorder SDI features standard definition SDI input and RS-422 deck control for connection to any broadcast deck.
"Because videotapes such as VHS degrade over time, there are millions of hours of home movies sitting on old videotape that need to be converted to computer files or transferred to mobile devices such as iPods, so you can show family and friends!" said Grant Petty, CEO, Blackmagic Design. "But there are also millions of hours of professionally videotaped programs that need to be moved to computers so they can be sold to customers online, or used in IPTV applications. I feel this is an incredibly important product for moving all that television content into the future. The future is mobile and in your hand!"
Included with the USB hardware is the Video Recorder software which lets customers capture video with easy to use controls. When this software is used with the Video Recorder SDI model, users can enter in and out points for the deck they are capturing from. The Video Recorder software also allows users to set video scaling to reduce the resolution for mobile devices. To make great captured movie files, the Video Recorder software allows interactive cropping of the video edges, so analog blanking, VHS switching marks, and VITC timecode artifacts can be cropped out.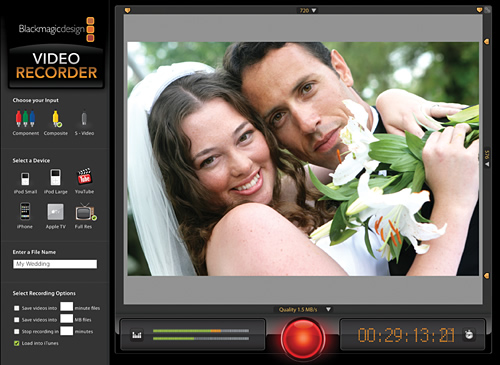 Blackmagic Video Recorder will be available in mid July for US$119 or €79 from all Blackmagic Design authorized resellers worldwide. Blackmagic Video Recorder SDI will retail at US$299 or €199.
Read More