To so navodila kako sinhronizirati iPhone kontakte z Google kontakti.
Za nadaljevanje moraš imeti nameščen vsaj Mac OS X Leopard 10.5.3.
Korak ena
Poženi
Address Book
v dock-u

Korak dva
Klikni
Preferences
v Address Book Meniju.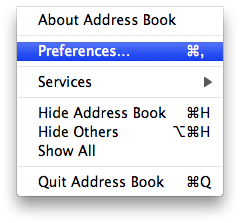 Korak tri
V zavihku General dodaj kljukico v
Synchronize with Google
okvirčku. Nato klikni
Google...
gumb, če se ne prikaže okno.
Korak štiri
Odprlo se bo okno z vprašanjem, če dovolite da Google dostopa do vaših kontaktov. Kliknite
Agree
gumbek za nadaljevanje.
Korak pet
Vpišite Google Uporabniško ime in geslo. Nato kliknite
OK
gumb.

Korak šest
Povežite Vaš iPhone z računalnikom in odprite
iTunes
iz dock-a.

Korak sedem
Prepričajte se da je označen Vaš iPhone na listi naprav na levi strani.
Korak osem
Kliknite
Info
zavihek. Odkljukajte
Sync Address Book Contacts
kvadratek.
Korak devet
Zdaj kliknite
Sync
gumb na desnem dnu ekrana.
Korak deset
Vaš iPhone se bo sinhroniziral z programom Address Book kot normalno. Istočasno pa bo tudi sinhroniziral Vaše kontakte z Google Kontakti!