RIM to Release BlackPad Tablet in November?
Posted July 30, 2010 at 2:21pm by iClarified · 8717 views
RIM is planning to introduce a tablet computer in November that will compete with the Apple iPad, according to a Bloomberg report.
The device will have roughly the same dimensions as the iPad, which has a 9.7-inch diagonal screen, said the two people who wouldn't be identified because the plans haven't been made public. The device will include Wi-Fi and Bluetooth wireless technology that will allow people to connect to the Internet through their BlackBerry smartphones, the two people said.
RIM plans to call the tablet "Blackpad", according to one of Bloomberg's sources. The company bought blackpad.com earlier this month as you can see in the image below.
Pricing for the device is expected to match the iPad at a $499 entry point.
Read More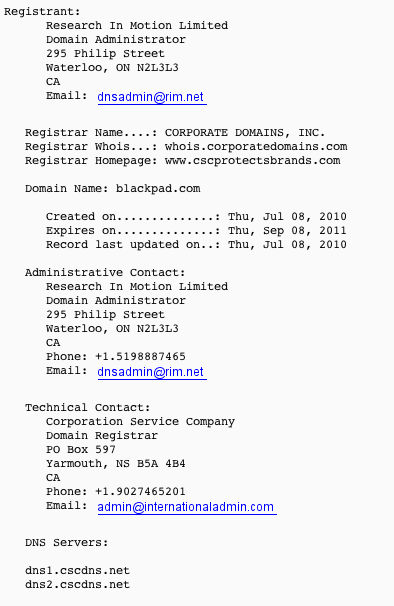 [
MobileCrunch
]