AU Optronics Unveils Worlds First Curved Display
Posted May 19, 2008 at 11:40am by iClarified · 4479 views
AU Optronics is unveiling today the world's first* Curved Display Technology on glass substrate. This technology will be exhibited at SID (Society for Information Display) Display Week 2008, from May 20 through 22 in Los Angeles, California. In addition, a series of mobile device technologies will be showcased for the first time at the exhibition.
Curved Display Technology
The world's first* Curved Display is developed and produced by AUO with TFT-LCD process on glass substrate. The curved radius is 100mm, and therefore requires a special thinning technology. The specially designed curved backlight unit maintains uniformity in brightness and contrast on the curved surface. Unlike the existing e-paper on a flexible substrate, AUO's new curved display technology can bring TFT-LCD technology into play in terms of both color performance and image quality. Therefore, it could be applied to some curved display applications in the future, such as watches and dashboards etc.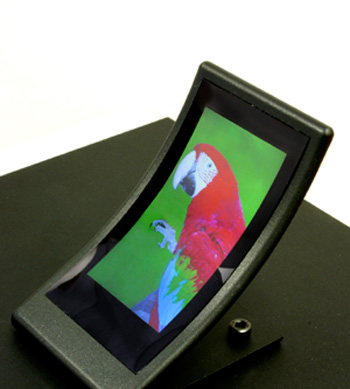 World's Thinnest* Ultra Thin 0.63mm for Mobile Phone Applications
AUO will also demonstrate a series of mobile device technologies, in which the world's thinnest* Ultra Thin 1.9-inch TFT-LCD is expected to grab the spotlight. This ultra thin TFT-LCD, with a thickness of merely 0.63mm, broke AUO's own record of 0.69mm released at FPD International 2007 in Japan. This 8-inch TFT-LCD uses special glass thinning technologies, shrinking the thickness of related components, to achieve 0.63mm in thickness, 2.1 grams in weight and 400nits in brightness. The end result is a multitude of desired features – light, slim, elegant and sunlight readable, to meet current mobile lifestyles.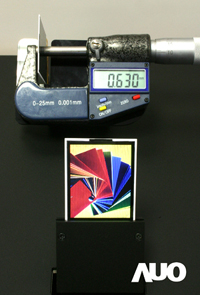 In-cell Multi-Touch Technology
AUO is also showcasing its in-cell multi-touch technology through 4.3-inch and the latest 8-inch TFT-LCDs at SID's Display Week 2008. Unlike the current touch panels in the market, AUO's in-cell multi-touch TFT-LCD integrates touch function features into the TFT manufacturing process without adding an additional glass. In addition, it has superior anti-glare properties to retain proper image color saturation and readability in direct sunlight. AUO's in-cell multi-touch technology has been successfully applied to 4.3-inch products and will be in mass-production in Q2 2008. It is regarded as one of only a few touch-panel technologies worldwide that integrate touch features directly into the LCD cell manufacturing process.
Grease Free and Touch Mura Free Technology
Another AUO innovation is its Grease Free and Touch Mura Free technology that accomplishes better performance for the booming touch panel display market. This technology coats the AF (Anti-Fouling) layer as part of the surface treatment of the polarizer, therefore attaining a fingerprint free surface. In addition, its grease-resistance features help to easily wipe off smudges and grease from the display. By adopting AUO's self developed AMVA-mobile technology, touch mura free function features make information easy to read without touch mura. The three features of fingerprint free, grease free and touch mura free are ideal technologies for touch panels. This technology will be demonstrated on a 2.4" AMVA-mobile panel.
"In recent years the small- and medium-sized display market has become increasingly competitive, fostering the depth and width of its technology. In addition, the 3 major trends - human interface, system integration and thin-and-light eco products, are still dominating the market," said Dr. CT Liu, AUO Vice President & GM of Consumer Product Display Operations. "Being an industry leader, AUO will be leveraging the advantages of its TFT-LCD manufacturing process integration with the aim to produce value-added TFT-LCDs and deliver customer- and consumer-oriented products and technologies."