Ambrosia Releases Aki Mahjong Solitaire 1.2.0
Posted May 20, 2008 at 10:30pm by iClarified · 3832 views
Ambrosia Software, Inc. announced today the release of Aki Mahjong Solitaire 1.2.0. This release brings support for both PowerPC and Intel-based Macs, and also provides enhancements to the beautiful Mahjong Solitaire game.
This updated version, free to registered users of Aki, may be downloaded here:
http://www.AmbrosiaSW.com/games/Aki/
Aki 1.2.0 features the following improvements and changes:
-- Aki is now a Universal Binary that runs natively on PowerPC and Intel Macs
-- Incorporates new Ambrosia registration system
-- Various improvements and bug fixes
Aki Mahjong Solitaire is a journey through the uniquely fascinating scenery and culture of Japan, and a journey of meditative bliss, learning how to let the Mahjong tiles match themselves. In Aki, you may find your moment of Zen.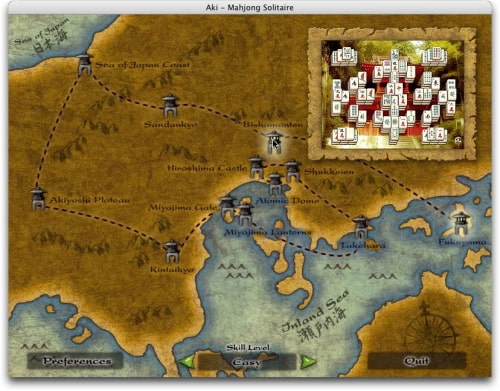 The principle is simple: you have a number of ivory tiles arranged on a beautiful Japanese backdrop. Your goal is to make all of the tiles disappear by matching them to similar tiles. The catch is that tiles can be removed only if they are unblocked on either side by other tiles, and you have the uncompromising ticking away of the time limit to contend with.
At each step in your path, you will encounter new challenges in the variety of tile layouts presented to you, and a variety of skill levels that ensure you'll always find the experience engaging. As you progress, you will also be rewarded with fragments of Japanese culture and history, making your journey enlightening as well as enjoyable.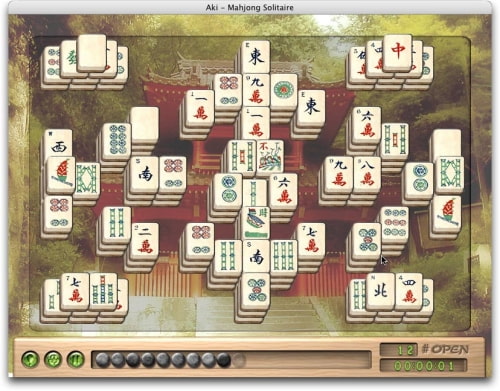 Aki costs $20, requires Mac OS X 10.3.9 or later, and is a Universal Binary application.