-----------------------
2:29 - Steve Jobs
We really appreciate you coming and we'll see you over in the hands on room as we get 'Back to the Mac'
-----------------------
2:23 - Showing new MacBook Air Ad and video
-----------------------
2:12 - Steve Jobs: One More Thing!
What would happen if a MacBook met the iPad!
- Instant on
- Great battery life
- Amazing standby time
- Solid state storage
- No hard drive
- thin and light
Our new MacBook Air!
At its thickest its .68 inch and thinness .11 inch. Weighs 2.9 pounds. Complete unibody constructions. Full size keyboard. 13.3 inch LED backlit display. 1440x900 pixels. Core 2 Duo processor. NVIDIA GeForce 320m. Full size keyboard. Multi-Touch trackpad. FaceTime camera. No optical drive. No hard drive.
Reasons for dropping hard drive:
- Instant On
- Up to 2x faster
- More reliable
- 90% smaller and lighter
Apple is the largest user of flash memory in the world.
Battery: Wireless Web 7 hours, Standby 30 days. Under more realistic testing.
11.6 inch smaller version!!!! 2.3 pounds. All the things the 13 inch has. Full-size keyboard. 1366x768 pixels. 5 hours wireless web surfing. 30 days standby.
Pricing starts at $999 for 11.6-inch 64GB model. 128GB 11.6 is $1199. 13.3-inch 128GB $1299. 13.3 256GB $1599.
Both are available today!
-----------------------
2:10 - Steve Jobs: The Mac is a third of our revenue. We love the Mac. We are investing heavily in the Mac.
Jobs is reviewing announcements thus far. One more thing?
-----------------------
2:06 - Steve Jobs: We are really excited about Lion. Our plan is to release Lion this summer 2011. We are on schedule for that.
I wanna go back for a minute and talk about the App Store. We've decided that we are going to put out the Mac App Store on Snow Leopard within 90 days.
App submissions will be accepted next month.
-----------------------
2:00 - Mac OS X Lion Demo
Mac App Store. Update tracking similar to the iOS App Store.
Demoing how to purchase and install a new app. App icon lifts up and flies down to dock.
LaunchPad is a super convenient way to organize and launch all the apps you have on your mac. Full screen grid with blurred background. iOS style pages. Organize easily. Can also create folders.
Full Screen Apps. When in full screen mode you can use gestures to control. Multi-touch gesture to move between full screen app and regular desktop. Full screen dashboard.
Mission Control. Windows, Full Screen Apps, Dashboard, Desktop, and Dock in a unified view.
Expose features app clusters. Flip open cluster to bring to look through it.
-----------------------
1:52 - Steve Jobs: Sneak peak for where we are going with OS X. We are really happy with Snow Leopard but we know how to take it even further.
Today we are going to give you a preview of the 8th major release of OS X. We call it "Lion"
We are inspired by some of those innovations in the iPhone and the iPad. We'd like to bring them back to the Mac. There is a lot of innovation in Mac OS X.
What they've learned from iOS:
- Multi-Touch Gestures
- App Store
- App Home Screens
- Full Screen Apps
- Auto Save
- Apps Resume When Launched
Touch services that are vertical do not work. Fatigue. After an extended period of time your arm wants to fall off. Touch surfaces want to be horizontal. Hence, pads.
This is how we are going to use multi-touch on our notebooks.
App Store. Over 7 billion apps downloaded. We'd like to bring it to the mac. Mac App Store!
- Best place to discover apps
- Once-click downloads
- Free & paid apps (70/30 split)
- Automatic installation
- Automatic app updates
- Apps licensed for use on all your personal Macs
LaunchPad. Similar to home screen on iOS.
One other thing I'd like to show you today. Expose, Full screen apps, Dashboard, Spaces. Wouldn't it be great to unify them all. Mission Control. A way to view everything running on your Mac.
Sneak peak today. Craig Federighi to demo.
-----------------------
1:49 - Steve Jobs: Next up, I'd like to talk about FaceTime. We introduced it in June on the iPhone 4. In September we brought it to the new iPod touch. Shipping 19 million FaceTime devices.
We are announcing FaceTime for Mac!
Takes contacts from address book. It does full screen.
Steve Jobs demos with Phil Schiller.
FaceTime on Mac automatically changes orientation if chatting with iDevice. Beta release is coming out today!
New Logo.
-----------------------
1:46 - Steve Jobs: Isn't that great. We have over 5 million people using GarageBand now. It's wonderful. iLife '11, all this amazing engineering. Free with every new Mac. $49 upgrade.
iLife '11 is available today.
Thanks Greg the engineering manager for iLife.
-----------------------
1:37 - Steve Jobs: Awesome. iMovie '11 we think its a real breakthrough. Rapidly being able to create things like this.
We also have new GarageBand. GarageBand '11 has got some great features to help you fix timing and rhythm.
- Flex Time
- Groove Matching
- More guitar amps & effects
Xander Soren to demo.
You can pick one track to become the groove track. Garage Band analyzes the rhythm of the song and applies it to the other instruments and tracks.
Flex Time lets you stretch audio waveform to extend hits.
More music lessons have been added. You can watch lessons with real video and animated instruments. Play along with a song and Garage Band will show you where you made mistakes and it will score how well you did. Your history can even be displayed as a graph to chart your progress.
-----------------------
1:23 - Steve Jobs: I think that's awesome. This is why we do what we do. So we've taken iPhoto and broadened out the fullscreen. Taken up the books a big notch. All your products together in one place. And that is iPhoto '11.
Next up iMovie '11. This is a great release. Now the number one request we got after that the last release of iMovie was better audio editing.
- All new audio editing
- One step effects
- People Finder
- News and sports themes
- Movie trailers
Randy to demo iMovie 11.
Can now show and edit audio waveforms. Simply drag waveform down to lessen the volume. Drag fade slider to adjust fade.
You can also adjust segments of audio.
Audio effects.
One step effects. For example, instant reply, flash and hold last frame.
Movie Trailers: 15 types. Give trailer a movie name, date, cast, studio, credits. You can even adjust the storyboard. New original scores recorded by the London Symphony Orchestra.
iMovie can automatically detect which clips are group shots and which are close up shots.
Direct sharing to Facebook, Vimeo, CNN.
Demoing more movie trailer themes.
-----------------------
1:08 - Steve Jobs: So that's the state of the Mac. Now lets move on to some new products. iLife is widely regarded as the best suite of digital life applications in the world.
We've got a new version we're announcing today. iLife '11. Its got the same apps in it.
So the first one is iPhoto. It's the most popular one of the suite.
- Full screen modes
- Facebook enhancements
- Emailing photos
- New slideshows
- Big leap in books
Phil Schiller begins demo of iPhoto '11.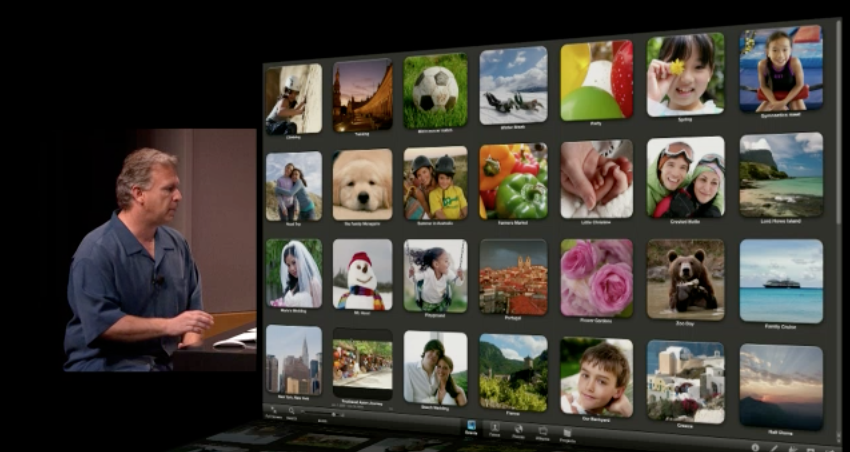 Some new slideshow themes: Places, Reflections, Holiday
Demos integration with Facebook and Flickr in album view.
Share by email is integrated into iPhoto instead of opening the Mail app.
New Sharing panel lists timeline of photo shares. Even includes Facebook integrated comments.
Demoing book creation. Now uses ratings and key photos to intelligently give priority to the best photos during book creation.
New project view. This shows all your previously created projects on a bookshelf.
Showing video to educate on what letterpress cards are.
----------------
I'd like to start with the state of the Mac. To take us through the state of the Mac, I'd like to invite my colleague Tim Cook to take us through that.
Tim Cook:
- Mac are 33% of Revenue
- $22 Billion
- 2.5x Rate of Growth of Market
- 20.7% Share of US Retail (August)
- 600,000 Mac Developers (Cook highlights Valve, AutoDesk, and Microsoft as developers.)
- Mac is #1 for consumer satisfaction, support, reliability
- 75 million visitors to Apple Stores last quarter
- 318 Apple Retail Stores (Highlights Shanghai store and Beijing store as ones with highest traffic)
-----------------------
1:00: Steve Jobs. Thanks for coming this morning. We have some fun stuff to share with you.
-----
We will be live blogging Apple's October 'Back to the Mac' event starting at 10am PT and 1:00pm ET.
Rumors for today's event include a look at
Mac OS X 10.7 "Lion"
, a new
MacBook Air
, and an update to
iLife
.