Apple Lawyers Up for Upcoming Patent Battles
Posted November 29, 2010 at 2:06pm by iClarified · 6746 views
Apple is lawyering up in its many patent battles with manufacturers that include Nokia, Motorola, Elan, and Kodak, according to a BusinessWeek report.
"These are very well-known, deep-pocketed, high-end manufacturers," said Lyle Vander Schaaf, an attorney at Brinks Hofer Gilson & Lione in Washington. "Usually you have one 800-pound gorilla going after a new entrant. Here you've got 800-pound gorillas fighting each other."
Apple has been the most sued technology company since 2008 and Steve Jobs has been hiring some of the best lawyers around.
Apple has hired some of the nation's top patent lawyers as outside counsel. They include Robert Krupka of Kirkland & Ellis, who negotiated a 2005 settlement in which Apple agreed to pay $100 million to Creative Technology Ltd., maker of the Zen music player; William Lee of WilmerHale in Boston, who successfully represented Broadcom Corp. in its fight against Qualcomm; and Matt Powers of Weil, Gotshal & Manges LLP, who successfully defended the patent on Merck & Co.'s biggest product, the $4.7 billion-a-year asthma drug Singulair.
Read More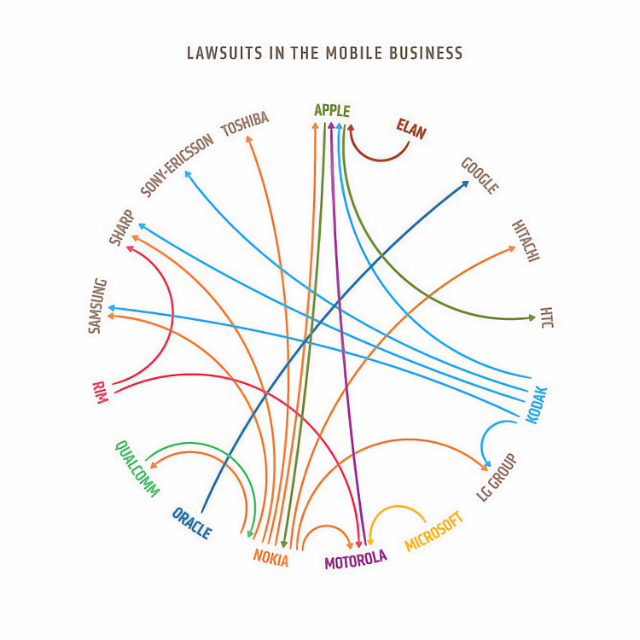 *Chart is missing Apple suit against Motorola