iLounge Releases 2009 iPod/iPhone Buyers Guide
Posted November 1, 2008 at 12:48pm by iClarified · 12556 views
iLounge.com has released its 2009 iPod + iPhone Buyers' Guide, the definitive shopping guide to Apple's iPods, iPhones, their accessories, and software. Now with ratings of literally thousands of products, the 2009 iPod + iPhone Buyers' Guide is the latest in iLounge's multi-million-downloaded series of digital publications, available immediately as a free download in the popular Adobe PDF format.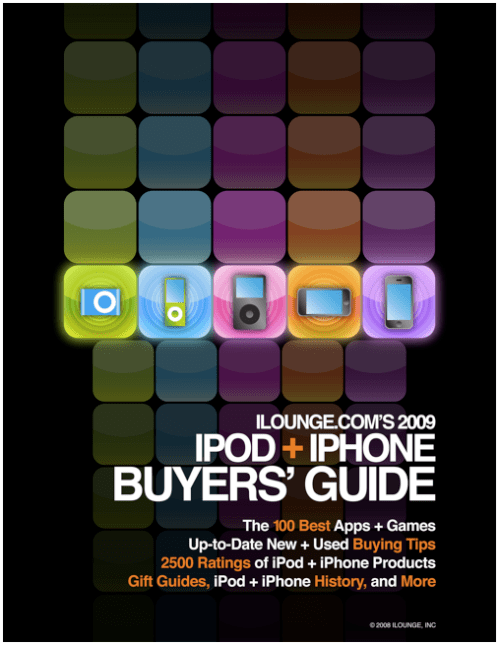 "There are more new iPods, iPhones, and related products this year than ever before," explained Jeremy Horwitz, Editor of iLounge and the Guide, "but we've picked only the best releases from over a thousand different developers to spotlight in our Guide. No matter what you're looking for, and how big or small your budget may be, you'll find that our objective, honest reviews will help you pick what's best for you."
Published in separate formats optimized for reading on computers and pocket devices such as iPhones, the 150-page Buyers' Guide offers exclusive sneak peeks at upcoming iPod and iPhone accessories, practical buying advice, and more. Renowned for their attention to excellent value and design, iLounge's editors have picked gift options at every possible price level, ranging from free on up, focusing on software, cases, headphones, speakers, and small electronic accessories. For those interested in purchasing iPod or iPhone hardware, the 2009 Guide includes detailed information for every model Apple sells, as well as up-to-date prices for both new and used, discontinued models -- the latter based on five years of iLounge research into eBay selling prices.
Other key sections of the 2009 iPod + iPhone Buyers' Guide include:
* The 100 Best Apps and Games: Surveying more than 5,500 applications and games currently available on the App Store, iLounge's editors have selected the 100 best apps and games, ranging from racing games to recipe books, puzzlers and photo editors.
* Top Accessories for iPod + iPhone: With ratings for well over 2,000 accessories inside, the Guide offers a model-by-model breakdown of the best accessories for each iPod and iPhone, including speakers, earphones, cases, and more.
* Best of the Year and Readers' Choice Awards: From a pool of thousands of new entries, iLounge's editors have selected the top 11 accessories and top 3 developers as recipients of its prestigious Best of the Year awards. Products from companies such as SwitchEasy, Gameloft, Boston Acoustics, Griffin, and Contour Design are honored, with surprise picks for Accessory of the Year and Accessory Maker of the Year. iLounge readers also cast votes for Accessory
Maker, Game Developer, App Developer, and Apple media player of the year, winners of which were honored with special Readers' Choice awards.
* Complete History of iPod and iPhone Products: Updated with the latest events and statistics, our timeline tells the story of Apple's progression from the first release of iTunes through the sales of 174 million iPods and 13 million iPhones.
* Complete Color Charts for all iPod and iPhone models: Many people think of the iPod as an iconic white device, but Apple has released a wide variety of colors over the past seven years. iLounge rounds up all the colors for a photographic look at the colors of the iPod and iPhone families.
* Contest Winners: With over $5,000 in iPod, JVC HDTV, and other hardware at stake, iLounge's beautiful, award-winning iProvocateur and iPod As Art contest entries are showcased inside.
"Whether you're thinking of buying an iPod, iPhone, accessory, or software, or just looking to join the world's largest iPod and iPhone user community, our 2009 Buyers' Guide is a must-read," said Dennis Lloyd, Publisher of iLounge.com. "In a year that saw marketing hype and phony reviews reach embarrassing new highs, we are proud to help current and prospective Apple customers get unbiased, accurate information they can depend on -- at no cost."
The 2009 iPod + iTunes Buyers' Guide is available immediately from
http://www.ilounge.com/2009bg/
. Widely heralded as "the iPod Bible," iLounge's popular tutorial edition, The Free iPod + iPhone Book, and previous years' versions of the Buyers' Guide can also be downloaded at no charge from
http://www.ilounge.com/library/
.