Square Enix has launched a huge winter sale with up to 75% off its popular games for iOS.

Winter is coming, and so are the sales – in fact, some are already here, while there are more to come over the coming weeks.

So let's start off with the a saving of up to 75% this festive season on the Square Enix Store and on mobile games.

You can find the full list below. Please follow iClarified on Twitter, Facebook, Google+, or RSS for more holiday deals. You may also want to check out the App Santa deals on apps.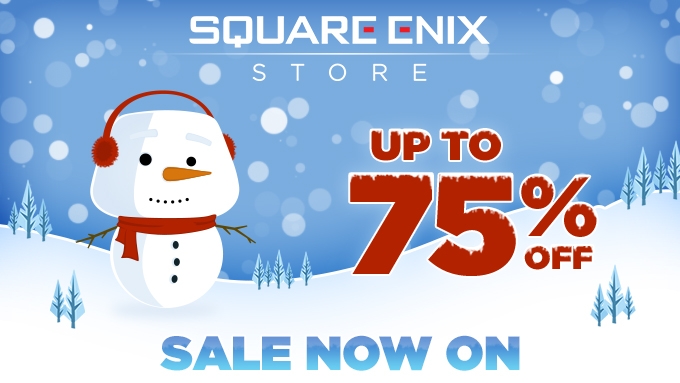 Games on Sale:
● Tomb Raider I - Out now for $0.99
● Deus Ex The Fall - From $6.99 to $0.99 (until Jan 2, 2014)
● Lara Croft and the Guardian of Light - From $2.99 to $0.99 (until Jan 2, 2014)
● Lara Croft and the Guardian of Light HD - From $5.99 to $0.99 (until Jan 2, 2014)
● Fortune Street Smart - Free to download -
○ Individual add-on packs are now $0.99 each
○ Full Add-on Pack is now $2.99
● Chaos Rings - Was $7.99, now $2.99
● Chaos Rings for iPad - Was $9.99, now $2.99
● Chaos Rings II - Was $15.99, now $3.99
● Chaos Rings II for iPad - Was $16.99, now $3.99
● Chaos Rings Ω - Was $8.99, now $2.99
● Chaos Rings Ω for iPad - Was $11.99, now $2.99
● Chocobo Panic - Was $3.99, now $1.99
● Crystal Defenders - Was $7.99, now $3.99
● Crystal Defenders for iPad - Was $7.99, now $3.99
● Crystal Defenders Plus - Free to download - full add-on pack was $7.99, now $3.99. Individual add-ons are now $1.99 each.
● Demons' Score - Was $4.99, now $2.99
● Dissidia 012 Final Fantasy AR - Was $4.99, now $1.99
● Dissidia 012 Final Fantasy Larger-than-Life Gallery - Was $5.99, now $2.99
● Drakerider and Drakerider for iPad - Chapter 1 is free to download, Chapters 2-5 were $6.99 each, now $3.99. Get all chapters for $7.99.
● Drakerider Chains Transcendent and Drakerider Chains Transcendent for iPad - Was $15.99, now $7.99
● Final Fantasy Dimensions - Free to download:
○ Tiptune BGM: Was $5.99, now $2.99
○ Chapter 1: Was $1.99, now $0.99
○ Chapter 2: Was $5.99, now $2.99
○ Chapter 3: Was $5.99, now $2.99
○ Chapter 4: Was $5.99, now $2.99
○ All Chapters: Was $16.99, now $7.99
● Final Fantasy - Was $9.99, now $3.99
● Final Fantasy II - Was $9.99, now $3.99
● Final Fantasy III - Was $15.99, now $7.99
● Final Fantasy III for iPad - Was $16.99, now $7.99
● Final Fantasy IV - Was $15.99, now $7.99
● Final Fantasy V - Was $15.99, now $7.99
● Final Fantasy Tactics: The War of The Lions - Was $15.99, now $7.99
● Final Fantasy Tactics: The War of The Lions for iPad - Was $17.99, now $6.99
● Final Fantasy VII Advent Children - Complete Larger-than-Life Gallery - Was $5.99, now $2.99
● Final Fantasy VII Compilation Wallpaper - Was $3.99, now $1.99
● Final Fantasy XIII Larger-than-Life Gallery - Was $5.99, now $2.99
● Fullmetal Alchemist Gallery - Was $1.99, now $0.99
● Hills and Rivers Remain - Was $4.99, now $1.99
○ Full Additional Scenario Pack: Was $4.99, now $2.99
● Secret of Mana - Was $8.99, now $3.99
● Song Summoner: The Unsung Heroes – Encore - Was $9.99, now $4.99
● Soul Eater Gallery - Was $1.99, now $0.99
● Symphonica and Symphonica for iPad - Free to download
○ Composition sets 1-5: $1.99 each
○ Episodes 4-9: $0.99 each
○ Final Episode: $0.99
○ Epilogue: $0.99
○ Full Episode set (12 episodes): $7.99
○ Episode set (Episode 4 -7): $2.99
○ Episode set (Episode 8 - Final + Epilogue): $2.99
○ Special Episode Set: $2.99
○ Special Episodes 1-4: $0.99 each
● The World Ends with You: Solo Remix - Was $17.99, now $8.99
● The World Ends with You: Solo Remix for iPad - Was $19.99, now $9.99
● Vanguard Storm - Was $3.99, now $1.99
● Voice Fantasy - Was $2.99, now $0.99