Archie Comics Come to the iPhone
Posted June 3, 2009 at 12:04pm by iClarified · 3447 views
iVerse Media has begun publishing Archie comics for the iPhone. The company has already made available 2 out of the 5 parts to the "Freshman Year" title.
"The Summer Before": Travel back in time with this five issue tale that takes Archie and his friends back to their very first year in high school. It all stars with this pognant prologue which finds the gang wondering just what that first year will be like, while reflecting fondly on the past as well. Along the way, the gang must deal with the pending departure of one of their closest friends, as well as their bickering parents. And while the kids count the days until they enter their new shcool home, someone else is joining Riverdale High, too: Principal Waldo Weatherbee! All this plus allusions to Captain Pureheart, The Man from R.I.V.E.R.D.A.L.E., Veronica's worldwide travels, and more!
[
via CultofMac
]
Archie: Freshman Year #1
is available for free from the App Store.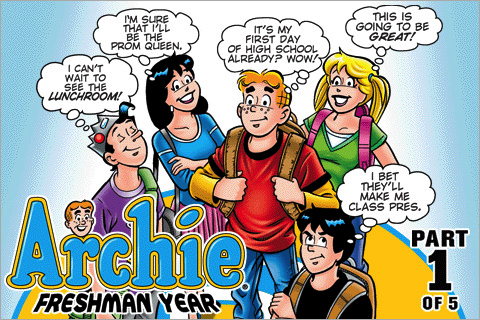 Archie: Freshman Year #2
is available for $.99 from the the App Store