Eddy Cue and Jimmy Iovine were interviewed at the 2014 Code Conference tonight, answering questions about Apple's acquisition of Beats and its upcoming products.

Cue offered three reasons for the acquisition:

We love Beats for 3 reasons: 1) Talent. Jimmy is most talented person I've met in the music business. Dre is great. Team is great.

2) Their headphones are awesome. "They've done an amazing job of making the audio and making it sound incredible."

3) Beats Music. Subscription music done right.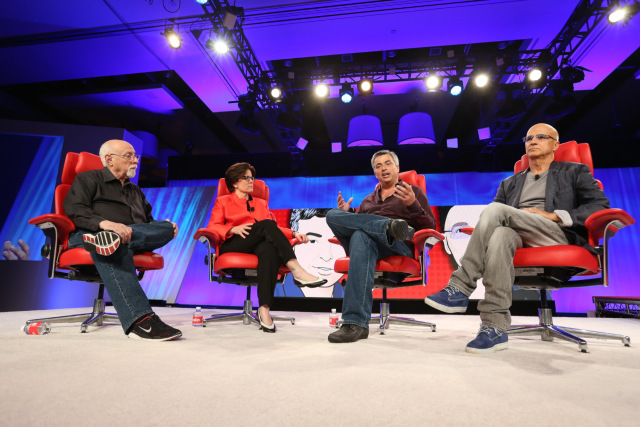 When asked why they didn't just make their own hardware or subscription service, Cue said that "We don't do everything. We try to do a few things. We think Beats' talent can accelerate us. It was a no-brainer. This isn't something that just happened over night. Jimmy and I have talked about working together for a decade."

Iovine revealed that Beats Music now has 250,000 subscribers and Cue noted that there are over 800 million iTunes customers.

Apple will be keeping the Beats brand alive.

When questioned about the brand deal with HP, Iovine says, "That deal will end soon. We didn't like the sound of computers. Computers are made for talk. Apple is the only with good sound. Every other computer sounds like a portable television."

Iovine says that our dream is that everyone who buys a phone around the world, upgrades to good headphones. They have earbuds. Walt Mossberg notes that Apple makes those earbuds, to which Iovine replies, They make those to see if the sound works. It's not their responsibility to make good headphones. They make phones.

Mossberg moves to TV. Asks Cue why haven't you given us a TV that doesn't suck?

"TV is a hard problem to solve", says Cue. No global standards, lots of rights issues. "It's a complicated landscape to solve."

Cue: I'm not going into details. "The problems aren't complicated. Solving them is complicated, because there are lots of parties involved". Music is much easier, because rights are pretty much set at this point. TV isn't there.

Walt asks Cue if you are going to be able to put files into iCloud. If I have Dropbox, or Google Drive, etc, I can put things in the cloud, I know where they are. Are you going to do that?

Cue: "We're not trying to make iCloud to have a face. We're trying to make services that seamlessly connect with hardware and services." People are using iCloud multiple times a day, and they don't need it.

Walt asks Cue how Tim is as a leader. Cue replies, I've been working with Tim for many many years. "He's extremely thorough. He has tremendous vision."

And for the biggest news of the night, Cue says, "Later this year, we've got the best product pipeline that I've seen in my 25 years at Apple.""Later this year, we've got the best product pipeline that I've seen in my 25 years at Apple."

"I believe the products we've got coming are great."

Please follow iClarified on Twitter, Facebook, Google+, or RSS for updates on what Apple has up its sleeve.

Read More