Microsoft has officially announced 'Microsoft Band', a smart wristband powered by Microsoft Health. The device was leaked ahead of its announcement on the Mac App Store.

The Microsoft Band helps you achieve your wellness goals by tracking your heart rate, steps, calorie burn, and sleep quality. It also helps you become more productive with email previews and calendar alerts.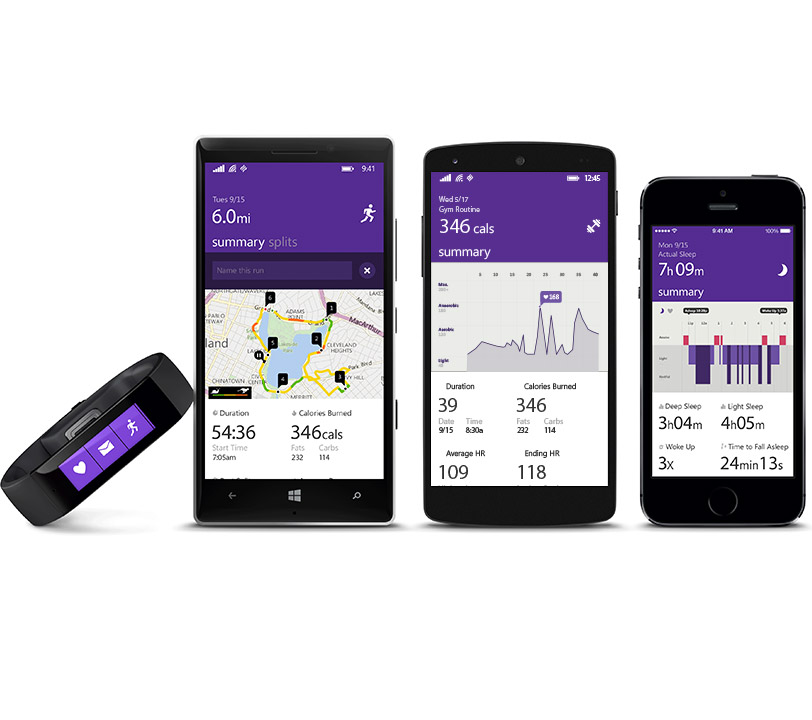 Here's a look at the features of both Microsoft Health and the Microsoft Band:

MICROSOFT HEALTH:
Microsoft Health is a cloud-based service that helps you live healthier by providing actionable insights based on data gathered from the fitness devices and apps that you use every day. Activity-tracking devices like the new Microsoft Band, smart watches, and mobile phones plus services like RunKeeper or MyFitnessPal connect easily to Microsoft Health. Using this fitness data and our Intelligence Engine in the cloud, Microsoft Health provides valuable, personal insights so you can reach your fitness goals.

Microsoft Health is the beginning of an exciting journey we're taking to help you live healthier. We have a powerful vision of what's possible when premium device and service partners collaborate on an open platform. Eventually, you'll be able to use the information gathered from a variety of devices and services to give you insights into your entire day across nutrition, work, fitness and rest. We invite you to join us, whether you're a partner, fitness enthusiast, or just wanting to live a healthier life, as we build this experience together.

● Actionable insights: Find out which exercises burned the most calories during your last workout. Or how long your body needs to recover before your next training session. Or how much restful sleep you actually got last night. Microsoft Health uses the power of the cloud to give you real-time wellness insights that will help you achieve your fitness goals.
● Open to everyone: Microsoft Health is designed to work with you, no matter what phone you have, device you wear, or service you use. The power of the cloud platform lies in its ability to combine the data from all the devices and services you use to give you a more holistic and insightful picture of your fitness.
● Continuously improving: Built in the cloud, Microsoft Health will continually evolve to offer you better experiences and more valuable data over time. The more you share with Microsoft Health, the more accurate and helpful your insights will become. As the fitness community and device and service partnerships grow, Microsoft Health will be able to generate the best wellness insights for you to thrive.
● Technology innovation: The Intelligence Engine at the heart of Microsoft Health uses everything we've learned as a company about cloud technology and hardware innovation and makes it work for you. With data privacy and security a top priority, Microsoft Health is committed to delivering valuable, personalized fitness insights, empowering you to lead a healthier lifestyle.
● Microsoft HealthVault: Over the past decade, Microsoft HealthVault has established itself as a trusted place to store health information and share it with medical professionals on a security-enhanced platform. HealthVault will continue to do just that. Because we share core principals, HealthVault features prominently in our broad vision for Microsoft Health. We're excited about the synergy and we'll keep you posted on our plans.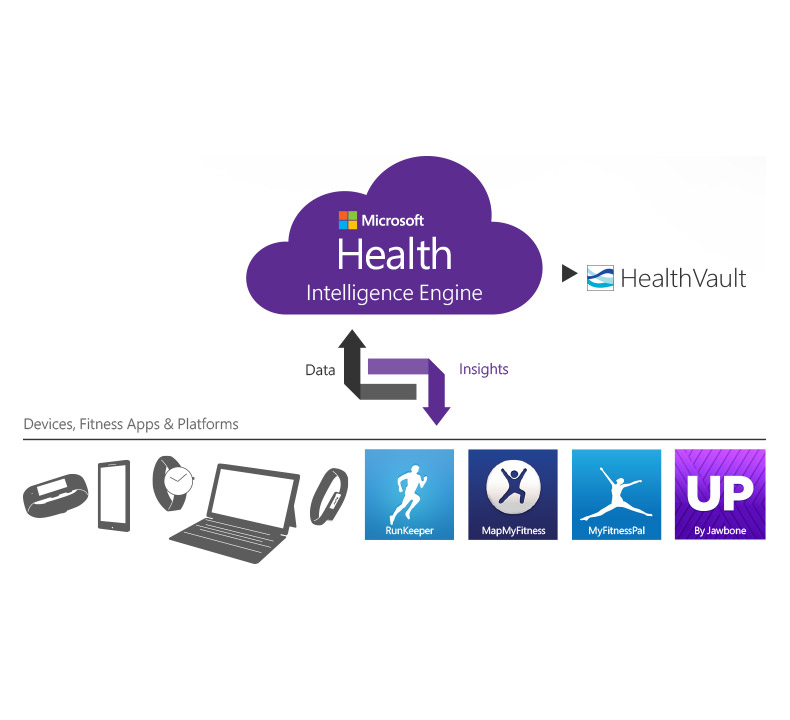 MICROSOFT BAND:
Microsoft Band, the first device powered by Microsoft Health, helps you achieve your wellness goals by tracking your heart rate, steps, calorie burn, and sleep quality. It also helps you be more productive with email previews and calendar alerts - right on your wrist. Microsoft Band is designed to work with iPhone, Android, and Windows Phone.


Activity tracking and goal setting
● 24-hour heart rate monitor: Gives you a better understanding of your calorie burn, sleep patterns, and peak and resting heart rate so you can perform at your best.
● Run: Whether you're on the treadmill at the gym or outdoors in the rain or sun, you can view your run summary on your band with personalized metrics in the phone app including pace splits and heart rate.
● Steps: Set a goal and track your progress. Microsoft Band calculates the calories you've burned and the distance you've traveled each day.
● Built-in GPS: Measures the distance you've run and tracks your pace and route. Save your favorites to retrace your steps and challenge yourself later.
● Calorie tracking: Count the calories you burn each day. View daily or weekly stats, set goals, and receive a virtual "high-five" when you reach them.
● Sleep tracking: When activated, Microsoft Band tracks the length and quality of your sleep. Analyze the sleep charts in your app to gain insights about your slumber.
● Guided Workouts: Fun and challenging workouts from fitness partners like Gold's Gym, Shape, and Men's Fitness with exercise prompts on the band and much more in the app.
● Goal setting: Challenge yourself by setting daily step and calorie goals. Microsoft Band notifies you when you meet them so that you can stay motivated.
● UV monitor: Get a quick read of the UV Index while you're out and about.




Alerts and notifications
● Text Messaging: Get your text messages right on your wrist.
● Calls: See incoming call and voicemail notifications on your band.
● Calendar: Microsoft Band stays in sync with the calendar on your phone, reminding you of important events throughout the day so you can be where you need to be.
● Email: Monitor and preview email activity right on your band, so you don't have to pull out your phone in the middle of your lunch date.
● Smart notifications: Choose which alerts you get on your wrist. Change the notification settings on your phone and your Microsoft Band will match.
● Watch mode: Turn on "Watch Mode" to always display today's time and date without pressing any buttons.
● Facebook & Facebook Messenger: Stay up to date on Facebook without having to check your phone. Get the latest posts, comments, photo notifications, and personal messages on your band.
● Twitter: Tweets, mentions, retweets, messages, new followers. Set your preferences on your phone and see it all on your wrist.
● Cortana: If you're using Windows Phone 8.1, you can take notes and set reminders with your voice using Cortana personal assistant.
● Weather: Get real-time weather conditions and a 5-day forecast to plan your week.
● Finance: Create a watch list for select stocks in your Microsoft Health app. View the latest ticker activity right on your wrist.
● Starbucks: No need to reach for your wallet. Enjoy coffee on the go with your Starbucks card ready to scan at arm's length.
● Timer & Stopwatch: Time your laps or your entire workout with the stopwatch. Set alarms to wake up silently or remind you to go for a run.
● Do-not-disturb mode: Tap the icon on your band to turn all notifications off.
● Personalization: With your choice of background designs and colors, let Microsoft Band reflect your personality.
● Display: The full color touch display is bright and easy to read, even in direct sunlight.
● Bluetooth 4.0: With Bluetooth 4.0, your data syncs to your phone in the background, so Microsoft Band is always up to date. You don't have to log in to get the latest.




Fitness partners
● Runkeeper: Got a RunKeeper account? Sync your Microsoft Band data with RunKeeper to get a more complete view of your active life with the apps you love.
● Gold's Gym: Get premium fitness content from Gold's Gym right on your wrist. Set up and track your results in your app and follow workout prompts on your band.
● MyFitnessPal: Microsoft Band syncs with MyFitnessPal to let you track your overall daily caloric intake and see how many of those calories you use.

Microsoft Band comes in three sizes: small, medium, and large. The small band has a 39mm wrist height, medium has a wrist height of 41mm, and large has a wrist height of 49mm. You can order the device for $199 from the link below.

Read More