Google Releases Snapseed 2.0 Photo Editing App for iOS
Posted April 9, 2015 at 3:22pm by iClarified · 8742 views
Google has just released Snapseed 2.0, a major update to the professional photo editing app for iPhone, iPad, and iPod touch.
Perfect your photos in a snap with the new Snapseed 2.0. This app brings to your mobile device the power and control of professional photo editing software, previously only available on the desktop. Now with the tap of a finger you can retouch, adjust perspective, re-edit, and more.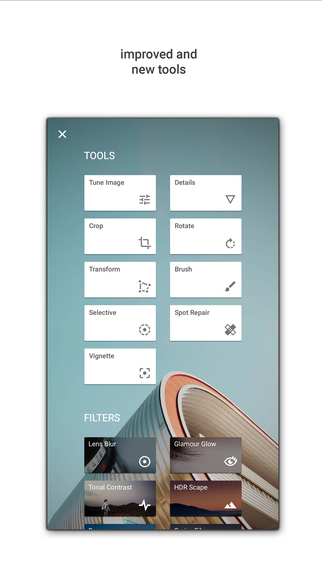 FEATURES:Tools to Perfect Photos
• Tune image - use to auto adjust for instant fixes, use Ambience to create depth and vibrancy that uniquely adapts to colors and fine tune brightness, saturation, contrast, and more
• Details - enhance details with traditional sharpening or the unique Structure control that makes a photo's subject pop
• Crop - crop images to standard aspect ratios or free crop
• Rotate - easily rotate 90°, straighten or free rotate how you like
• Transform - adjust perspective across vertical and horizontal axes, then fill in empty areas after rotation
• Brush - selectively apply effects to regions of an image
• Selective adjust - make precise selections and enhancements to specific areas of your photos in seconds with Nik Software's revolutionary U Point technology
• Spot repair - remove dust and dirt from the image without leaving a trace
• Vignette - adjust brightness around the the subject of an image, includes a control to freely position the effect
Filters to Add Style
• Lens Blur - draw attention to the subject of your photo by blurring and adjusting the brightness of the surrounding background
• Glamour Glow - add a glow to the image that is particularly useful for glamour and fashion photography
• Tonal Contrast - bring out fine contrasts across shadows and highlights, with precise exposure control
• HDR Scape - bring a stunning look to your images by creating the effect of multiple exposures
• Drama - add style with an effect specifically tailored to your photo, ranging from subtle textures to wildly artistic effects
• Grainy film - get modern film looks with a realistic grain engine
• Vintage - make any photo look like a vintage color film photo from the 50's, 60's or 70's
• Retrolux - make your photos look truly retro with light leaks, scratches, film styles, and more
• Noir - modern Black-and-White film looks with a realistic grain engine and the all-new "wash" effect
• Black & White - get that classic Black and White look with this darkroom-inspired filter
• Frames - add stylized borders to photos for the perfect finishing touch
Stacks for Managing your Edits
• Stacks provide a list of applied filters that you can re-edit or copy and apply to another image
• Use Stacks to go back in time visually
• Re-edit any filter at any time!
• Remove a filter at any position in the stack
• Use the new Stacks Brush to paint in or out any applied filter
WHAT'S NEW:
• Stacks allow you to re-edit any image
• Copy your edits from one image to another
• 5 new filters including Lens Blur, Tonal Contrast and Glamour Glow, previously a premium feature
• Lens blur that's adjustable in all directions
• Brush tools to apply effects to sections of an image
• Spot Repair for detailed editing, healing, and retouching
• Transform adjusts perspective across vertical and horizontal axes, then fills in empty areas after rotations
You can download Snapseed from the App Store for free.
Read More