Mental Distraction Rankings of Voice Activated Systems While Driving [Chart]
Posted October 22, 2015 at 7:51pm by iClarified · 12326 views
AAA has released a report compared the mental distraction levels of various voice activated systems while driving, including Apple's Siri and Google Now.
Potentially unsafe mental distractions can persist for as long as 27 seconds after dialing, changing music or sending a text using voice commands, according to surprising new research by the AAA Foundation for Traffic Safety. The results raise new and unexpected concerns regarding the use of phones and vehicle information systems while driving. This research represents the third phase of the Foundation's comprehensive investigation into cognitive distraction, which shows that new hands-free technologies can mentally distract drivers even if their eyes are on the road and their hands are on the wheel.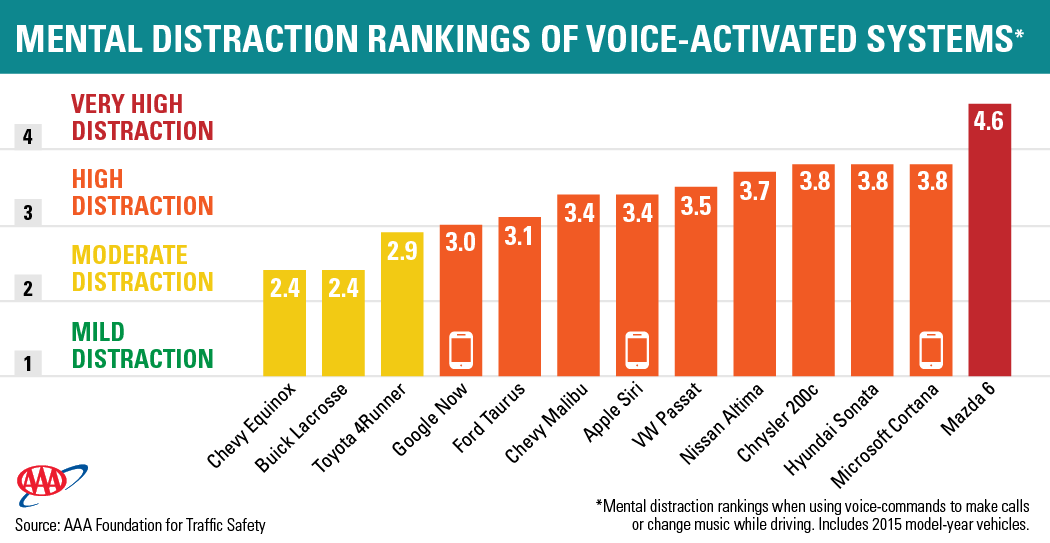 Researchers found that potentially unsafe levels of mental distraction can last for as long as 27 seconds after completing a distracting task in the worst-performing systems studied. At the 25 MPH speed limit in the study, drivers traveled the length of nearly three football fields during this time. When using the least distracting systems, drivers remained impaired for more than 15 seconds after completing a task.
The researchers rated mental distraction on a five-point scale. Category one represents a mild level of distraction and category five represents the maximum. AAA considers a mental distraction rating of two and higher to be potentially dangerous while driving.
The best performing system was the Chevy Equinox with a cognitive distraction rating of 2.4, while the worst performing system was the Mazda 6 with a cognitive distraction rating of 4.6. Among phone systems, Google Now performed best with a distraction rating of 3.0, while Apple Siri and Microsoft Cortana earned ratings of 3.4 and 3.8. Using the phones to send texts significantly increased the level of mental distraction. While sending voice-activated texts, Google Now rated as a category 3.3 distraction, while Apple Siri and Microsoft Cortana rated as category 3.7 and category 4.1 distractions.
Hit the link below for more details...
Read More