Ultra Games Bundle II for iPhone, iPod touch
Posted January 11, 2008 at 6:29pm by iClarified · 8962 views
The Ultra Games Bundle II Interactive For The Apple iPod touch and iPhone includes over 40 premium games, software to create your own games, and widgets plus extraordinary extras. Offers hours of on-the-go entertainment. Simply pop the disc into a PC/ Mac and be playing the games on an iPod touch or iPhone almost immediately.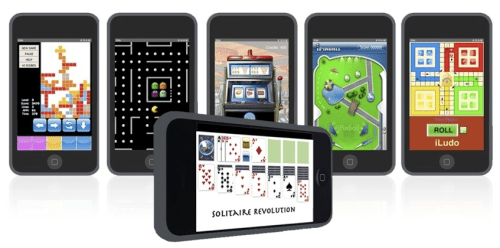 Games
Aerial Pursuit - Battle a fleet of enemy fighter planes in an all out aerial pursuit. Evade, shoot, complete the mission, prove your valor.
Arcade - Mix it up with tossing, shooting, jumping, and more. Includes 8 individual games such as Secret Agent: Unleashed, Hole in One, and Galaxy: Full Throttle.
Black Jack- Choose your wager, deal the cards, count 'em up, and try to outwit the dealer. It's 21 or bust!
Block - Align the cascading blocks. Tap them into place, as you try to completely fill up the board. Rotate them as necessary. If you like Tetris, this is your game.
Brain - Put on your thinking cap for some thought provoking fun. Includes 6 individual games such as Word Expedition 2100, Nitro Numbers, and River Peril.
Canyon Crawl - Accept the challenge of keeping the crawler on its path. Dodge obstacles and devour fruit for extra power.
Chomp Man - Control Chomp Man as he munches pellets. Help steer him towards the energy pellets so that he can have the strength to devour the ghosts.
FaceOff - Immerse yourself in a sea of joyful smilies while tapping and matching 'em.
HangMan - Guess the word or sacrifice the man. Includes tons of words and clues.
iLudo A.I. & Social - The classic Ludo board game has been adapted and updated. Your opponent is your iPod touch or iPhone. The aim is to be the first to get "home."
iPinball - Be a groundbreaker as you tap along playing the first ever Pinball game engineered for the iPod touch and iPhone. With brilliant graphics, realistic ball movement, and easy to use flipper controls, soar into Pinball nirvana.
iTanks - Command an artillery assault against a well fortified enemy. Shoot the ground out from under the enemy or it's curtains for you.
iTrek - Pilot a spaceship across a distant planet. The terrain is perilous and your fuel is limited!
KissOff - Pucker up for this colorful matching game. Tap on groups of tantalizing lips.
Magic 8 Ball - Need to make a decision? The mystical Magic 8 Ball is available to help. Pose a question, take note of the response, then choose your course of action.
Outer Wars - Journey to the next dimension in an out-of-this universe 3D game. Navigate through the canyons of a distant planet.
Sink or Swim - Save a crew of overboard sailors from the jaws of man-eating sharks.
Slots - Pull the handle, spin the reels, and hope lady luck is on your side. An authentic replication of a casino experience.
Solitaire Revolution - Large cards, endless entertainment in this revolutionary take on Solitaire.
SpinCycle - A dazzling game loaded with flash and movement. Quickly match the numbers before they switch.
SportsMatch - Tap on groups of similar sports icons and bounce your way to sports heaven.
Sudoku - This logic-based number placement puzzle is wonderfully challenging.
SweetMatch - Devour groups of sweets as you try to clear the board. Calorie-free!
Tetroku - A Falling Block And Sudoku Hybrid - Kick up Sudoku, converge with falling blocks, and thrill to a game of pulse racing strategy. Features online scoring.
Textalution - Enter the next dimension, where visual, verbal, and digital communications are in sync and style.
Tic-Tac-Toe - The classic Xs and Os game. Step it up and try to beat your best time
World HangMan - Travel the world, guessing countries and other geographic landmarks as you play.
Includes over 40 mobile games, unlimited games that you create, widgets, and extraordinary extras.
Parental Controls - Although iGiki content is suitable for all age groups and is designed for young children, adults, and anybody in between, you have the ability to block access to any of the games, at your discretion.
Read More