VMware has announced the upcoming release of VMware Fusion 10 for Mac.

VMware Fusion 10 Pro, designed for technical professionals that want to build, test and demonstrate Mac, Windows and Linux applications on a Mac, will include advanced capabilities that continue to evolve the solution to support technical professionals and developers. VMware Fusion 10 designed for personal use, will offer Touch Bar support, enhanced GPU and 3D graphics performance, and an updated user interface (UI) to leverage the latest innovations in Mac. Together, the solutions will enable Mac users to take full advantage of the innovative features and capabilities available in Mac, Linux and Windows 10.

"VMware has a proven track record over the last 10 years of delivering innovations in VMware Fusion for the ultimate Windows on Mac experience," said Dave Grant, vice president, Product Marketing, End-User Computing, VMware. "Originally designed for personal use, Fusion has evolved to become increasingly capable for IT professionals and the latest Fusion 10 Pro will deliver many capabilities that will suit development and operation teams."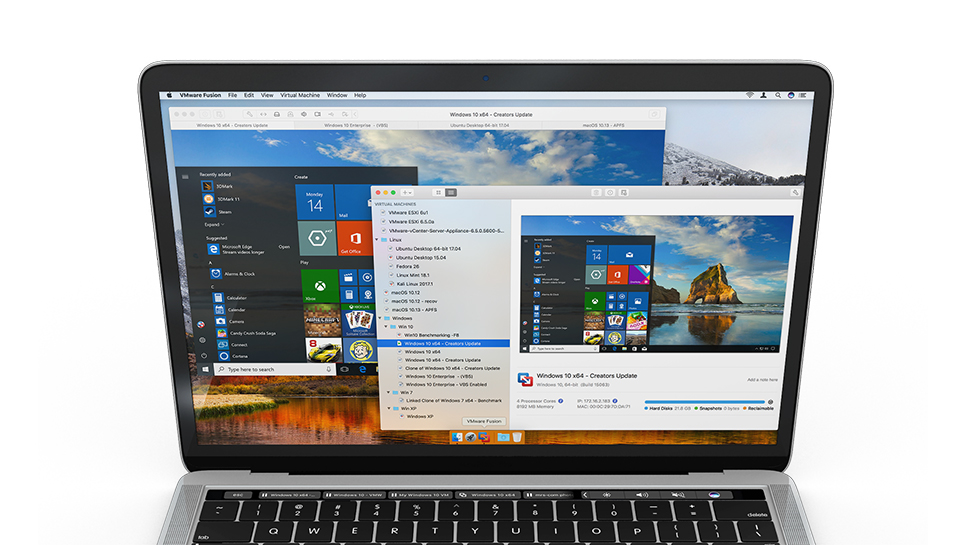 Here's a look at the features of VMware Fusion 10 Pro...

-----
VMware Fusion 10 Pro - More Enterprise Capable Than Ever Before
VMware Fusion 10 Pro will provide the foundation of modern development and testing, enabling multi-operating system development, multi-operating system testing, and integration into DevOps/agile development workflows. Fusion enables IT professionals and developers to run virtual machines that are compatible with corporate data centers from a Mac to perform tasks such as data center design and testing, data center management, network design and testing, and application development and testing.

Support for REST APIs will offer a new interface for managing virtual machines (VMs) remotely and programmatically. This will enable developers and enterprises to integrate Fusion into a modern development and testing pipeline by performing VM operations including VM inventory management, VM power management, cloning, networking, configuration, and IP and MAC address gathering, among others. Developers will also benefit from integration with VMware PhotonOS that will support the most common container formats, runtime engines and scheduling frameworks for seamless migration of containers-based applications from development to production.

Support for Microsoft's new Virtualization Based Security features, such as Credential Guard for Windows 10 virtual machines, unified extensible firmware interface (UEFI) Secure Boot, and a virtual Trusted Platform Module will add to existing security features in Fusion 10 Pro -- delivering a more secure development environment than ever before. Enhanced networking controls will enable management of network address translation (NAT) rules, network packet loss and latency simulation, and renaming of VM networks for better organization. All this will be managed from a completely updated user interface that provides a more modern, informative, and streamlined experience for users.

Lastly, support for MacBook Touch Bar will enable users to easily access commonly used controls using the latest MacBook hardware features.

VMware Fusion 10 - Delivering Power and Performance to Individuals
VMware Fusion 10, a streamlined version of VMware Fusion 10 Pro, will offer seamless integration with Windows and Linux applications for a native Mac application experience. Advancements will include improved graphics performance and accuracy with Apple Metal technology, Touch Bar support, and support for the latest versions of Windows 10.
-----

Availability and Pricing
VMware Fusion 10 Pro and VMware Fusion 10 are expected to be available in October for $159 and $79 respectively. VMware Fusion 10 Pro will also be available through VMware partners and distributors.

Customers who purchase Fusion 8.5 or Fusion 8.5 Pro between August 22 and November 1 will be eligible for an electronic upgrade to Fusion 10 or Fusion 10 Pro, respectively, at no additional cost. Learn more about the VMware Fusion Technology Guarantee Program here.

Fusion 8.5 customers will be able to upgrade to Fusion 10 Pro for only $119 and to Fusion 10 for $49 at the VMware online store or download a free trial.

Read More