Adobe has announced the release of dozens of new products and features to support an explosion of creativity observed following shelter-in-place orders.

One of our important goals is to bring the worldwide creative community together, so that artists can learn from, and be inspired by, each other. We're launching new features and services that help creative people connect with one another and expand their skills.




Here's a look at what's new...

-----
Adobe Live
On Adobe Live, influential creatives explain new techniques and pose creative challenges. Views of those videos have more than doubled since the pandemic hit and in response, we're more than doubling the amount of content we produce and producing content with local artists in the United Kingdom, France, and Germany.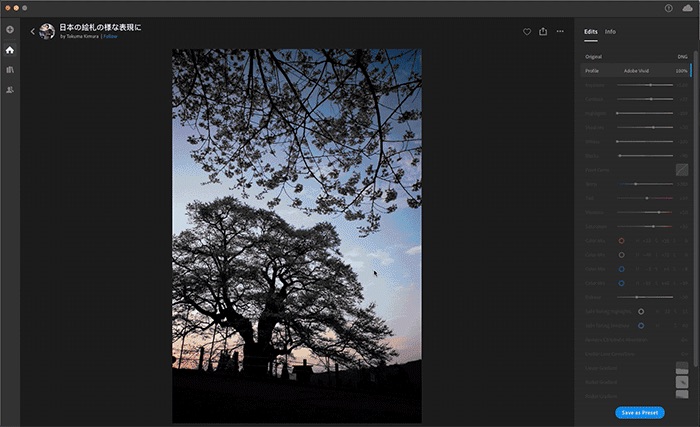 Learning from each other
We also know that any creative person can provide inspiration, so we're making it possible for anyone to live stream how they paint or draw in Adobe Fresco. Many Fresco users can live stream now and we're making the feature fully available over the coming months. And in Lightroom, photographers can share their edited images in the Discover section of the app. When you choose "Share Edits," Lightroom automatically saves both your original image and your finished piece and shows the edits you used to get there.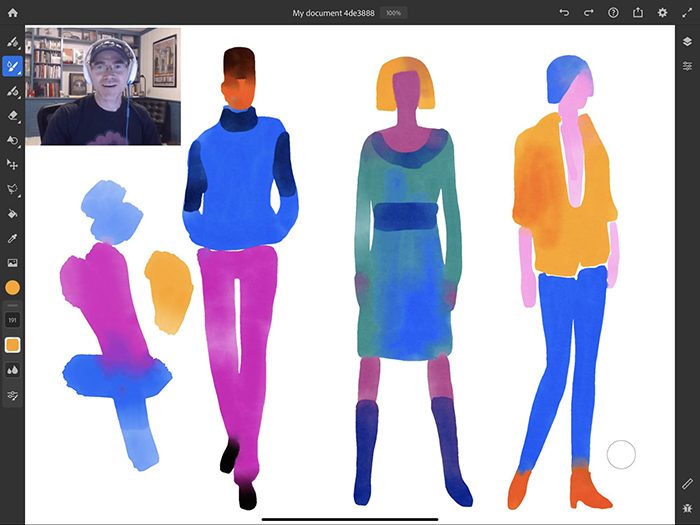 Behance search improvements
Another great source of inspiration is looking at projects that are similar to what you're working on. On Behance, where more than 21 million creatives share their work, we've made it easier to find what you're looking for. With our new search tools, you can search for an image with a specific style or visual element or search for animated GIFs. Photographers can drill down to find shots with a certain exposure or focal length and even find pictures shot with a specific model of camera.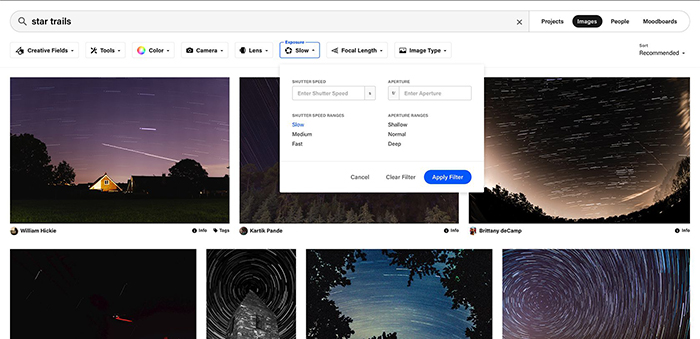 Inspiration and learning in Creative Cloud desktop
You can also learn and get inspired within Creative Cloud, which includes thousands of tutorials and resources, like fonts, brushes, and shared assets. Improvements to the Creative Cloud desktop app make it easy to find and manage fonts, navigate all your Cloud Documents, and access assets shared with you through Creative Cloud Libraries.



Behance job boards
We're also committed to supporting the creative community. We know that the pandemic has put many creative people out of work, so we've made Behance's very active job boards free for all to use.

Share for review in InDesign
For many creative people, the cumbersome, inefficient process of circulating work for feedback is hugely frustrating. The new Share for Review feature in InDesign makes getting responses easy. Click one button and the colleagues you choose can review your document. Their feedback flows back through the app and you can review, reply to, and resolve questions, all within InDesign.



CC Libraries in Spark
Creativity in modern businesses isn't confined to design teams and studios. People throughout the enterprise need to be creative while staying within the company's branding and design guidelines. To help them, we're extending Creative Cloud Libraries into Spark Post, our easy-to-use creativity tool that's perfect for sometime-creators. Through Libraries, design teams can share all the company's approved fonts, colors, logos, and other design assets, ensuring that whatever their colleagues create maintains the company's look and feel.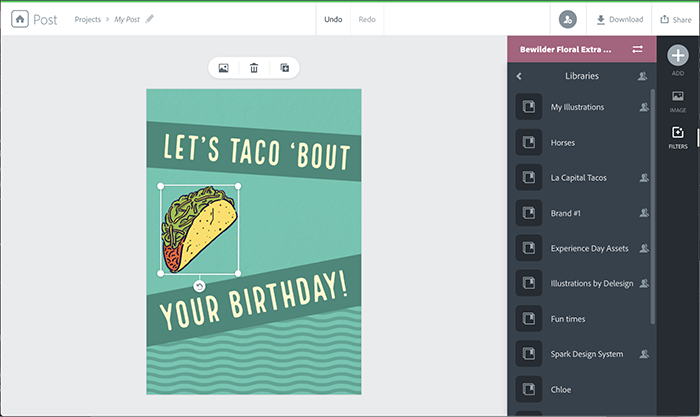 Auto Reframe in Premiere Rush
As people have been creating videos to share their lives with distant relatives and friends, Premiere Rush, our easy-to-use, all-in-one video editing app, has been incredibly popular, especially since Rush lets you share directly to many social channels, including the increasingly popular TikTok. We're making it even easier to format your video for different social platforms with Auto Reframe, which can quickly transform a video shot horizontally, for instance, to a vertical or square format, without losing the focus of the action. Auto Reframe will be available to anyone in our Rush public beta program later this month and to all Rush users later this year.



Select Subject Portrait in Photoshop
You've got a great shot of your friend and all her fun curls, but you want to put it against a different background. Photoshop's new Select Subject Portrait, powered by Adobe Sensei, makes it simple to choose your friend's image and get all the complexity of her hair or other details with just one click.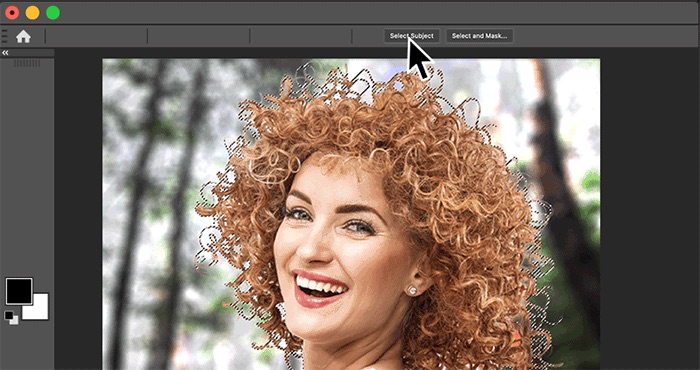 More editing power in Lightroom
With the new Local Hue controls, Lightroom users can make fine-grained changes to things like skin tones without affecting the color of the entire image. Versions lets photographers experiment with different editing approaches to the same image and keep as many as they like. And iPad users can send their images to Photoshop on iPad for even more editing power.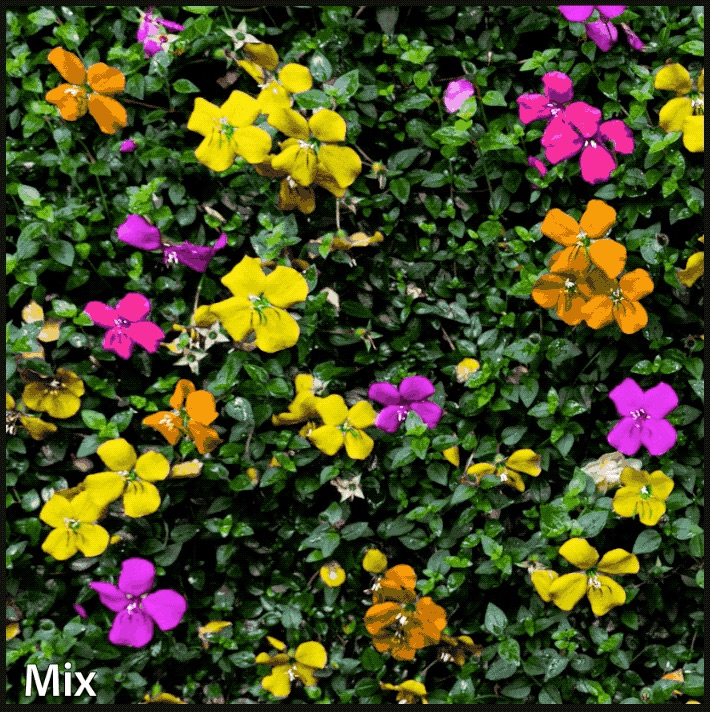 Photoshop Camera
We've all been in this situation: You're about to take a picture, but you realize it needs … something. Something to make it pop. With Photoshop Camera, you can apply the power of Sensei to transform an image from average to amazing – at the time you take it. Choose from an ever-expanding library of fun, creative, and beautiful filters. You'll see exactly how they'll change your picture before you even press the capture button.
-----

More details at the link below!

Read More