Mophie Launches New Snap+ Wireless Chargers for iPhone, AirPods, Apple Watch
Posted September 1, 2022 at 3:34pm by iClarified · 4355 views
Mophie has unveiled three new Snap+ wireless chargers that offer up to 15W of wireless power and are MagSafe compatible.
"These products enhance our already popular snap+ wireless charging line with multi-device charging options for an even more customized experience," said Chris Ahern, CEO of ZAGG. "We're proud to offer charging solutions for whenever and wherever, and these products underscore our core mission to offer power for today's mobile devices so consumers can worry less."
The new additions to the snap+ ecosystem include:
●
snap+ multi-device travel charger ($99.95)
– The snap+ multi-device travel charger has everything you need to charge on-the-go. Designated wireless charging spots for your phone and AirPods provide a shared output of up to 5W-15W of power. It also has a USB-C port and a USB-A port, so you can plug in two additional devices to charge. The travel charger folds neatly into a bundle that fits in a convenient carrying case.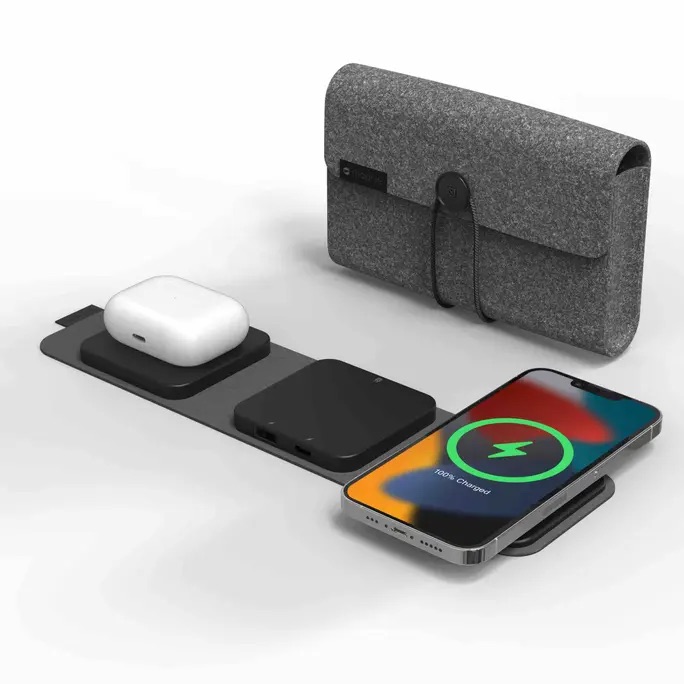 ●
snap+ charging stand & pad ($79.95)
– The MagSafe compatible snap+ charging stand & pad holds your phone upright in portrait or landscape mode while delivering up to 7.5W-15W of wireless power. The weighted base ensures the snap+ stand & pad is stable and secure. It also comes with a snap adapter which allows Qi-enabled smartphones to attach to the stand magnetically. There's even a designated spot for charging your AirPods.
●
snap+ 3-in-1 wireless charging stand ($99.95)
– The snap+ 3-in-1 has a wireless charging stand for your phone, a wireless charging pad for your earbuds, and two watch adapters that allow you to plug in your charger for an Apple Watch or Samsung Galaxy Watch. The phone stand features a weighted steel base to keep things stable and secure, is MagSafe compatible, displays your phone in portrait or landscape mode, and works with non-magnetic phones thanks to the included snap adapter ring. Get up to 15W of power for your Android devices or up to 7.5W of power for your Apple devices.
Check out mophie's full selection of wireless iPhone chargers at the link below...
Read More