Apple Announces Launch of Oceanic+ Dive Computer App for Apple Watch Ultra
Posted November 28, 2022 at 3:13pm by iClarified · 2641 views
Apple has announced that the Oceanic+ dive computer app for
Apple Watch Ultra
is now available on the App Store.
Designed by Huish Outdoors in collaboration with Apple, Oceanic+ enables recreational scuba divers to take the watch they wear every day to previously unreachable depths — up to 40 meters, or 130 feet, to be exact — with the all-new depth gauge and water temperature sensors on Apple Watch Ultra.
"At Huish Outdoors, our purpose is fueling the human spirit for adventure," says Mike Huish, the company's CEO. "Oceanic+ on Apple Watch Ultra is one of the biggest innovations to hit the dive industry in a long time. We're creating an accessible, shareable, better diving experience for everybody."
The Oceanic+ app on Apple Watch Ultra and the companion app for iPhone provide all of the key features of an advanced dive computer, robust dive planning, and a comprehensive post-dive experience.
Features:
• Scuba, Snorkeling, & Surface Modes
• Pre-Dive Location Planner With Surface & Water Conditions
• No Deco Planner Calculates Dive, Depth & Duration
• Built-In Variometer, 3D Tilt Compensated Compass & More Tools
• Monitor Current Depth, Remaining Dive Time, & Ascent Rates
• Easy-To-Read Color-Coded Realtime Dive Parameters
• GPS Enhanced Post-Dive Logbook
• Personal Dive Stats
• Visual & Haptic Safety Warnings
• 7 Watch Face Complications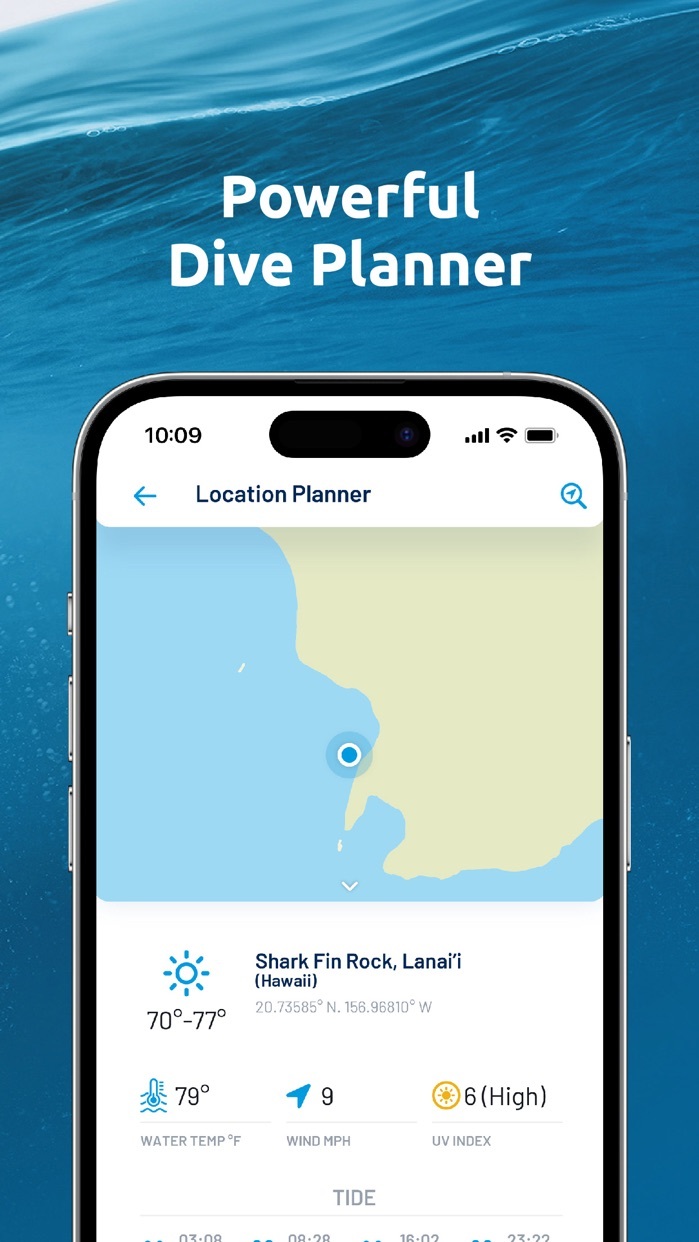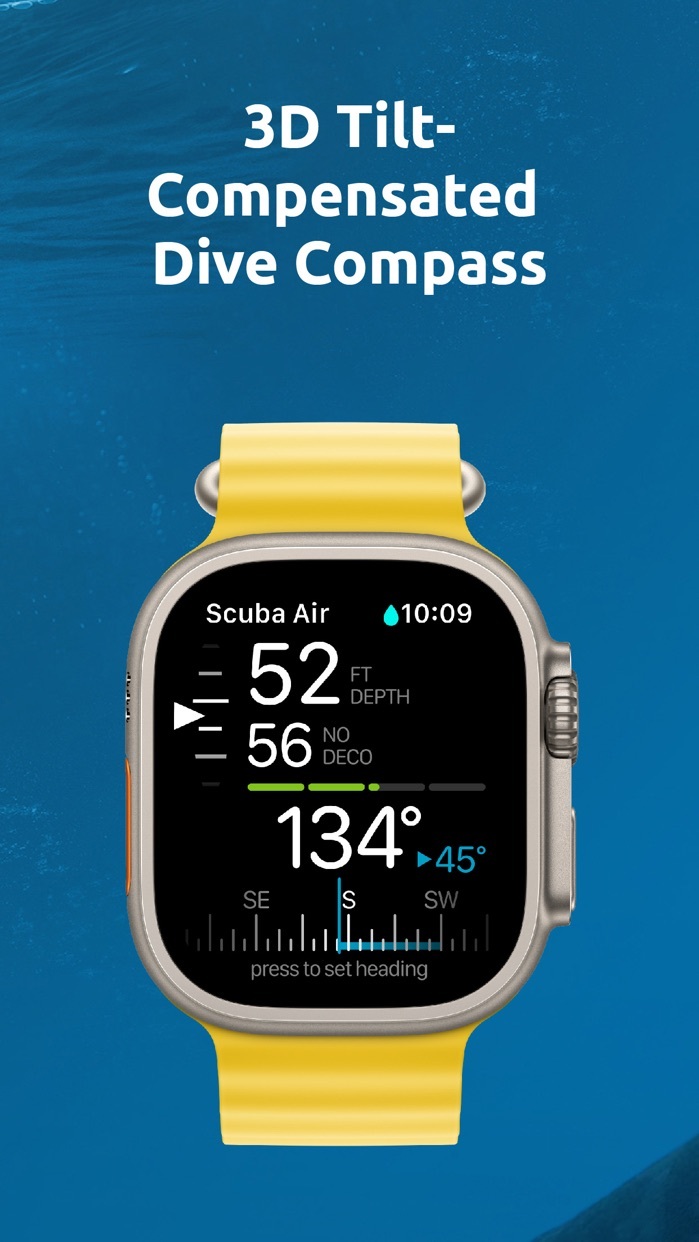 ▶ Powerful Dive Planner ◀
Set your gas mix, maximum depth planned, algorithm conservatism level, total dive time, surface intervals and more pre-dive settings.
▶ Safely Calculate Diving Parameters ◀
Oceanic+ runs a Bühlmann decompression algorithm that constantly calculates and monitors dive parameters, so all critical information is just a glance away.
▶ Pre-Dive Location Planner ◀
Your iPhone location planner integrates dive conditions like tides, water temperature, and even up-to-date information from the community, like visibility and currents.
▶ Real-Time Underwater Information ◀
Monitor critical dive parameters with customizable notifications at a glance.
• No Decompression Time (TLBG) Tissue loading bar graph
• Variometer for ascent/descent rate
• Max depth/actual depth up to 130 feet (40 meters)
• Air/Nitrox ready up to 40%
• Elapsed dive time underwater
• Minutes to surface
• CNS + PPO2 tracking
• Visual and haptic safety warnings including safety stop
▶ Enhanced Post-Dive Logbook ◀
See your dive profile in an overlaid graph with depth information, temperature, ascent rates, and no-deco time. Each dive log features the ability to add dive visibility, surface conditions, and currents.
▶ Track Your Dive Stats ◀
Tracking seasonal and total lifetime dives, max depth, temperatures, and other personalized dive stats is effortless with Oceanic+.
▶ Post-Dive Watch Face Complications ◀
Choose from no fly time, surface time, dive settings, dive planner, maximum allowed elevation, current elevation, and a quick-launch button back into the Oceanic+ app.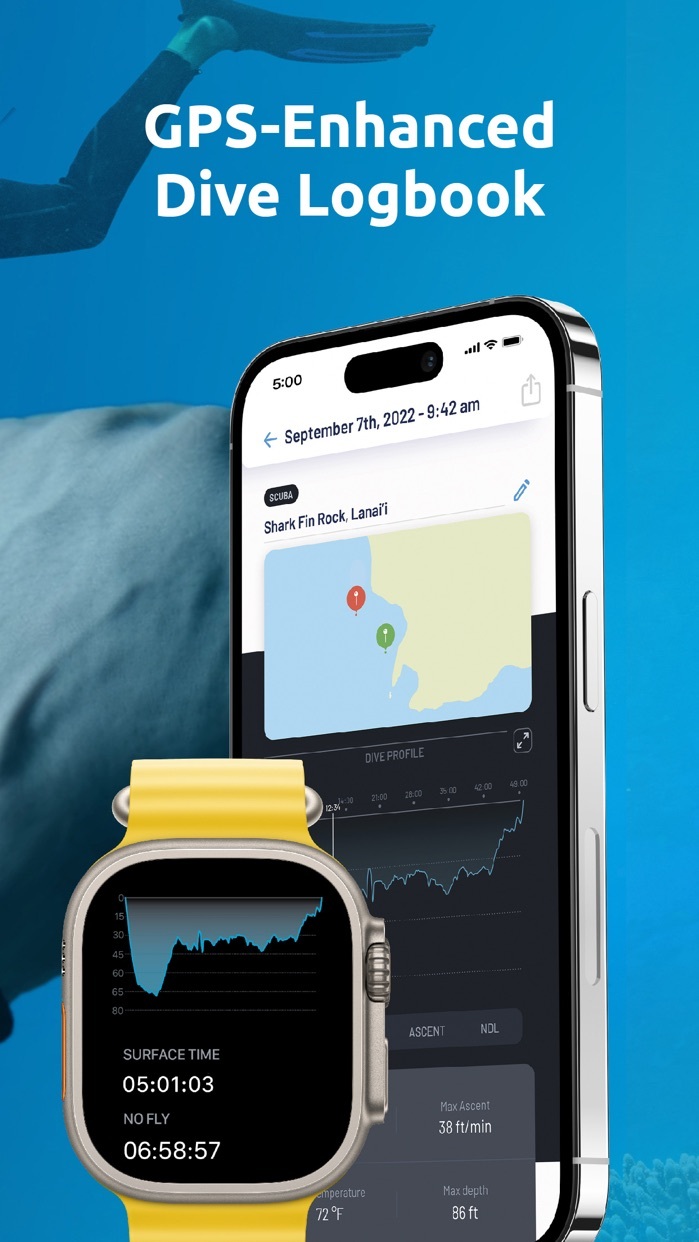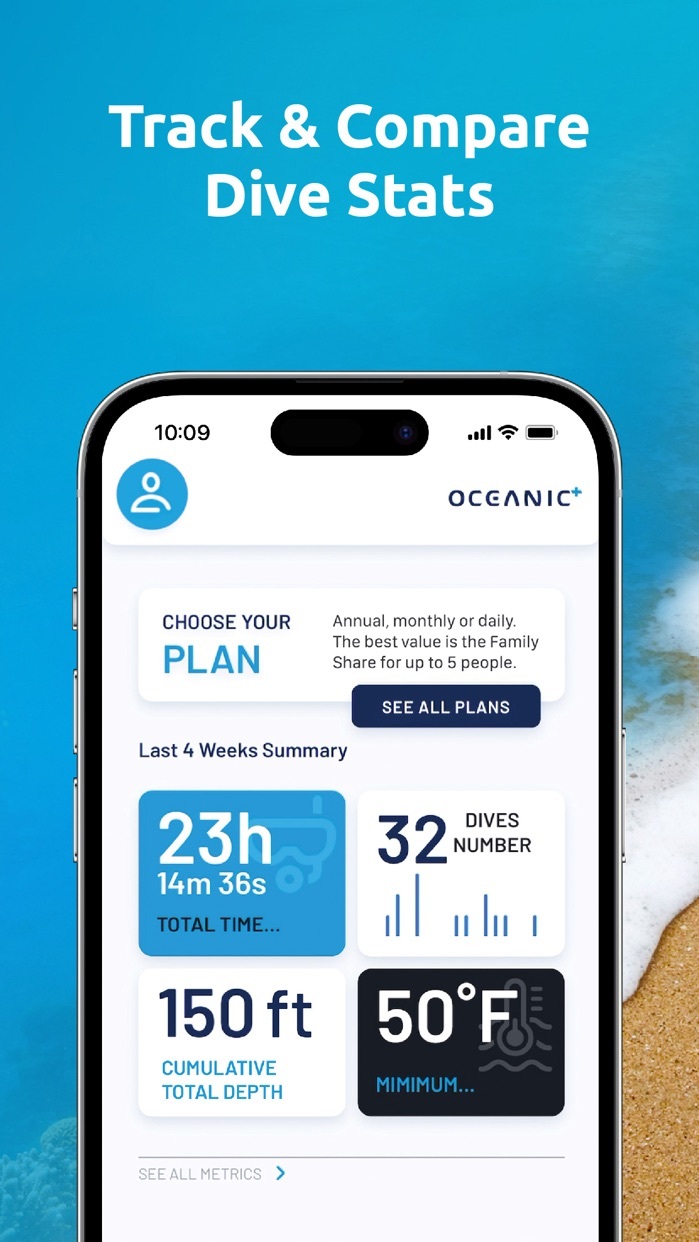 Pricing and Availability
● The Oceanic+ app for Apple Watch Ultra is available for download today on the App Store.
● Oceanic+ requires
Apple Watch Ultra
running watchOS 9.1 paired with iPhone 8 or later, and iPhone SE (2nd generation) or later running running iOS 16.1.
● The basic plan is free, and includes many common dive functions, including depth and time, as well as logging most recent dives.
● For access to decompression tracking, tissue loading, the location planner, and an unlimited logbook capacity, Oceanic+ is $9.99 (US) per month, or annually for $79.99 (US). Family Sharing is also available for $129 (US) annually, allowing access for up to five people.
Note: The Apple Watch Ultra is currently on sale for
$60 off
.
Download