Amazon's New Fire TV Lineup Starts at Just $199.99
Posted March 22, 2023 at 2:47pm by iClarified · 3886 views
Amazon has announced the expansion of its Fire TV lineup with three new
Omni QLED TVs
; as well as, a new
Fire TV 2-Series
that starts at just $199.99.
The Amazon-built TV lineup will now include three new sizes of the Fire TV Omni QLED Series lineup, which includes the Fire TV Ambient Experience; and introduce the affordable Fire TV 2-Series which starts at just $199.99. Amazon also is launching its Amazon-built TVs in more countries, bringing the Omni QLED Series, Fire TV 4-Series, and the new Fire TV 2-Series to the United Kingdom, Germany, and Mexico for the first time.
"We continue to hear from customers that most smart TVs just aren't all that smart—and they're turning to Fire TV to deliver a truly intelligent and intuitive TV experience. With over 200 million streaming players and smart TVs sold globally, our relentless focus on making TVs actually smart is resonating with customers around the world. In fact, televisions are the fastest growing segment in the Fire TV business," said Daniel Rausch, vice president of Amazon Entertainment Devices and Services. "When customers love something, we double down. We're excited to not only bring our Fire TV Ambient Experience to more rooms of the home with multiple new screen sizes of the Omni QLED Series, but also to enable customers to get a Fire TV smart TV for as low as $199.99 with the new 2-Series. We can't wait to hear what customers think."
Fire TV Omni QLED Series — starting at $449.99
The popular Fire TV Omni QLED Series—with the Fire TV Ambient Experience—will now be available in three new sizes: 43", 50", and 55". With new smaller sizes, customers can enjoy the Ambient Experience in any space, in any room. The Omni QLED features a stunning 4K Quantum Dot Technology (QLED) display with full-array local dimming of up to 96 zones, plus support for both Dolby Vision IQ and HDR10+ Adaptive providing an immersive, cinematic experience. The lineup also features built-in far-field technology, enabling customers to find apps, discover shows, manage playback, and control the Ambient Experience hands-free with Alexa from anywhere in the room.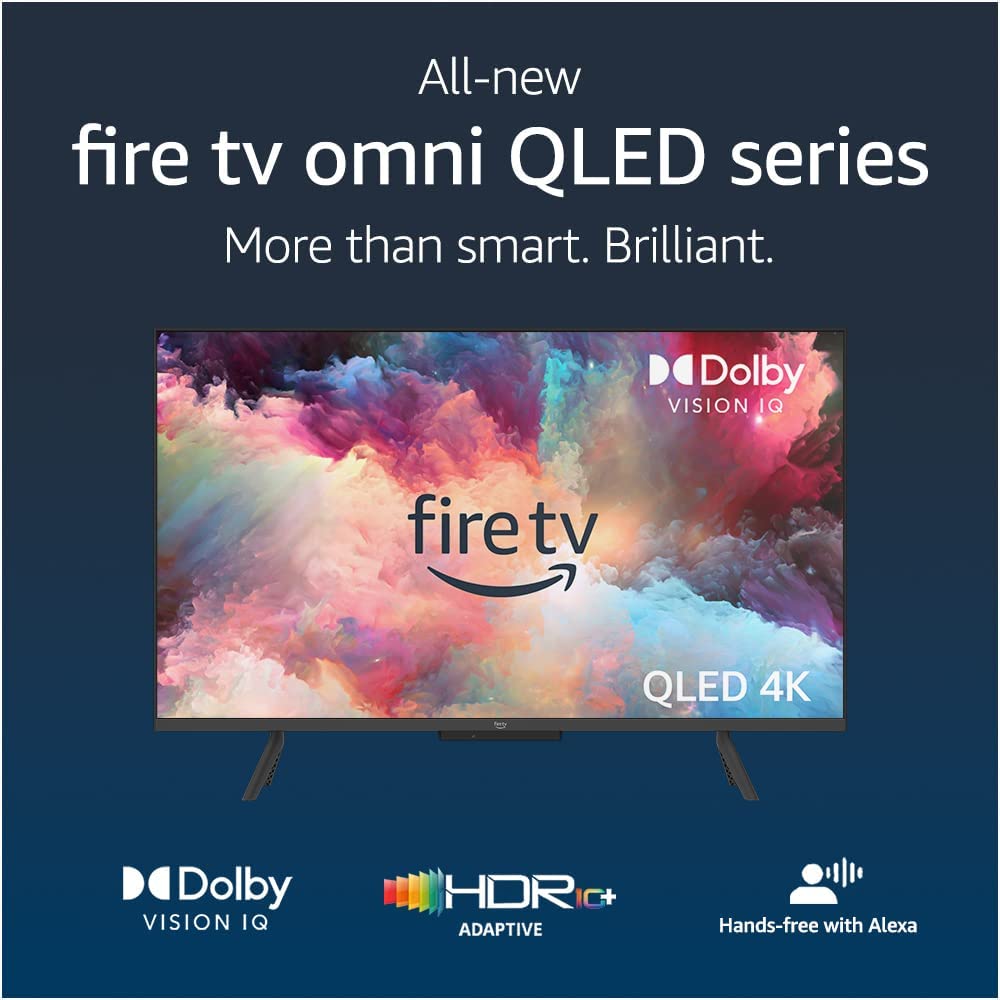 ● Fire TV Ambient Experience
The Omni QLED's Fire TV Ambient Experience transforms the TV into an always-smart device. When not streaming, the Omni QLED Series uses built-in presence sensors to detect when a person enters the room to intelligently switch to the Ambient Experience, which uses the power of Alexa to display helpful information. With the Ambient Experience, customers can see glanceable information like their schedule with Calendars and Reminders, leave Sticky Notes for family members, control smart devices like a thermostat or Ring doorbell, play audio from services like Amazon Music, Spotify, and others—and much more.
With no monthly subscription required, the Omni QLED Series can also turn your TV into an in-home art gallery. Today, the Ambient Experience added hundreds of new images to its collection of more than1,700 free gallery-quality pieces of artwork; and expanded its collection from famous institutions like The National Gallery of Art and The Art Institute of Chicago to include pieces from the National Galleries of Scotland, National Museum of Wales, Munich's Pinakothek of the Modern, and more. You can learn about any art collection by asking, "Alexa, who painted this?" or "Alexa, tell me more about this artwork." Coming later this year, the Ambient Experience will also feature dynamic art, a new art concept that adapts to the current environment. Based on the time of day, temperature, weather, and other factors, dynamic art responds to its surroundings to display unique, personalized pieces of art that are always evolving.
New Fire TV 2-Series—starting at just $199.99
The all-new Fire TV 2-Series features 32" and 40" sizes, designed for all rooms and sizes like the family room, kitchen, or bedroom. The lineup offers great performance and the power of Alexa at an affordable price while providing access to over one million movies and TV episodes from favorite apps including Prime Video, Netflix, Apple TV, Paramount+, and more. The Fire TV 2-Series 32" brings movies and shows to life in HD resolution, while the Fire TV 2-Series 40" offers enhanced clarity and detail withFHD. The Fire TV 2-Series lineup includes support for HDR 10, HLG, and Dolby Digital Audio. The lineup also includes the Fire TV Alexa Voice Remote to easily find, launch, and control content or check the weather, sports, the status of your smart home devices, and more. The brand-new Fire TV 2-Series is available starting today.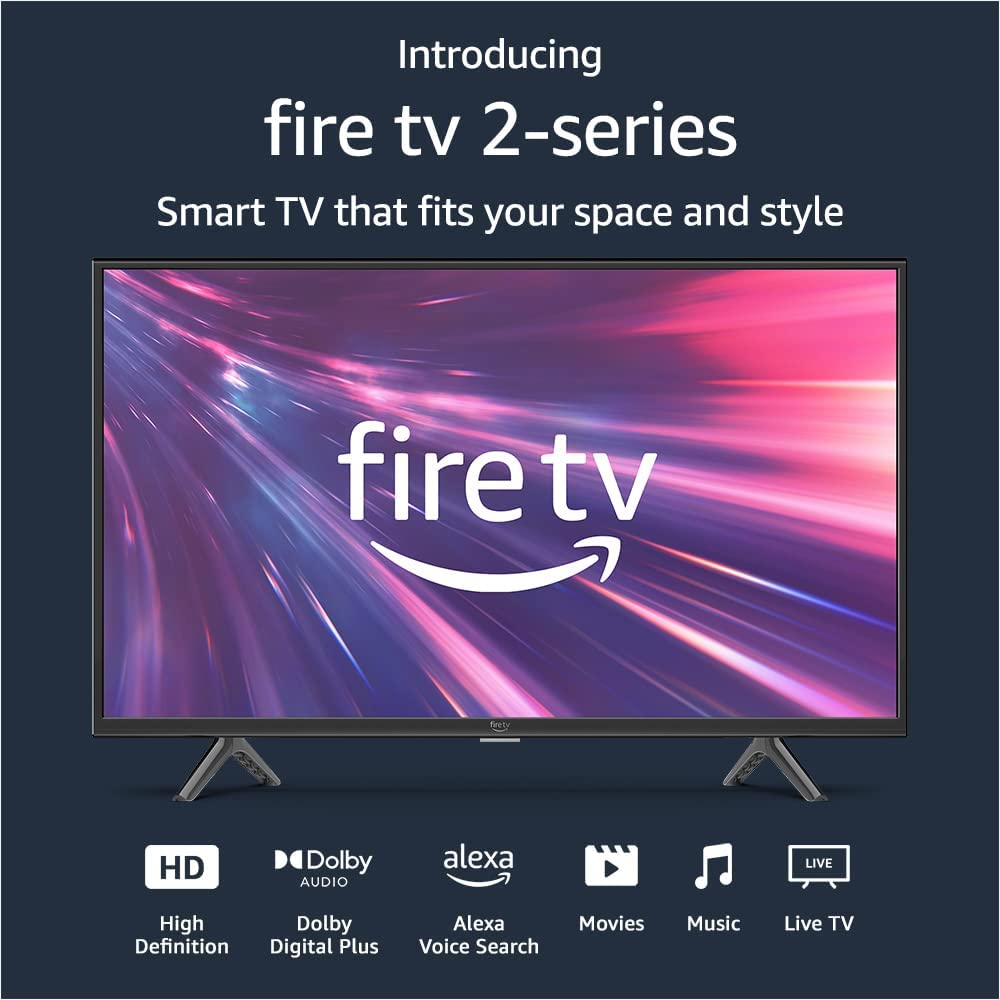 Accessible entertainment
Fire TV proudly supports the open-source Audio Streaming for Hearing Aids (ASHA) protocol. In 2022, the Fire TV Cube (2nd Gen) became the first-ever streaming media player in the United States to support ASHA through a collaboration with hearing aid company Starkey. Less than a year later, Fire TV streaming media players and smart TVs became the first streaming TV devices to stream sound directly to a hearing implant sound processor through Fire TV's work with Cochlear, the global leader in implantable hearing solutions. The Fire TV Omni QLED Series, Fire TV 4-Series, and Fire TV 2-Series support ASHA. Customers with compatible Starkey Bluetooth hearing aids or Cochlear hearing implant sound processors can connect directly with these Amazon-built TVs to enjoy audio from their favorite streaming apps, use Alexa, listen to music, hear navigational sounds, and more.
Pricing and Availability
The new
Fire TV Omni QLED Series
43", 50", and 55" sizes are available for pre-order today starting at
$449.99
.
The brand-new
Fire TV 2-Series
are available today in 32" and 40" starting at
$199.99
.
Read More