DLO Unveils VentMount for iPhone, iPod touch
Posted April 15, 2008 at 6:06pm by iClarified · 5989 views
Digital Lifestyle Outfitters today announced the immediate availability of the VentMount car-mounting system, available for both the iPhone and iPod touch. VentMount allows users to securely position their iPhone or touch onto their car's dashboard for easy access while on the road. Both the VentMount for iPhone and the VentMount for touch are available from dlo.com and select retailers for $24.99.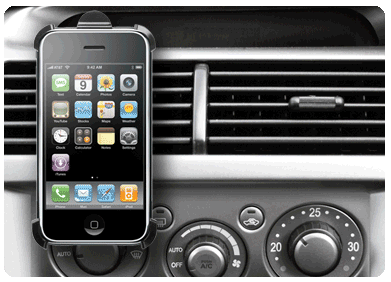 The VentMount's unique car-mounting system is a must-have product for all iPhone users. It features a secure mounting device that is hooked onto the car's air vents. A shell with integrated belt clip easily and securely latches onto the mounting device for convenient quick-glance viewing of the iPhone (both horizontally or vertically). Once at your destination, simply pop the phone off the mounting unit and use the clip to attach to your belt or bag.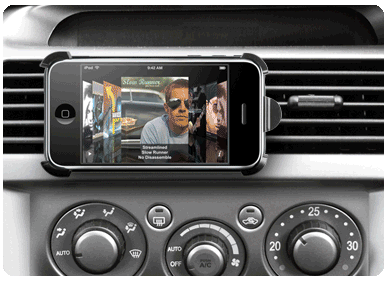 The VentMount is particularly useful for Cover Flow or following driving directions while on the road. In addition, when used in conjunction with a Bluetooth headset, users can easily see who's calling and take phone calls without removing the phone. While the iPhone or touch is mounted, users will find easy access to the side controls as well as the dock connector - enabling them to charge the device or connect it to the car's Aux-In while it remains secure in the VentMount.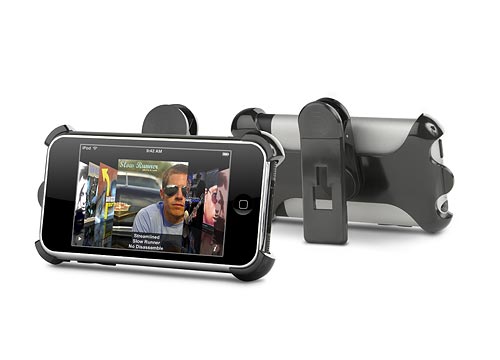 "The VentMount is an essential car accessory for every iPhone user," said Andrew Green, vice president of marketing for DLO. "Whether quickly checking a map or taking a call, the iPhone is always secure and perfectly situated for easy, at-a-glance viewing. Once you've used the VentMount, it's hard to live without it."
The VentMount features an integrated belt clip/desktop stand that enables the touch or iPhone to go from car to hip to desk with ease. The VentMount's locking desktop stand lets users easily enjoy hands-free video viewing on any flat surface.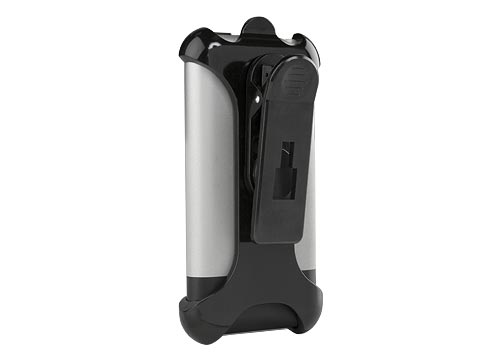 Read More