Voici les instructions détaillées expliquant comment étendre la couverture d'un réseau AirPort en utilisant un AirPort Express.
Notez que cette configuration ne marchera que si le routeur de base est un routeur Apple (probablement AirPort Express ou Extreme). Cette configuration ne marchera pas avec des routeurs d'autres marques (Linksys, D-Link etc.)
Étape 1
Procédons d'abord à enlever l'AirPort Express de sa boîte. Branchez l'appareil dans une prise.
Pour ce tutoriel, notre réseau ressemblera à celui illustré ci-dessous.
(L'image est ancienne mais la configuration reste la même)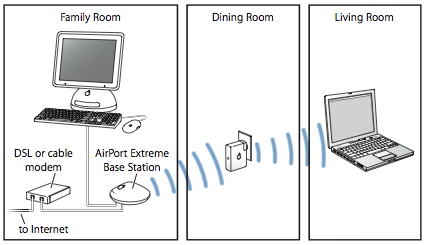 Étape 2
Attendez quelques instants pour que l'AirPort Express puisse démarrer. Cliquez ensuite sur le symbole AirPort, en haut à droite de votre écran. Sélectionnez le réseau s'appelant "Apple Network XXXX".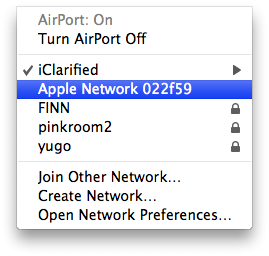 Étape 3
Ouvrez une nouvelle fenêtre Finder et ouvrez l'application
Utilitaire Airport
depuis Applications : Utilitaires.
Dans le cas où vous n'auriez pas l'application "Utilitaire AirPort" sur votre ordinateur, il vous faudra l'installer depuis le CD venant avec votre AirPort Express. Insérez votre CD dans votre ordinateur eut une fenêtre devrait s'ouvrir avec son contenu. Double cliquez le symbole
AirPort Express
(Il ressemble à une boite en carton) pour démarrer l'installation. Une fois l'installation terminée, ouvrez une nouvelle fenêtre Finder et ouvrez l'application
Utilitaire Airport
depuis Applications : Utilitaires.
Étape 4
L'Utilitaire AirPort recherchera et trouvera votre AirPort Express correspondante. Cliquez sur l'icone de votre AirPort, et cliquez sur le bouton
continue
pour procéder.
Étape 5
Vous pouvez maintenant personnaliser votre AirPort Express et lui donner un nom et choisir son code d'accès (ce code d'accès et indépendant de celui utilisé pour se connecter au réseau. Ce code n'est utilisé que pour changer la configuration de l'AirPort Express. Puis cliquez
continue
pour continuer l'installation .
Étape 6
Vous devez maintenant sélectionner le type de connexion désiré pour votre appareil. Sélectionnez l'option
I want AirPort Express to wirelessly join my current network
. Puis cliquez sur
Continue
.
Étape 7
Depuis le menu
Network Name
choisissez le réseau que vous désirez étendre. Depuis le menu
Wireless Security
sélectionnez les paramètres de sécurité nécessaires pour accéder votre réseau, et remplissez les champs requis. Finalement
n'oubliez pas
de sélectionner l'option
Extend the range of this network
. Cliquez sur
Continue
une fois que vous avez terminé.
Étape 8
Votre AirPort Express va maintenant être configuré pour rejoindre votre réseau actuel.
Étape 9
Une fenêtre va apparaitre. Depuis cette fenêtre sélectionnez le routeur AirPort de base qui produit le réseau que vous voulez étendre. Cliquez ensuite sur le bouton
OK
.
Étape 10
Attendez quelques instants pendant que votre AirPort rejoigne votre réseau.

Étape 11
Félicitations! Votre AirPort Express est maintenant configuré pour étendre votre réseau AirPort!