What's New in iOS 8: Photos, Camera
Posted June 7, 2014 at 5:04pm by iClarified · 41758 views
Apple is introducing some significant improvements to Photos in iOS 8.
Here's a look at what's new!
iCloud Photo Library
Now all your photos can be stored in iCloud. This will let you access any photo you've taken from any device. The images are stored at full resolution in their original formats, including RAW files. iCloud Photo Library can be enabled from the Settings app in the Photos & Camera section.
iCloud Photo Library will also be able to automatically keep your original high-resolution photos and videos in iCloud and leave behind lightweight versions on your devices.
With iOS 8 you can now press hold on an image to Hide it from Collections, Moments, and Years. However, it will still be available in Albums. You can also favorite a photo by tapping the heart icon in the bottom bar. If you want to rearrange the order of your photos, choose an Album, tap the Select button at the top right, press and hold an image, then drag it to its new location.
Edits that you make to photos are automatically synchronized across devices if you have iCloud Photo Library enabled. The edits are non-destructive and you can return to the original version if you want.
Search
You can now search your photo library! iOS 8 lets you search by date or time a photo was taken, location, or album name.
In addition, tapping the search icon at the top right offers suggestions such as photos taken nearby, photos taken the same time last year, or all-time favorite photos.
Smart Composition
The Photos app can now automatically straighten horizons and provide the ideal crop to images that weren't composed perfectly. Simply tap the Edit button and choose the Crop tool. If you don't like the automatic adjustment, just tap the Reset button and you can perform the crop and rotate adjustments manually.
Smart Adjustments
There are new adjustment sliders for Light and Color. You can use the smart sliders to find just the right lighting and make colors pop.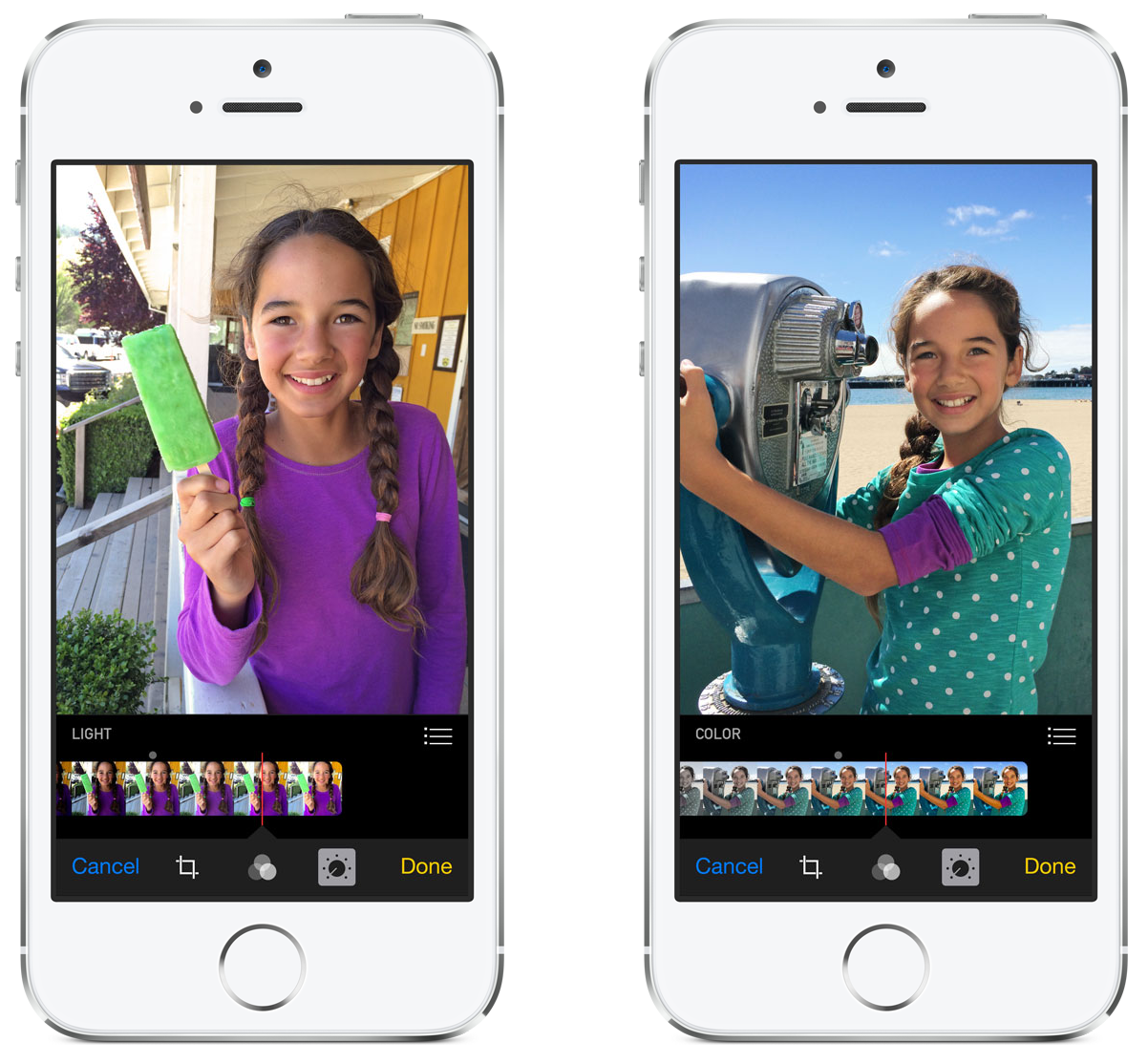 If you aren't happy with the basic adjustment, tap the details icon. For Light this will bring up individual controls for Brightness, Contrast, Exposure, Highlights, and Shadows. For Color this will bring up individual controls for Contrast and Vibrancy. Each of these controls have their own sliders which can be set separately.
Filters
Apple says it has enhanced its photo filters in iOS 8. There's still only eight to choose from; however, app developers can now make their filters and editing tools accessible in the Photos app.
Time-Lapse Video
You can now capture beautiful time-lapse videos with a new Time-lapse mode available in Camera. The camera will snap photos at dynamically selected intervals and the result is a video showing an accelerated sequence of the photos over time.
Swipe all the way to the right to select the Time-lapse mode, tap the Record button, and let Camera record as long as you choose.
[
via
]
Timer
A new timer control is available in the Camera app. Taping the Timer icon lets you choose between a 3s and 10s delay. Once you tap the shutter button, the iPhone's flash will flash once per second as the timer counts down. You'll also see the countdown progress on screen via large numbers that are flashed on top of the camera view. Notably, a burst of 11 photos are taken when using the Timer.
[
via
]
Manual Exposure Controls
Photographers will be happy to learn that iOS 8 finally offers some manual exposure control in the Camera app. Tapping the camera view brings up the typical auto-focus box; however, next to it there is now a small sunshine icon. This is the exposure control.
If you drag the sunshine icon up you increase the exposure. Dragging it down, decreases the exposure.
[
via
]
Please follow iClarified on
Twitter
,
Facebook
,
Google+
, or
RSS
for more on what's new in iOS 8.
Here's a few of the changes we've posted on already:
Mail
,
Safari
,
Messages
,
QuickType
,
Third-Party Keyboards
,
Interactive Notifications
, and
Contact Shortcuts
.