iHanWel Releases iDay Deluxe 2.3
Posted July 3, 2009 at 12:50pm by iClarified · 4242 views
iHanWel has announced iDay Deluxe 2.3, an update to their popular day calendar and event utility for iPhone and iPod Touch. Designed specifically to leverage the iPhone's unique capabilities and interface, iDay makes it easy to keep track of birthdays, anniversaries, holidays, or any special event. iDay is currently on sale during the weekend of July 4th/5th for $2.99 (USD).
Serving not only as an excellent reminder tool, iDay presents historic parallels associated with any event. Choose any entry and iDay will present useful, accompanying information, including numeric data, Western, Chinese, Native American, and Celtic Zodiacs, and the moon phase for that day. Alternatively, users can view them all together in a combined list, ordered by date. Additionally, iDay provides handy links to Wikipedia for that day, as well as the New York Times and BBC's "On This Day".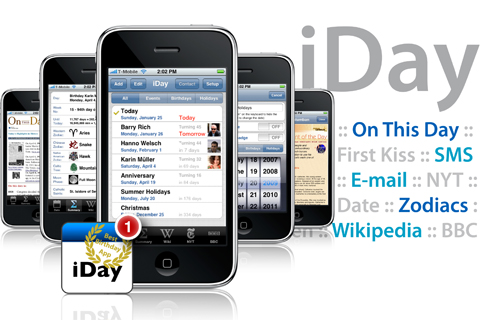 "Missing important days like birthdays, your anniversary, or your child's first school day?"
said Hanno Welsch, co-founder of iHanWel.
"Use iDay to view all those special, individual days in a list; birthdays linked from your contacts, special events defined by yourself in iDay's Events, or holidays in the places where you live. Not know the day of the week or the moon phase when your dad was born? How about your wife's Chinese Zodiac sign or the Celtic tree symbol for your child? All these questions can be answered in one application."
Supported Languages:
* US English, and German
Pricing and Availability:
iDay Deluxe 2.3 for iPhone is only $4.99 (USD) and available exclusively through Apple's App Store. iDay is on sale during the weekend of July 4th/5th for $2.99.
Read More