Full Apple Watch Companion App for iPhone Revealed [Images]
Posted March 13, 2015 at 5:42pm by iClarified · 16353 views
Apple included an Apple Watch companion app for iPhone with
iOS 8.2
; however, it's not functional without being connected to an Apple Watch. Developer Hamza Sood has managed to circumvent this restriction and has posted screenshots of the fully functional app.
There are three tabs to the app: My Watch, Explore, and App Store.
Under the My Watch tab you can set 'App Layout', enable 'Airplane Mode' and 'Do Not Disturb', manage 'Apple Watch', 'Notifications', 'Glances', and more.
Settings categories include General, Brightness & Text Size, Sounds & Haptics, Passcode, Health, Mail, Maps, Messages, Music, Passbook & Apple Pay, Phone, Photos, Reminders, Stocks, Weather, Workout, and more. There's also an Internal Settings category.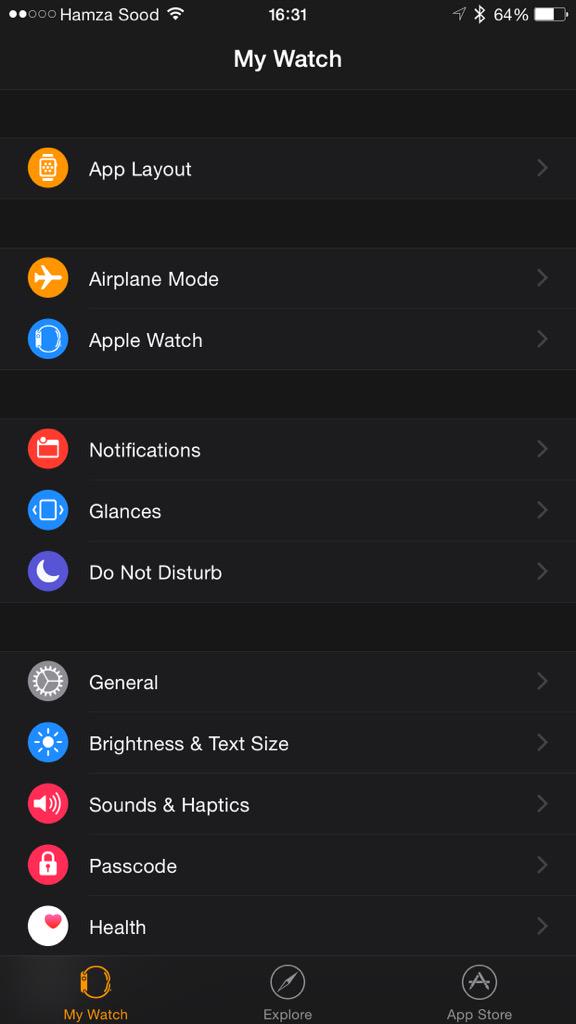 The General menu looks similar to the iOS general settings menu with About, Software Update, Accessibility, Langauge & Region, and more. Here you can choose your Watch Orientation, Enable Handoff, turn on Wrist Detection, and more.
The Sound & Haptics settings menu lets you adjust alert volume, haptic strength, enable Cover to Mute, and turn on Prominent Haptic.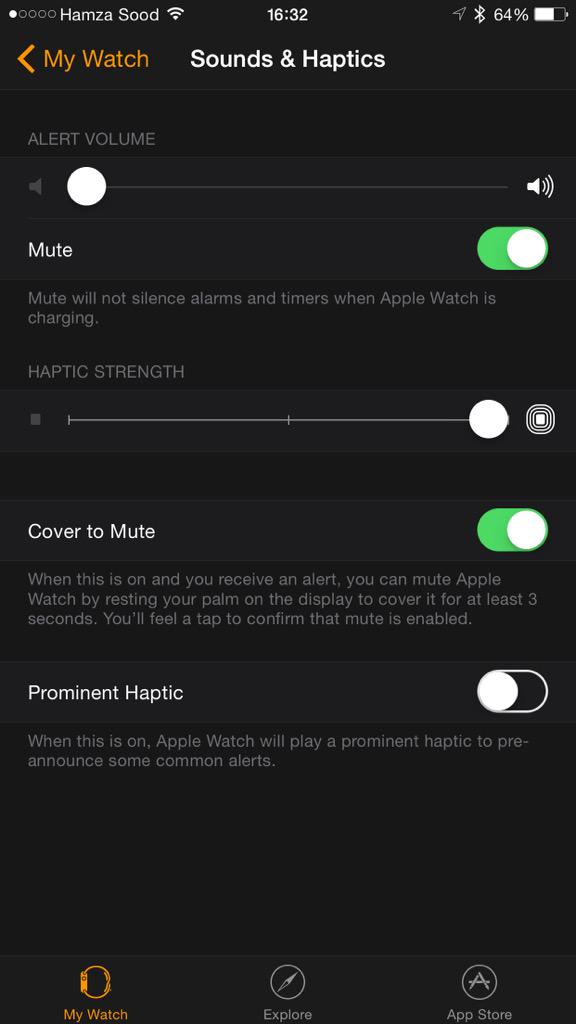 The Music settings window has an option to select a Synced Playlist. This playlist syncs when Apple Watch is on it charger. Once it's synced, this playlist will be available on Apple Watch even when it's out of range of your iPhone. It also appears that you can select a Playlist Limit. Previous reports have suggested that there is a max limit of 2GB.
Under the Clock menu you can choose a 24-hour time clock and enable push alerts from iPhone. When this is on, Apple Watch will alert you of Timers and Alarms you've set on your iPhone, so you can snooze or dismiss them remotely. The Clock menu can also be used to enable a Notifications Indicator. When this is on, a red dot will appear at the top of your watch face when you have unread notifications. Other functions of this menu include the ability to choose a 1 to 4 letter monogram to appear on the monogram complication on the Color watch face. In addition you can set city abbreviations.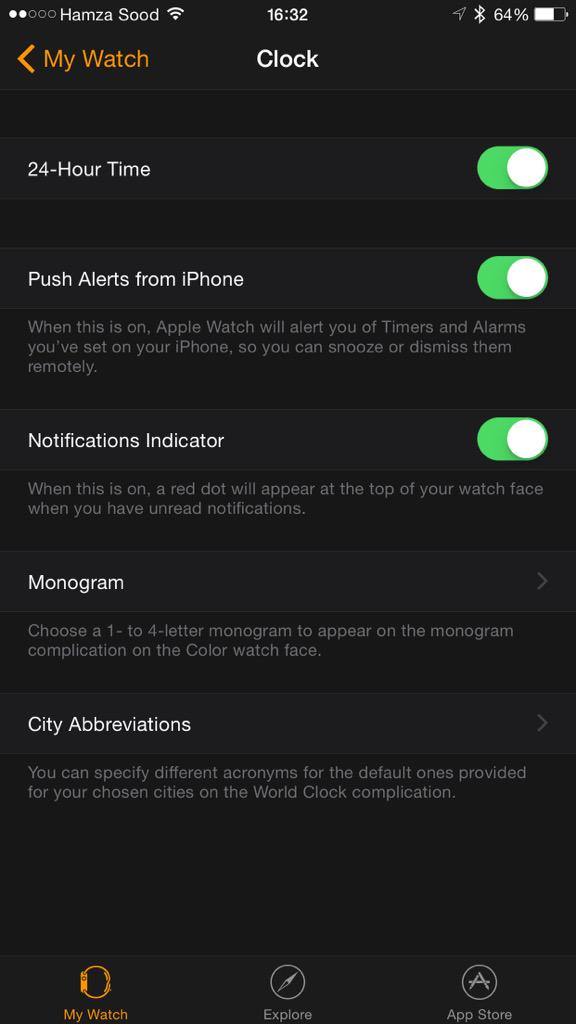 The Notifications menu lets you turn on and off the Notifications Indicator. When it's on, a red dot will appear at the top of your watch face when you have unread notifications. You can also enable Notification Privacy. When this is on, notification details will only appear when you tap on an alert. Under this menu you can also dive in the Notifications settings for each application.
There's also a Friends menu that lets you add up to twelve of your contacts to the Friends screen that appears when you press the side button on your Apple Watch. From there, you can call or send messages.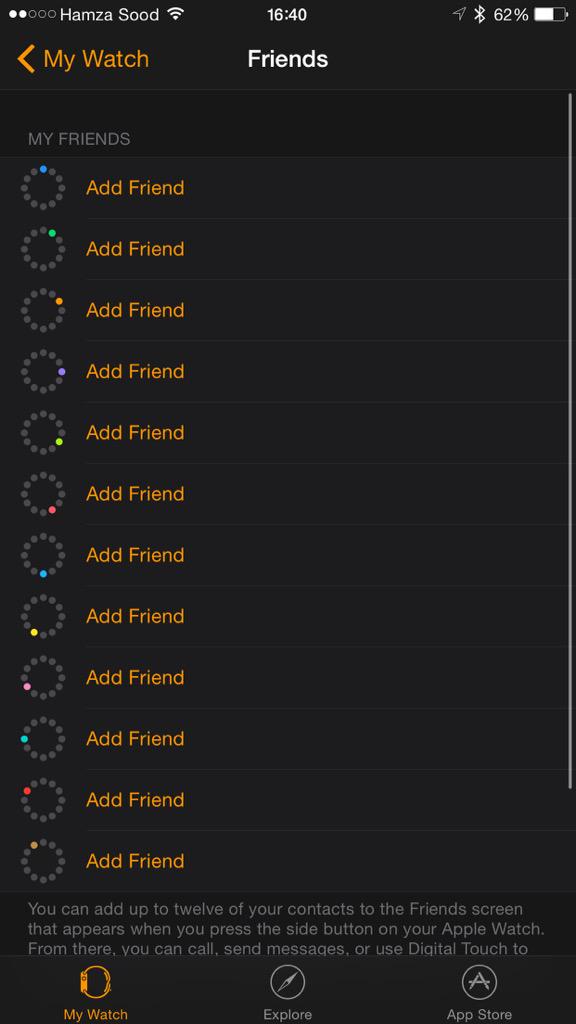 You may also want to check out the
new Activity app
that is hidden in iOS 8.2.
Please follow iClarified on
Twitter
,
Facebook
,
Google+
, or
RSS
for Apple news, tutorials, and videos.
Read More