Google has announced that it's splitting Hangouts into 'Hangouts Meet' and 'Hangouts Chat'. The change is part of Google's plan to double down on its enterprise focus for Hangouts.

Here's how the company describes the two apps...

Hangouts Meet
Hangouts Meet is a video conferencing app that aims to make meetings effortless. It's designed to have a light, fast interface and smart participant management.

Running 30-person video conferences smoothly is easy with Meet. Simply start your meetings with a shared link — no accounts, plugins, downloads or hassles. Meet provides a place for everyone to join from Calendar, an email invite or an ad-hoc share. If you're dialing in from a conference room, your laptop or using the dedicated mobile app, just a few clicks and you're in.




Hangouts Chat
Hangouts Chat is a chat based app that helps bring cross functional teams together. There are dedicated, virtual rooms for each project with threaded conversations. There's also deep integration with G Suit for sharing content from Drive and Docs and filterable search for finding content.

Chat is built not only to reflect the way teams work, but to provide a platform for the enterprise tools they work with. The Hangouts Chat platform supports a wide range of capabilities — from bots to simple scripting using Google App Script — and integrates with third-party applications so teams can do more right from within the conversation.

Google is teaming up with other companies to build out the platform including: Asana, Box, Prosperworks and Zendesk. Chat also features @meet, a bot that uses natural language processing and machine learning to automatically schedule meetings for your team with Hangouts Meet and Google Calendar.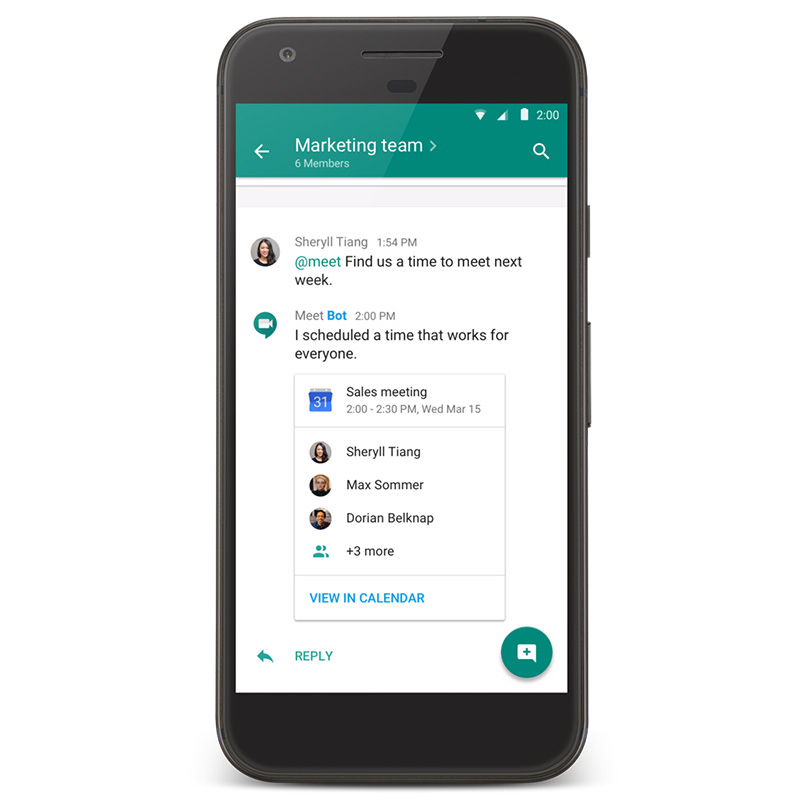 You can download Hangouts Meet from the App Store for free. G Suite customers can apply to try Hangouts Chat through the Early Adopter Program.

Read More Download