Sylvania has announced a new HomeKit-enabled SYLVANIA SMART+ Indoor Full Color LED Flex Strip and a Soft White A19 bulb. The two new items follow the recent launch of the SYLVANIA SMART+ A19 Full Color Bulb which was the first light bulb to work with HomeKit without requiring a separate hub.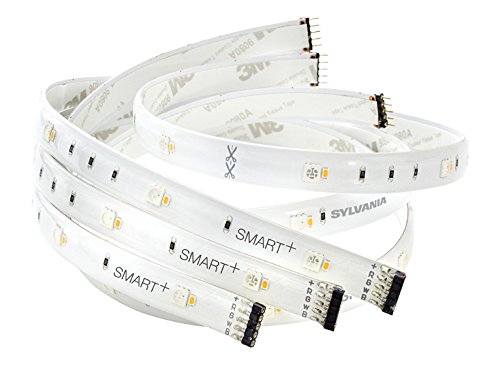 After screwing in the Bluetooth-enabled bulb in your lamp or plugging in the Flex Strip, sync it with the Home app and start controlling your lights instantly. The SYLVANIA SMART+ Soft White A19 Light Bulb can be wirelessly dimmed, providing just the right amount of light for whatever you are doing. The SYLVANIA SMART+ Indoor Flex Strip Full Color can change to one of millions of colors to quickly and easily complement the décor of any room. It has adhesive backing for a quick installation, and the malleable design makes it possible to contour around corners to enhance living areas, under couches and bed or as backlighting behind your TV.

"Previously, the need for a hub and internet connection when installing smart devices was a barrier for many consumers who wanted to try smart lighting," said Aaron Ganick, global head of Smart Business, LEDVANCE. "Our partnership with Apple – and the addition of new Soft White A19 bulb and Flex Strip into our HomeKit-enabled SYLVANIA SMART+ portfolio -- helps bring the benefits of beautiful smart lighting to more consumers in a way that is simple to install and easy to use."




SYLVANIA SMART+ Expansion and Connector Kits are also available. The connectors can be used to create a flat right angle around sharp corners and for gaps across surfaces that are not completely flat or where lighting is not needed. The Expansion Kit comes with two additional two foot strips to expand the length of your lighting.

You can purchase the SYLVANIA SMART+ Full Color LED Flex Strip for $59.99 and the SYLVANIA SMART+ A19 Soft White Bulb for $25.99.