Times Reader Beta for Mac Coming Soon
Posted May 13, 2008 at 12:15pm by iClarified · 3514 views
A beta version of Times Reader for Mac users will be released this month.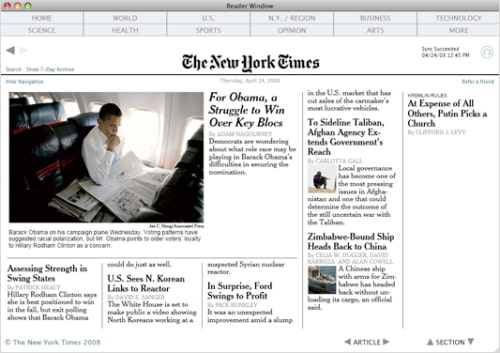 -----
In building Times Reader for the Mac we've focused on providing the core set of features that have made the PC version popular. These include the easy-to-read paginated format, the ability to view the paper offline, a seven-day archive, text search, the ability to adjust the font size and access to Premium Crosswords.
The Mac version comes with four pre-set window sizes and allows you select among them. When you click to resize the window, Times Reader for the Mac shows lines that indicate the other window sizes appropriate for your monitor; this is different from the PC version which flows to fit any screen. Here is a screen shot:
Times Reader for the Mac: Window Resizing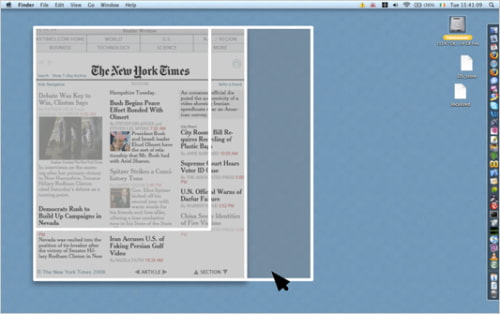 We are using Microsoft's Silverlight technology to render the pages on the Mac version. Silverlight includes a subset of the Windows Presentation Foundation (WPF) tools we use on the PC version. This allows us to keep the look and feel of the Mac version very close to the PC version and also allows us to reuse code across platforms. However, text flow and copy/paste are not currently supported through Silverlight yet will be soon.
For those who are technically minded, here's a short description of how the Mac version works. We paginate the pages for the Mac version on our servers (the Windows version does this on the PC). When you sync, we send you pages for the four window and three font sizes described above. (The Windows version flows the text to fit your window size using WPF on your PC.) Times Reader for the Mac is a native Cocoa application, which uses the Safari toolkit and Silverlight to render the pages.
The search function on the Mac version is more robust than on the PC. The Windows version allows searching on only one day of content and searches only headlines, bylines and summaries. The Mac version searches across seven days of content as well as the full text of each article.
We are characterizing this first release of Times Mac Reader as a beta because this is the first time several of these technologies are being introduced simultaneously, and there will undoubtedly be technical hiccups along the way. We are exploring ways to integrate News in Pictures, a feature popular among PC readers, and speeding up the synchronization time. We are committed to bringing the Mac version to feature parity with the PC version.
-----
Read More