PhoneView v2.0 Released
Posted May 16, 2008 at 8:04pm by iClarified · 8369 views
Ecamm Network today announced the release of PhoneView v2.0.
PhoneView (formerly MegaPhone) is a Mac application which gives iPhone and iPod Touch users easy access to iTunes media, photos, notes, contacts, SMS and call history data stored on the device. Files and folders can also be copied to the device for data storage and file transfer between Macs. Additionally, notes can be added to the iPhone or iPod Touch Notes program by dragging text files, Word docs, PDF files, and other formats into the PhoneView browser. Version 2.0 brings searching, access to the contact list, and automatic archival of SMS and call history data.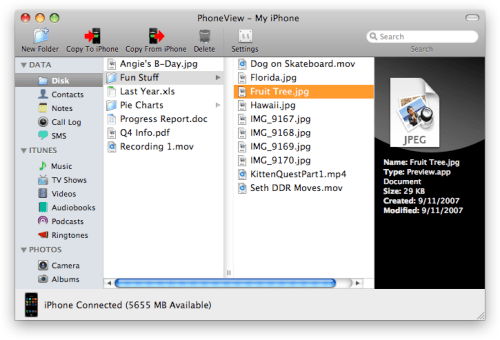 "With PhoneView's Notes features, the iPhone Notepad gets a whole lot more useful," explains Ken Aspeslagh, Ecamm Network's iPhone specialist. "Not only can you retrieve iPhone Notes by simply dragging them out of PhoneView, you can actually drag in text files for reading and editing on the go."
Additional uses for PhoneView include viewing and exporting SMS, call history and contact list data, exporting synced photos and backing up important data.
A 7 day demo is available, and registration is $19.95.
Read More