TuneConnect 2: For the Control Freak in You
Posted June 16, 2008 at 12:18pm by iClarified · 6071 views
The TuneConnect Project has announced the immediate availability of TuneConnect 2.1, the latest reinvention of our revolutionary open source iTunes remote control software for Mac OS X.
Under heavy development for the past six months, TuneConnect 2 was written from the ground up in 100% platform-native code, using a specially-developed neutral iTunes control API. Called Tunage, this HTTP-based API allows many different kinds of devices to all share information in the same way, thereby allowing TuneConnect to work on multiple platforms.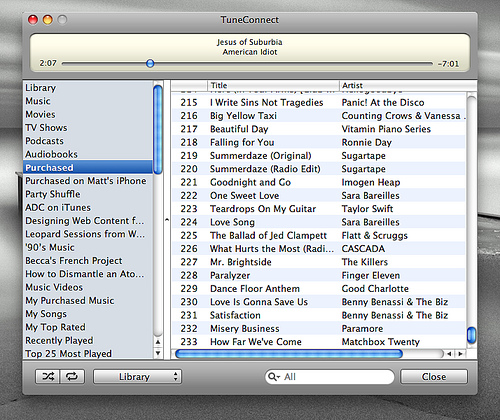 The new TuneConnect is not only the single fastest iTunes remote control on the market, it also provides the simplest, easiest-to-use interface, designed especially for Mac OS X Leopard. From one compact, size-changing window, you can play, pause, and jog through your music, choose new music to play, turn on the visualizations, modify your equalizer settings, and even queue songs for the Party Shuffle. TuneConnect also offers built-in Last.fm support, so you can share your musical tastes with the world.
TuneConnect 2.1 fixes some of the bugs that cropped up in the initial release, and adds support for a small handful of the most-requested features from our users.
As of now, only the Mac OS X client and server are available, though support for other platforms is on the near horizon. TuneConnect Server requires Mac OS X 10.4 (Tiger) or higher, and TuneConnect itself requires 10.4, but runs best on 10.5 (Leopard). Instructions for adventurous DIY-ers will be available in the near future for installing TuneConnect Server on 10.3 (Panther). Control your music beautifully, quickly, and easily, from anywhere on your network: welcome to life with TuneConnect.
Read More