New Altec Lansing iPhone/iPod Speakers
Posted September 11, 2008 at 1:31pm by iClarified · 15164 views
Altec Lansing has introduced a new line of premium digital audio docking speaker systems designed to take personal entertainment to new levels of performance and style. Three new models – the inMotion MAX™, inMotion Moondance GLOW™ and Orbit™-MP3 – partner Altec Lansing's continuous tradition of state-of-the-art audio performance with vintage-inspired, visually arresting aesthetics and optimized environmental design.
"For over 70 years Altec Lansing has derived it's passion for innovative audio technology from the unique music and entertainment desires of consumers," said Vicki Marion, president of Altec Lansing. "We started this project with a single goal in mind: to extend the essence and emotion of immersive sound to every room and environment. Each system in this new collection does precisely that – and is a reflection of our passion for meaningful design, incomparable craftsmanship and natural, live-performance sound."
inMotion MAX Portable Digital Music System for iPhone and iPod
Tracing back to its roots as the first developer of the iPod docking system, Altec Lansing is launching the new inMotion MAX – a slim, portable, all-in-one music system designed to reproduce natural sound of the highest quality in its class. Using proprietary ESS technology, XdB bass-enhancement and twin precision-matched speakers, the new Altec Lansing inMotion MAX delivers sound unmatched by the competition and at a surprisingly large stereophonic range – easily filling any size room with rich, realistic, distortion-free audio.
Compatible with Apple iPhone, Apple iPod and most MP3 players, the inMotion MAX speaker system automatically pauses music when a call is received on an iPhone. The inMotion MAX is fully immune to GSM and Wi-Fi signals – preventing the speakers from picking up potential intermittent noises emitted by the iPhone 3G, original iPhone or other mobile devices. The inMotion MAX supports iPhone and iPod alarm and sleep timer features and is additionally equipped with a built-in digital FM radio and high contrast LCD to display songs and FM station data (RDS). A rechargeable lithium-ion battery provides up to 3.5 hours of continuous play.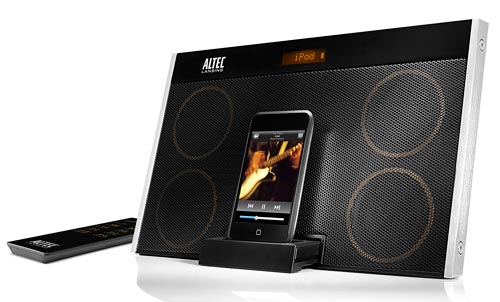 inMotion Moondance GLOW: Make Music Fit Any Bedroom
With the introduction of its new Moondance GLOW speaker system, Altec Lansing packaged its renowned audio performance into an elegant, compact digital player-plus-alarm clock that delivers exceptional stereo clarity as well as fits the décor of any bedroom. With two 3"-inch full-range drivers and a unique multicolor, diffused illumination system – the Moondance GLOW is designed to complement any musical mood or color palette in the bedroom.
The new Moondance GLOW projects crystal-clear stereo sound from most Apple iPods and MP3 players as well as from its built-in FM radio. Dual alarms allow consumers to wake up to their iPod, FM radio or the built-in alarm, while a wireless snooze remote offers alarm control from any location in the bedroom. An enhanced remote (separate from the wireless snooze control) controls speaker system functions including FM radio, alarm, and playlist and song navigation. And auxiliary input connects a second audio source, including CD, DVD, and other MP3 players.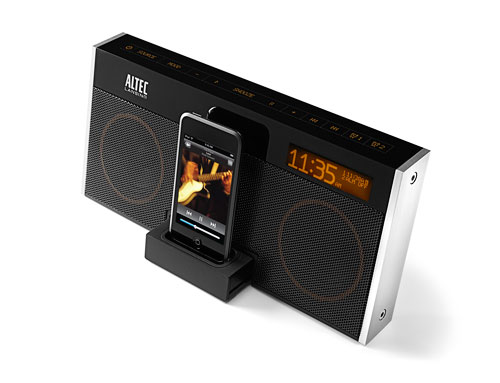 New Orbit MP3 Ultra Portable Music Speaker: A Mighty Little Speaker
The new Orbit MP3 ultra-portable mini-speaker follows the success of Altec Lansing's wildly popular Orbit MP3-207 (introduced in Fall 2007). With a rugged new design, the Orbit MP3 offers instant connectivity and 24-hours of continuous play from any digital audio device including iPhones, iPods or laptops. Weighing in at less than seven ounces, the diminutive, single-driver Orbit MP3 delivers a surprisingly clear, rich 360-degree field of full-spectrum sound without distortion.
Altec Lansing's new Orbit MP3 speaker features a redesigned on/off button and battery indicator light. A wrap-around cord fits the connector cable neatly into the underbelly of the speaker for protection and convenience. And a neoprene case with carabineer hook safely stores the speaker when not in use.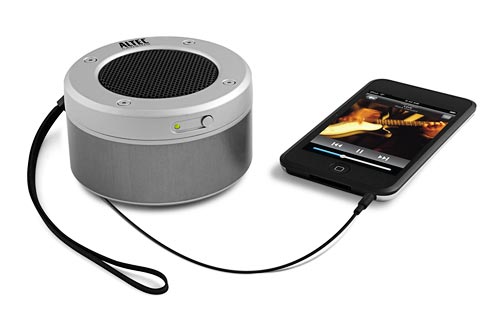 Pricing and Availability
The Altec Lansing inMotion MAX (iMT702) system will be available October 2008 for $199.95 (U.S. MSRP). The Altec Lansing Moondance GLOW (iM402) will be available October 2008 for $179.95 (U.S. MSRP). The Altec Lansing Orbit MP3 will be available October 2008 for $39.95 (U.S. MSRP). For more retail locations and more information visit: http://www.alteclansing.com.