New Macbooks: Gpu Accelerated H264 Video Decoding?
Posted October 18, 2008 at 1:15pm by iClarified · 6182 views
Mac OS X on newly released MacBooks may now offer GPU-accelerated h.264 video decoding for the first time, according to a MacRumors report.
Forum user MGLXP noticed that playback of 1080p high definition trailers from Apple took far less CPU time on his new aluminum MacBook (28% CPU) as compared to his old MacBook Pro (100% CPU). Both computers shared the same CPU speed, but the new MacBook includes the NVIDIA 9400M integrated graphics chipset, while the old MacBook Pro uses the NVIDIA 8600M GT.
These improvements could be associated with Apple's plans for Snow Leopard. QuickTime X which will be a feature in Snow Leopard is said to offer optimized media playback:
Using media technology pioneered in OS X iPhone™, Snow Leopard introduces QuickTime X, which optimizes support for modern audio and video formats resulting in extremely efficient media playback.
Read More
New MacBook: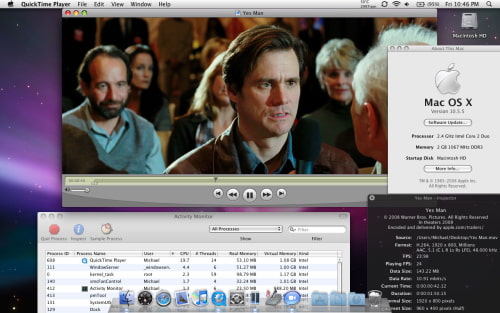 Old MacBook: