New iPod and iPhone Cases from OtterBox
Posted November 15, 2007 at 8:57am by iClarified · 3596 views
OtterBox has released two new series of iPod and iPhone cases. The Defender Series and the Armor Series.
Defender Series:
Slim, yet rugged, stylish, yet protective, these semi-rugged cases satisfy the need for protection without compromising style. Coined as a "skin on steroids," these cases offer complete user interaction in an attractive design. Bring on your active lifestyle! A hi-impact polycarbonate shell snaps together to safeguard the device and a completely interactive, scratch-resistant, polycarbonate membrane protects screens and ClickWheels. Finally, a silicone skin wraps over the case to provide additional protection from drops, bumps and shock. Available for the iPhone, nano, classic and touch.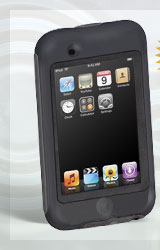 Armor Series:
Ready for any adventure no matter what Mother Nature brings! This fully rugged line of interactive cases safeguards from rain, dust, dirt, drops and other mishaps. With a fully rugged polycarbonate shell and impact-absorbing rubber inside the case to cradle the device, iPods and iPhones can now handle drops, splashes or bumps with ease. Clickwheels and screens remain completely interactive and protected by a thin, scratch-resistant, hi-impact polycarbonate membrane. Available for the iPhone, nano, classic and touch, the Armor series protects devices so you can take your technology virtually anywhere, rain or shine!