Soundworks i765 Radio with iPod Dock
Posted November 15, 2007 at 11:22am by iClarified · 7050 views
Cambridge SoundWorks today introduced the premier edition in its award-winning SoundWorks Radio line, the SoundWorks i765.
This high-performance iPod docking solution offers complete audio/video entertainment, with a built-in DVD player, CD player, radio, and more. Compatible with a vast selection of iPod models, including the new iPod Nano, iPod Touch and iPod Classic, the versatile SoundWorks i765 can easily serve as the main entertainment system in the home, and is compact enough to place easily in a bedroom, study, or kitchen.
The SoundWorks i765 retails for $499.99 and is available for purchase at Apple Retail Stores, direct from Cambridge SoundWorks online (
cambridgesoundworks.com
), by calling 1-800-FOR-HIFI, or visiting its Boston- area showroom, and other select retailers across the country.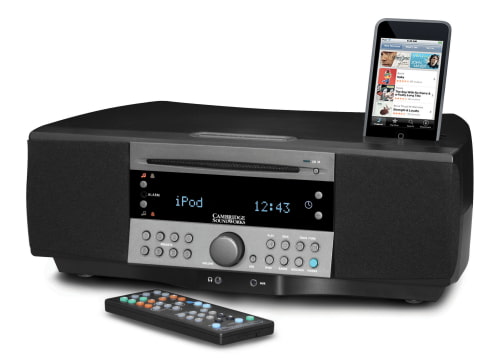 We drew inspiration for the SoundWorks i765 from our great-sounding Cambridge SoundWorks radios," said Rob Mainiero, general manager of Cambridge SoundWorks. "Then we added in an integrated iPod dock and a DVD/CD player with video-out capability, creating a compact music system with all the features of a top-of-the line digital entertainment system."
The Ultimate iPod Entertainment System
Featuring Cambridge SoundWorks' signature design -- two high-performance drivers combined with a built-in powered subwoofer for deep bass response at all output levels -- the SoundWorks i765 is a powerhouse system capable of filling any room of the home with rich, natural sound. The large LCD display offers iPod song identification, while the included wireless remote controls both iPod navigation and all SoundWorks i765 system functions.
True All-in-One Entertainment
The SoundWorks i765 offers so much more than your traditional docking solution. Connect it to a TV with a composite or S-video input and you have a remarkable home theater experience. Enjoy videos or movies from your iPod or play your favorite DVDs. The versatile system also plays audio CDs and MP3/WMA files on writable CDs and DVDs. As one of the world's premier high-performance radio designers, Cambridge SoundWorks is the first manufacturer to outfit its SoundWorks i765 with a fully digital AM/FM radio tuner. The result is a radio with higher selectivity and sensitivity, resulting in vastly improved reception. The SoundWorks i765 also features dual alarms to enable wake-up to either iPod, CD or a favorite radio station. Since the SoundWorks i765 charges an iPod while the player is docked, your iPod is always ready to go when you are.
Read More