Belkin Unveils WeMo Smart LED Lighting, WeMo Maker, Crock-Pot SmartSlow Cooker
Posted January 6, 2014 at 9:02pm by iClarified · 9332 views
Belkin has expanded its WeMo line of connected home products with the WeMo LED Lighting Starter Set and WeMo Smart LED Bulbs, the WeMo Maker Kit, and Crock-Pot SmartSlow Cooker. The company is also improving its iOS and Android apps with enhanced functionality and lighting features.
Belkin's new LED Lighting Starter Set and WeMo Smart LED Bulbs allow you to control, schedule and dim your smart LED bulbs from anywhere. As easy as replacing a standard light bulb, the WeMo Smart LED Bulbs work through the WeMo Link and are controlled via Wi-Fi and the WeMo app. The long-lasting bulbs are 60-watt equivalent with 800 Lumens and 3000 Kelvin for a bright, pleasing warm white light. Fully dimmable, WeMo Smart LED Bulbs can be controlled individually or in groups. The WeMo LED Starter Set includes two LED Smart Bulbs and a WeMo Link, which can support up to 50 individual Smart bulbs. Individual WeMo Smart LED bulbs also will be sold separately.
WeMo LED Lighting Starter Set (F5Z0489)
- $129.99
WeMo Smart LED Bulbs (F7C033)
- $39.99
● Turn lights on/off or schedule from anywhere
● Fully dimmable
● 60W equivalent bulbs last up to 23 years
● Vacation mode automatically turns lights on/off to simulate occupancy
● Dim to sleep – gradually dim lights to fall asleep more naturally
● Warm white light similar to incandescent bulbs
● Works with the WeMo app, available for Android or iOS
WeMo Maker:
The WeMo Maker empowers DIYers to build their own WeMo solutions by adding Internet connectivity to any device controlled with a DC switch, such as research robotics, motors, sprinkler systems, antennas, and more. A small module that wires into low voltage devices, WeMo Maker also lets you monitor and manage a wide range of 5V DC sensors from anywhere using a smartphone or tablet. WeMo Maker is controlled via the same free WeMo app as existing WeMo products and integrates seamlessly within the WeMo ecosystem, allowing you to create schedules or automatically control the WeMo Maker with sensor inputs. Deactivate your sprinkler system if moisture is detected or open the blinds at sunrise from Monday to Friday. WeMo Maker also works with IFTTT, which lets you create specialized recipes bringing the Internet of Things to your fingertips.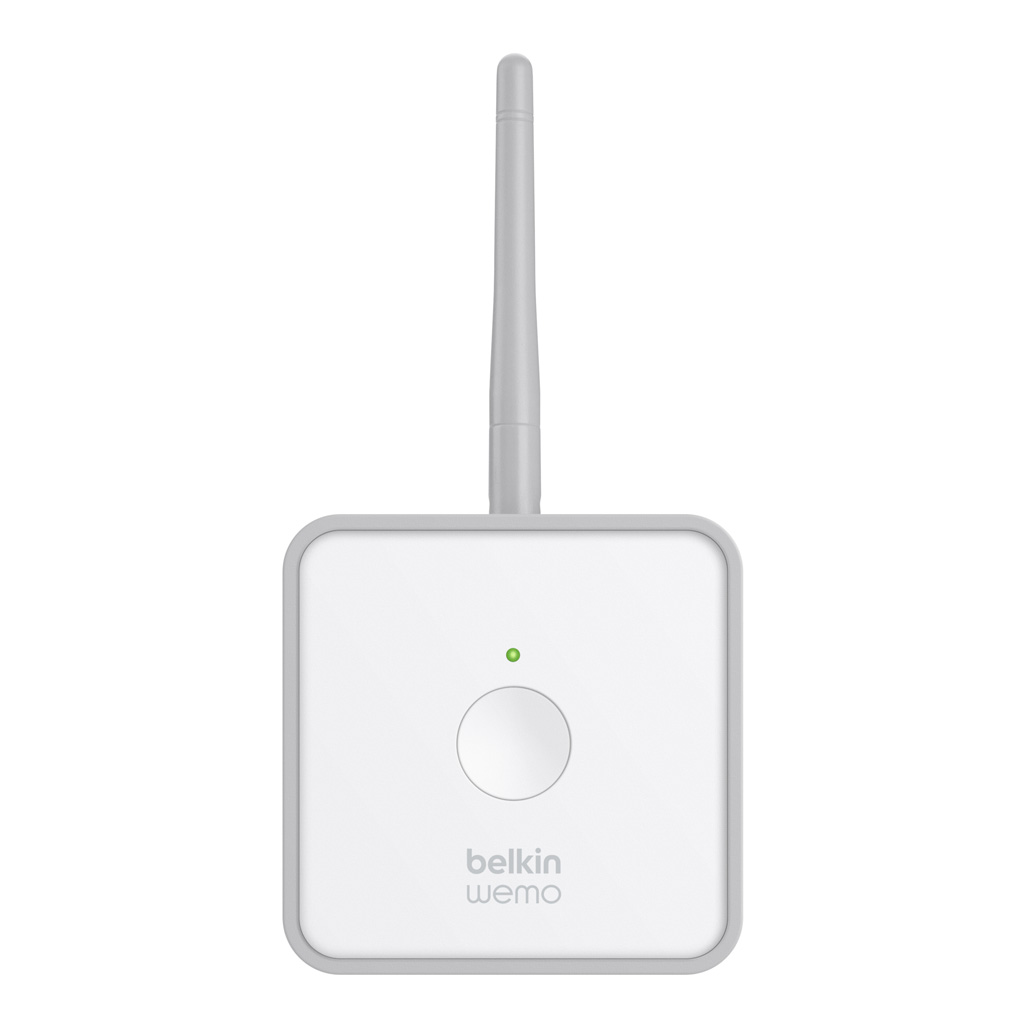 Crock-Pot Smart Slow Cooker
- $99.99
The WeMo-enabled Crock-Pot Smart Slow Cooker is the first WeMo equipped product stemming from Belkin's collaboration with Jarden Consumer Solutions, a family of household appliance brands. The Crock-Pot Smart Slow Cooker is the first smartphone controllable slow cooker, which allows you to adjust the cooker's settings from anywhere giving you greater flexibility and control over life's unexpected moments. Receive reminders, change the cooking time, adjust the temperature or check the status of your dish while you are away through the WeMo app and come home to a perfectly cooked meal whenever you want it, even if you have to work late or practice runs over schedule. Additional Jarden Consumer Solutions co-branded products on display at the Belkin booth include the Mr. Coffee Smart Coffee Maker enabled with WeMo, the HOLMES Holmes Smart Console Space Heater enabled with WeMo, the HOLMES Smart Console Humidifier enabled with WeMo, and the HOLMES Holmes Smart Air Purifier enabled with WeMo.
Features:
● Turn on/off, change temperature or time settings from anywhere
● Receive reminders
● Timer calculates cook times and process
● Works with the WeMo app for iOS or Android
● Manual control option
Availability
The WeMo LED Lighting Starter Set, WeMo Smart LED Bulbs Crock-Pot Smart Slow Cooker enabled with WeMo and WeMo Maker Kit will be available in spring 2014. The latest version of the WeMo app with the upgraded features will launch in February for both Android and iOS.
[
via Desire This
]