Hitachi Unveils Three Storage Solutions
Posted July 13, 2009 at 10:13am by iClarified · 3876 views
Hitachi Global Storage Technologies today unveiled three new consumer products following the acquisition of SimpleTech by Fabrik earlier this year. The new Hitachi branded products include the SimpleTOUGH portable USB drive, industry's only water-resistant1 and shock-resistant2 external hard drive from a global hard drive manufacturer; the stylish and colorful SimpleDRIVE Mini portable USB drive; and the SimpleNET network storage adapter for easily sharing existing USB drive content over a home or office network. All SimpleTech external storage solutions now leverage Hitachi's award-winning, reliable hard drives and strong global brand creating additional advantages for road warriors, prosumers, small office/home office (SOHO) users, or virtually anyone looking for a simple and reliable way to store, protect, and better manage their data.
"Today's announcement further extends the Hitachi GST brand into the consumer market with the reliability, confidence and dependability you would expect from one of the world's leading hard drive suppliers," said Mike Williams, General Manager of Hitachi GST Branded Business. "Re-branding SimpleTech to the Hitachi brand is an important step in differentiating our solutions in the marketplace. We believe that given the global strength of Hitachi, the close relationships we have built with our end-users as SimpleTech, and the continued support of our retail and channel partners, we are well positioned to move our Branded Business and the industry forward."
Hitachi SimpleTOUGH Portable USB 2.0 Drive
If you work hard or play hard, the Hitachi SimpleTOUGH is one of the world's most rugged drives for protecting data in harsh environments. Designed for serious mobility, it is the only water- and shock-resistant external drive available today from a global hard drive manufacturer. Engineered to sustain a three meter drop (9.8 feet) and able to withstand the pressure of a one-ton class commercial truck3, the SimpleTOUGH drive can take on more falls, knocks and spills than any average external drive on the market. Besides that, it's ready for the great outdoors. The Hitachi SimpleTOUGH drive includes a "never-lose" foldaway USB cable, ergonomic sides for easy carrying, and a cool topside LED for power status. But don't be fooled by its handsome exterior. Not only is SimpleTOUGH rugged on the outside, it's dependable and reliable on the inside. All SimpleTOUGH portable drives integrate Hitachi's award-winning Travelstar hard drives, which can be found in virtually all top brand notebooks around the world. Known for its proven, dependable design, Hitachi Travelstar drives provide best-of-breed operating shock at 400G operating and 1,000G non operating shock, and feature the company's TrueTrack Technology, providing added data protection against rough handling. Packaged in one streamlined solution, the SimpleTOUGH portable drive by Hitachi is USB powered for on-the-go convenience. The manufacturer's suggested retail pricing (MSRP) is $99.99 for 250GB, $119.99 for 320GB, and $149.99 for 500GB.
Hitachi SimpleDRIVE Mini Portable USB 2.0 Drive
Your belongings say a lot about your personality, so why should your hard drive look like a toaster? Show off your style with the Hitachi SimpleDRIVE Mini portable drive. Designed for an increasingly mobile world, the Hitachi SimpleDRIVE Mini portable drive is stylish storage made simple. It continues SimpleTech's legacy of offering a unique contemporary design with multiple colors, while delivering streamlined, yet simple ways to store and protect your data. The SimpleDRIVE Mini uses dependable hard drives from Hitachi so you can rest assured that your data is stored on a leading hard drive. Depending on your mood, personal style or capacity needs, you have color choices of red wine in 250GB, blue dusk in 320GB or carbon fiber for a textured black look at 500GB. MSRP is $89.99 for 250GB, $109.99 for 320GB and $139.99 for 500GB. All SimpleDRIVE Minis are USB powered.
Hitachi SimpleNET USB Drive Network Adapter
Not only is Hitachi GST delivering simple ways to store and protect your content, it is extending the value of your new or existing USB drive with SimpleNET. The Hitachi SimpleNET is a small network adapter that allows you to share and access existing USB hard drive content over a home or small business network. Simply plug a USB hard drive into SimpleNET and then plug SimpleNET into an Ethernet network. It's that easy. The USB drive appears as a drive on the network so you can easily share your pics, flix, tunes and docs with everyone on your network. With no proprietary formats or reformatting of the drive required, you can easily hot swap your USB drive between your computer and the Hitachi SimpleNET device at any time. The SimpleNET solution is easy-to-install and easy-to-use for Mac, PC and Linux users, and you can even connect up to two USB drives at once. MSRP for the SimpleNET adapter is $79 MSRP.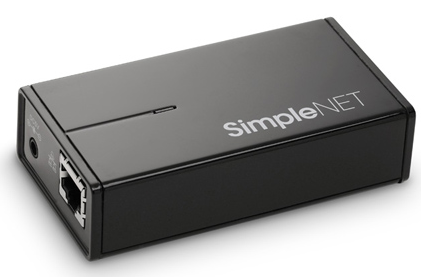 Any data worth saving is worth protecting
Thanks to the increasingly digital lives we lead, our digital content - our family photos, music libraries, home videos and important business and financial information - is quickly becoming the most valued asset in our possession. More often than not, data is coming in so fast and from so many places, that people forget to back it up. If an accident does occur to the drive, it could cost thousands of dollars to recover the data. That's where simple set-it-and-forget-it solutions from Hitachi GST can help.
In October 2007, SimpleTech was the first external storage brand to offer both local and online backup. Hitachi GST is continuing this tradition with SimpleTOUGH and SimpleDRIVE Mini. Both drives offer two levels of data protection, local backup and online backup, giving customers peace of mind that their data is safe in the event of fire, theft or natural disaster. Each new portable drive includes 2GB of free online backup space that can be used to safely store irreplaceable files offsite and online. Or, for less than five dollars a month, users can upgrade to unlimited online capacity.
Unlike any other external storage solution on the market, the Hitachi SimpleTOUGH and SimpleDRIVE Mini drives also come bundled with Joggle.com. Joggle is an online digital content manager that helps you keep track of pics, flix, tunes and docs from one centralized location. Through its sleek, streamlined user interface, you can see all your stuff on a single screen, and can easily share slideshows and play lists with friends and family via email, blogs, social networking sites and more.