The Samsung Galaxy S9 loses its value twice as fast the iPhone X, according to a new phone depreciation report from bankmycell.

With consumers are spending over $1,000 on new smartphones, they should be aware of what is a good investment as like most things you buy, over time they will lose value. With cell phones, this is due to the regular releases of new phones causing yours to become outdated, the decline in software or hardware capabilities, and physical cosmetic wear. However, not every phone depreciates the same, we tracked the trade-in prices hourly for the last year and decided to analyze which phones are 2018-2019's biggest winners and losers.




The report found that the Galaxy S9, released in March 2018 for $720, lost almost 60% of its value in nine months. That's double the rate of the iPhone X.

● The Galaxy S9 was released at $720, but was worth $290 nine months later (-59.72%)
● The iPhone X was released at $999, but was worth $690 nine months later (-30.93%)

The S9 lost 41.66% of its value in month one. Out of all the phones tested, the S9 was ranked third for losing the most physical money out of all devices, followed by the S9 Plus in fourth.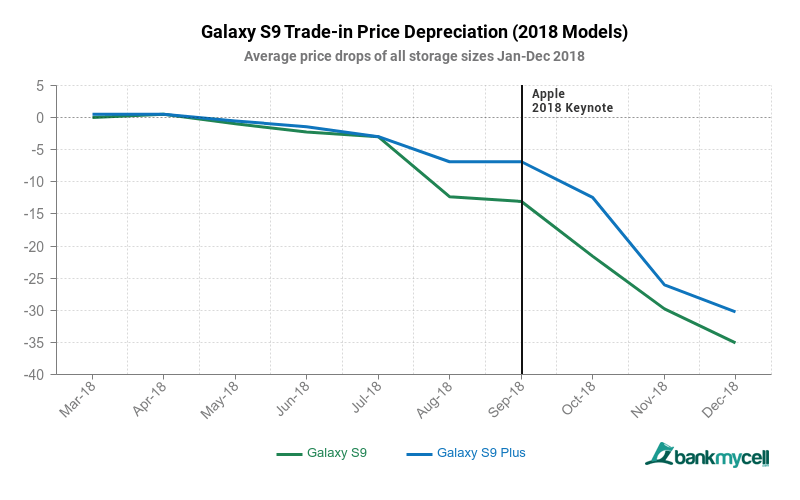 Bankmycell notes that 68.86% of the iPhone X and iPhone 8's total yearly depreciation was seen in Q4 following the September 2018 keynote.

"The months after the keynote is a trade-in black hole consumers should avoid," says the company.

● Jan – Sept 2018: the iPhone X only depreciated $62 (9 months)
● Oct – Dec 2018: the iPhone X depreciated $138 (3 months following the event)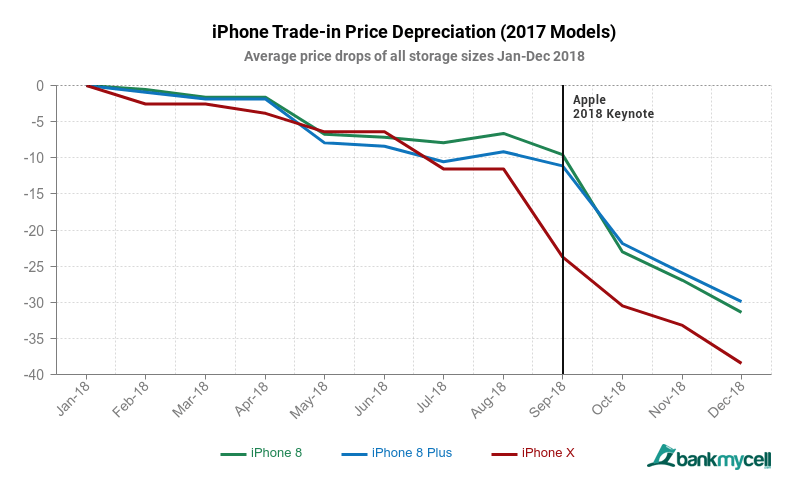 It's suggested that customers take advantage of 30-day trade-in price locks ahead of an iPhone event. It's estimated that they could get $100 more without any obligation to trade-in their device.

Check out the charts below and hit the link for depreciation data on other smartphone models.

Read More